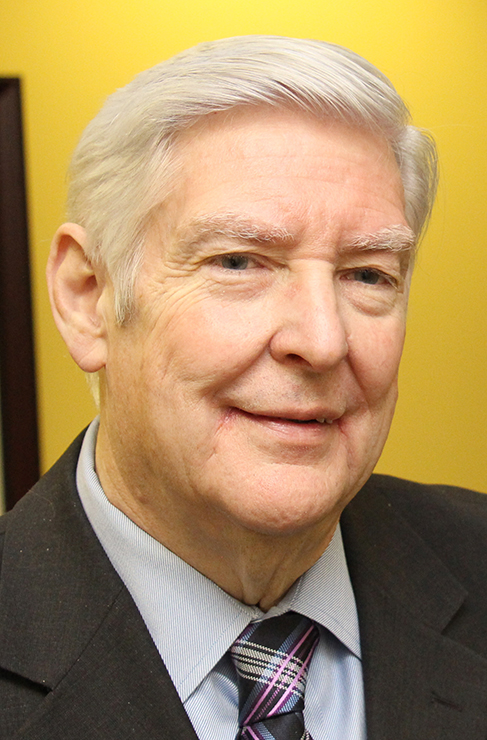 BY ED BARTHOLOMEW
At the Economic Development Corporation (EDC Warren County), we're prepared for another very active year of strengthening our collaboration with local, regional, state organizations and businesses to help shape the future growth of Warren County.
EDC appreciates the financial support we receive from our many business members and governments of Warren County, Queensbury, and Glens Falls who believe and advocate for our mission.
Highlights in 2015 indicate dramatic growth and activity occurring in our region, as evidenced by the following: • Finch Paper's $19 million modernization plan underway (600 employees).
• Etain, one of five medical marijuana facility selected in New York located in Chestertown with 25 new jobs.
• JUST Beverages, new water bottling plant in Glens Falls with 20 new jobs.
• New $7 million parking garage (504 parking spaces) in Glens Falls.
• Ground breaking for a $26 million mixeduse development along Hudson Avenue, adjacent to the Glens Falls Hospital.
• In Lake George, construction of a new 119-room, $25 million Marriott Courtyard hotel and a $10 renovation modernization and expansion of the Surfside On The Lake resort at 400 Canada St., which will have 154 rooms.
• Regional health organizations Glens Falls Hospital and Hudson Headwater Health Network (with total employment at 3,500 employees) underwent improvements and new construction of nearly $40 million.
• Outdoor recreation: Gore Mountain, West Mountain and Eagle Flyer Zip line at French Mountain collectively invested nearly $7 million in snowmaking, grooming, lifts and other equipment.
• Angiodynamics(800 employees) completed its manufacturing warehouse projects in Queensbury and Glens Falls.
• Precision Extrusion in Glens falls is planning to add second and third shifts following acquisition of company by Pexco LLC.
• Apex Solar in Queensbury has grown from two employees in 2012 to 132 total employees in multiple offices and was ranked as the top residential solar PV contractor in New York state and top solar thermal installer in the state by Solar Power World magazine.
• The Glens Falls Civic Center became home to new hockey team, the Adirondack Thunder, owned by the NHL's Calgary Flames, with league affiliation with the ECHL. The center received state funding $675,000 for improvements, including a new outside marquee sign with additional funding forth coming in 2016 from Gov. Andrew Cuomo.
Collectively, these projects represent economic growth in our region through new tax revenues, additional jobs, and enhancement of the quality of life.
Looking ahead, in 2016 EDC will focus on several priorities including key infrastructure projects as part of Cuomo's Built to Lead initiatives.
Among our top responsibilities is to seek funding for broadband fiber optic/cell phone service from the New NY Broadband Program for unserved/underserved areas of Warren County. This infrastructure is a requirement for successful growth and for improvements in emergency communication. Without an increased level of service, our region will see uneven development, lost business attraction opportunities and continued emergency communication difficulties.
EDC will implement the Exit 20 trafficbike- pedestrian study. In 2015. National Grid provided a $50,000 grant to augment $25,000 contributions by EDC and Warren County to improve the traffic flow on Route 9, near I-87 Exit 20. This notorious 2.5-mile stretch of roadway, with its frequent traffic slowdowns, hampers commercial, resident and tourist traffic alike, diminishing the appeal of an important commercial business development area. Traffic congestion has worsened over the years and could deter further investment by developers, businesses and entrepreneurs if not addressed.
EDC will continue to promote available industrial/commercial properties throughout the area, including parcels in business parks in Warren County. They range from locations in Chestertown and Warrensburg to clusters of land located in Glens Falls/Queensbury.
This year, EDC will continue partnering with Warren County Tourism and related tourism/ hospitality associations to ensure that our economic development efforts fully leverage the many assets of our region, including recreational opportunities, diverse cultural venues, and exciting shopping, dining, and lodging options.
To further the presence of arts and entertainment options and the resulting economic impact, EDC will continue its collaboration with organizations and venues in our region. It was impressive in 2015 to see record attendance at the Adirondack Theatre Festival in Glens Falls, the opening of the Festival Commons at Charles R. Wood Park in Lake George and continuing popularity of the Shirt Factory.
The Hyde Collection has established itself as a cultural gem in our county, while organizations like LARAC help to promote local artists and their work through a variety formats. The Glens Falls Symphony and myriad individual musicians, bands, and performers further diversify our cultural life.
Finally thank you to outgoing EDC Chairman Chuck Barton of Barton International for his leadership and advocacy, as we welcome Arlene Girard of Glens Falls National Bank as our 2016 chairwoman.