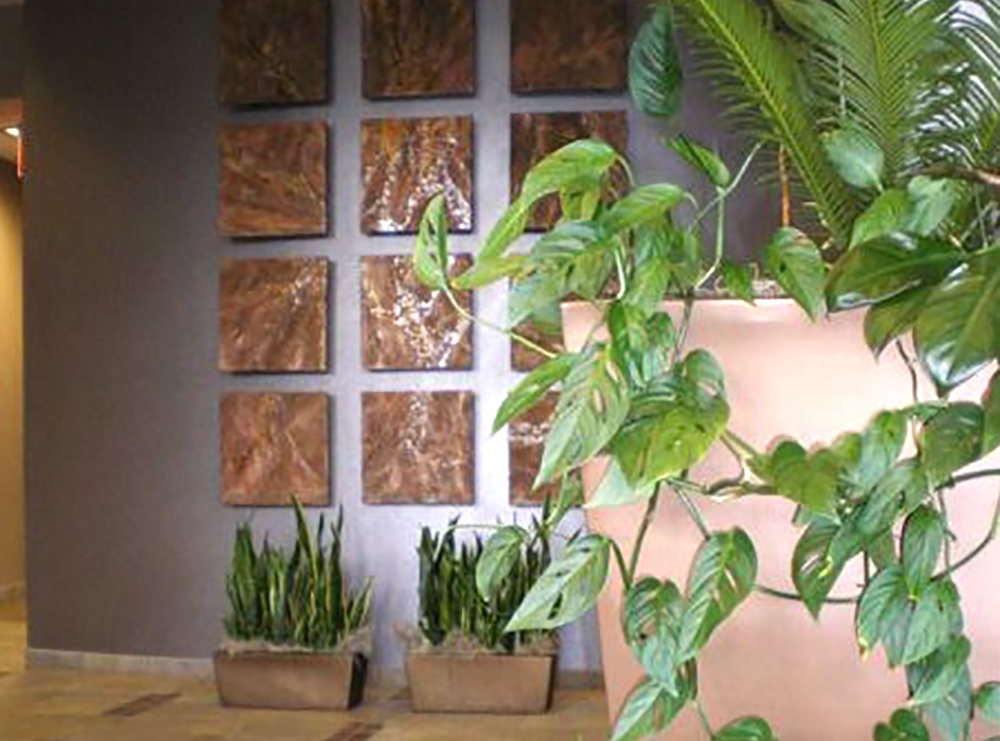 BY MAUREEN WERTHER
The phrase, "step into my office," may soon become a thing of the past, as design trends continue to move toward open, fluid, and shared spaces that lend themselves to greater collaboration, congeniality, and productivity.
What has been the norm on the West Coast for quite some time is now becoming increasingly commonplace in our region, as cubicles come down, harsh lighting is replaced, and elements of the outdoors and home find their way into our work spaces.
Plant Doctor LLC in Glens Falls, owned by Lanette Akerson, has been in business for over 20 years. She said in that time, her client base has gone from almost exclusively residential to 99 percent commercial and office space. Companies are realizing the benefits of incorporating living plants into the work environment and Akerson fills the needs of customers from Bolton Landing all the way down to East Greenbush.
Plants are used to soften sometimes harsh architectural lines and hide unsightly cords and electrical outlets, she said. More importantly, they add beauty and a sense of nature to the work environment.
According to Akerson, studies show that a workspace containing living plants results in greater productivity and creativity, and removes harmful toxins from the air.
"The plants absorb toxins from the atmosphere, processing them and releasing clean oxygen back into the work environment," she said.
Typically, Akerson has an initial meeting in the client's office, where she does a walkthrough to determine the building layout, the office design, and the traffic pattern. She also looks at each client's individual budget.
Akerson said that, when clients first see the proposal for adding plants to their offices, they may initially be somewhat apprehensive about spending the money. However, when her team does the installation, "It's always a big 'Wow.'"
At this point, Plant Doctor serves about 75 weekly accounts, in additional to annual outdoor installations for places like the Lake George Club, Albany College of Pharmacy, and SPAC. In addition to the installation, her team handles the weekly plant care and maintenance. And her proposals always include replacement of any sick or dying plants.
Some offices have even used plants to replace actual walls, creating a "living wall." Akerson's company slogan is "Enhancing our environment artfully with the use of plants and flowers."
Another important component of a productive workspace is organization.
While this is certainly nothing new or "trendy," there are some new ways to clean up works paces and improve productivity. Sharon Schneible, owner of Organized by Sharon, has been in business for eight years. She is a certified "organizer" and a member of the Institute of Chronic Disorganization. That may sound humorous to some, but chronic lack of organization can result in low productivity, depression, and increased stress.
Often, just attempting to clean up our work spaces and find a logical place for everything can cause stress all on its own. One of the key points Schneible stresses to clients is: It's not all about perfection. Calling herself a "recovering perfectionist," she said as long as everything has a home, that's half the battle.
Schneible uses a holistic approach to reorganizing a work space. First, she assesses the size and shape of the space, taking note of the existing furniture and equipment and how it is configured.
"It's always good to get someone else's view of your space and how it can be best utilized. Lots of it is just common sense," she said.
If the shape of a desk doesn't lend itself to the kind of work being done there, or to the amount of "necessary clutter" the client must have on hand in order to get her work done, Schneible will recommend a change of furniture.
She also advises clients to make their work space a place that is conducive to increased focus and concentration. Using soothing colors on walls and on accent pieces promotes calmness and serenity. She suggests soft neutrals in shades of blue and green. These colors can also be picked up in the organizers that people use to hold paperwork and work supplies. Office supply companies have responded to the new trends and now offer desk organizers and other items in a wide array of colors.
Sterile environments do not lend themselves to calm, and Schneible noted that it is important to include items in a space that are inspiring. Photos of loved ones or a piece favorite artwork are items to include when re-organizing and re-designing a space.
Schneible recommended eliminating as much paper as possible from work space. But, for documents that absolutely must be in paper form, use upright storage instead of the more traditional filing cabinets.
"Avoid piles at all costs," she said.