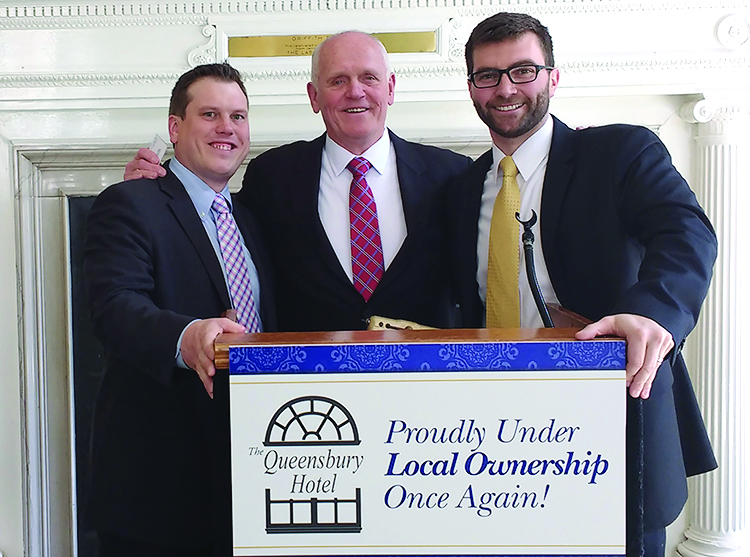 The Queensbury Hotel, a downtown Glens Falls landmark for some 90 years, is back under local ownership with plans to upgrade the facility.
Queensbury businessman Ed Moore purchased the hotel from Maryland-based Real Hospitality Group on March 28 and formally introduced his vision for the property at a special community reception on March 30 in the hotel lobby.
"The Queensbury really is the 'Queen' of Downtown, and it will be our great privilege to return her to her former glory," Moore said. "I am so pleased to have the opportunity to return this beautiful, historic hotel to its local roots. Our team has the same excitement and confidence in her future that her founders did a century ago."
Anchoring a prime downtown corner across from City Park, the 125-room hotel has hosted a Who's Who of movie and TV stars, rock stars and professional athletes–from Ronald Reagan to the rock band Phish–and been the setting for generations of charitable and civic affairs, wedding receptions, political events, retirement parties and family gatherings.
The purchase price for the hotel was not disclosed, but Moore said financing was provided by Glens Falls National Bank and Trust Co.
Moore said the hotel will be operated under a management agreement with Spruce Hospitality Group, a business jointly owned by Queensbury residents Tyler Herrick, former assistant general manager at the Sagamore Resort in Bolton Landing, and Zachary Moore, Ed Moore's son, who has nearly a decade of property management experience.
"There was a time when The Queensbury was the setting for every major community function and family gathering in the area," said Herrick, who will serve as the hotel's general manager. "Our goal is to reconnect the hotel to our community in a way that hasn't been seen in years. We're inviting people to come back and make new memories."
Zack Moore said, "Our family believes deeply in the future of the Glens Falls-Queensbury-Lake George region, and we see The Queensbury as a big part of that future. We have a steady, responsible investment plan for the property that will make people want to return to The Queensbury time and time again."
Herrick said investments planned over the first 18 months of operations include the first phase of renovations and upgrades to the guest rooms and common areas. There will also be an expansion of the hotel's event space to create "a true ballroom environment" in downtown Glens Falls, with the ability to accommodate up to 400 people, he noted.
The hotel is working with Phinney Design Group of Saratoga Springs, an architecture and interior design firm with experience working in historic hotels, including the Sagamore, the Gideon Putnam in Saratoga, and the Mohonk Mountain House in New Paltz.
"We're going to approach the renovations on a schedule that is prudent from an operations standpoint and that minimizes any disruption to our guests," Ed Moore said. "We're going to ask the community to have patience with us as we begin this process, and we promise you that you'll love the end result. You're going to be proud to have the Queensbury Hotel in your backyard once again."
The event was well attended, the lobby crowded with local officials and business people.
State Sen. Betty Little said the hotel "holds many special memories for so many people, including me. The future of this notable landmark in the Glens Falls community is now brighter, thanks to Ed Moore. I can't wait to see the work Ed and his team do to refurbish this wonderful place."
"The Queensbury Hotel is a one of the crown jewels of the city," said Mayor John A. Diamond. "I'm happy to see this gem return to local ownership again. Ed's commitment to the City of Glens Falls is greatly appreciated and it's an example of what makes Glens Falls a great city — the large number of locally owned, locally run businesses."
Moore's investment in the project "is a great show of confidence in downtown Glens Falls and the economy of our entire region," said EDC Warren County President Edward Bartholomew. "Sound, committed, local investment like this is a key to successful economic growth. "
A Queensbury resident for nearly 30 years, Ed Moore owns the French Mountain Commons outlet center and Log Jam Outlet Center in Queensbury, as well as the J. E. Sawyer building in Downtown Glens Falls, and has invested large amounts of money and time into numerous community organizations, including serving on the board of the Charles R. Wood Theater in Glens Falls and the Seagle Music Colony in Schroon Lake. He is a founding member of the Adirondack Civic Center Coalition that formed last year to purchase the Glens Falls Civic Center.
Herrick, president of Spruce Hospitality Group, started out as a front desk clerk at the Sagamore and moving into roles with greater responsibility and oversight. A graduate of Saint Lawrence University, he lives in Queensbury.
A native of Queensbury, Zack Moore has worked in the property management industry since 2008 with L&M Investments, a company founded by his father and late mother, beginning as a groundskeeper, and transitioning over the years to work on marketing, leasing and procurement. A graduate of Rutgers University, Moore is the managing partner in Spruce Hospitality Group.