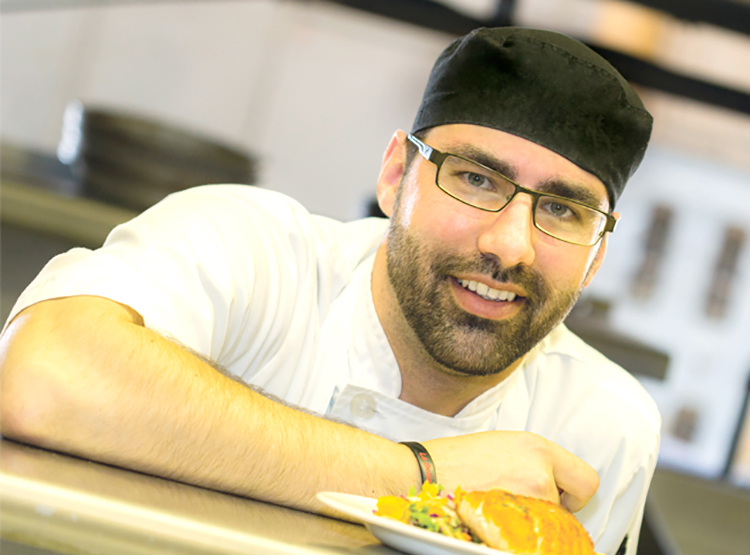 With an eye toward bringing a gastro-pub dining environment to the downtown Glens Falls, the new operators of the Queensbury Hotel have hired a new chef to help alter the menu at Fenimore's restaurant inside the hotel.
Dan Mattocks, formerly of The Chateau on the Lake fine dining restaurant and The Sagamore Resort, both in Bolton Landing, was hired as sous chef. He will be second in command to Executive Chef Mike Crandall in the hotel's dining department.
Mattocks will oversee daily operations at Fenimore's, as well as assist Crandall with the hotel's banquet dining.
"Dan shares our vision for bringing a high quality gastro-pub dining experience to downtown Glens Falls, and we're very fortunate to have him with us," said Tyler Herrick, hotel general manager who worked with Mattocks at The Sagamore for a number of years. "Much like we're doing with the hotel in general, we have asked chefs Mike and Dan to re-imagine our dining experiences in new and exciting ways."
Mattocks said, "I knew I wanted to be part of this new beginning for The Queensbury from the moment I heard about it. The management, the ideas, the culture. They have a terrific team who understand we are here to provide a great experience for our guests."
"For Fenimore's, we're looking at a gastro-pub atmosphere with plenty of variety in the menu," Mattocks said. "We'll be introducing new specialty items that we're sure will be a big hit."
They include a braised pork cheek slider with a sweet chili vinaigrette and red cabbage slaw; a number of varieties of risotto; and crab cakes.
"Being from Maine I tend to love working with seafood, particularly lobster and halibut," Mattocks said.
Mattocks had served as sous chef at The Chateau on the Lake for the past year, after nearly two years in the same capacity at The Sagamore Resort's La Bella Vita and Pavilion restaurants. Prior to that he worked at a variety of restaurants in Maine, New Hampshire and Florida, most of them owned by Ocean Properties, owner and operator of The Sagamore.
Fenimore's at The Queensbury Hotel is open for dinner Sunday through Thursday from 4-10 p.m., and Friday and Saturday from 4-11 p.m.