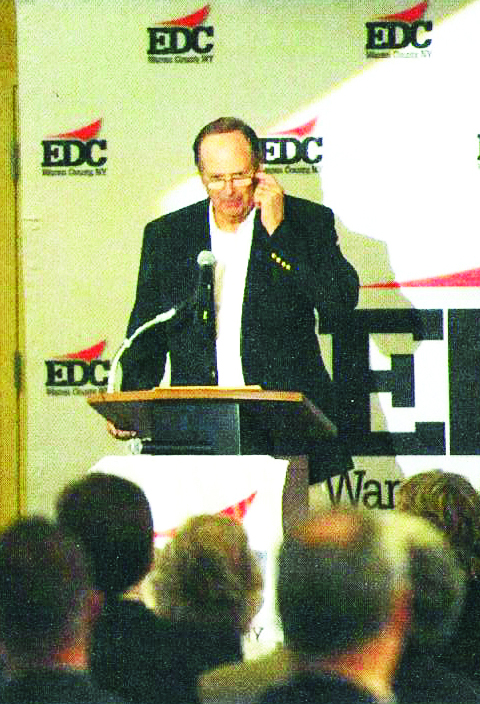 By R.J. DeLuke
The successful entrepreneur who founded North American Medical Instruments Corp.(NAMIC) said he credits success to perseverance and having good people around him.
Phil Morse was the keynote speaker at the 17th annual luncheon of EDC Warren County on May 13 at Six Flags Great Escape Lodge in Queensbury to a sold-out audience of 300.
Morse started his medical device business in Queensbury in 1969 in a 300-square-foot office with three employees. The process was difficult and trial-an-error was the name of the game for a while, he said.
The company went public in 1991, when it employed some 1,100 people in its two expanded facilities.
"I never thought we would fail," said Morse. "In every adversity is the opportunity to improve."
In the process of describing his rise, he addressed some SUNY Adirondack students who were in attendance, advising they can do anything they want in the future "if you put your heart and soul into it."
Morse sold NAMIC in 1995 and now is part of the group that owns the Boston Red Sox.
Morse was working as a salesman for U.S. Catheter and Instrument Co., which became C.R. Bard, when he found his path in 1968. He made a sales call at the cardiac catheterization lab and that afternoon the nurse asked if he wanted to watch the procedure being done in surgery with the product he was selling.
The doctor couldn't get any fluid through the catheter, Morse said, and had to quickly move to a second one, which worked. It started him thinking.
"How can we do this so it will never happen again?" was his driving thought.
Morse designed a prototype of a new product, the Morse Manifold. He had to leave the company to develop it and started his own business on the second floor of the Colvin Building in downtown Glens Falls.
"We made countless failures," he said.
His company had to sell products from other companies to make money while it continued to work on what would become the Morse Manifold.
Along the way, he learned the value of each employee. So much so, he said, the most rewarding part for him once his successful business was rolling along "was witnessing young men and young women join NAMIC out of high school, watch them grow personally into responsible positions, getting married and raising a family and seeing their kids go to college."
By 1976, the company was growing and starting to make a profit, housed in a 7,200-square-foot space.
In the 1980s, then-mayor Ed Bartholomew helped get a federal grant to loan NAMIC money to build its research and development facility on Pruyn's Island. Bartholomew is now EDC president.
The repaid funds went into a revolving loan fund that has since provided assistance to more than 150 local businesses.
After selling his company, Morse remained active. In 1995, he created Heritage Creations, a group of companies that provide products and services to resort golf courses. In 2004, he donated $1.4 million to Albany Medical College to establish the Sosa Academy; and in 2005 he helped in the development of 43 acres of wooded property in Queensbury for Morse Athletic Complex and donated it to Glens Falls High School.
Also at the event, state Assemblymen Dan Stec addressed the group with some updates from Albany.
Stec said polls are showing that corruption in Albany–exemplified by the conviction of former Assembly Speaker Sheldon Silver and former Senate Majority Leader Dean Skelos–is high on the list of concerns of constituents.
He said he has been pushing for legislation to stop those convicted in such cases from collecting their taxpayer-sponsored pensions for the rest of their lives.
He is also pushing for the reduction of the limit on campaign contributions from $100,000 to $10,000. Term limits for leadership positions in the State Legislature is also a goal.