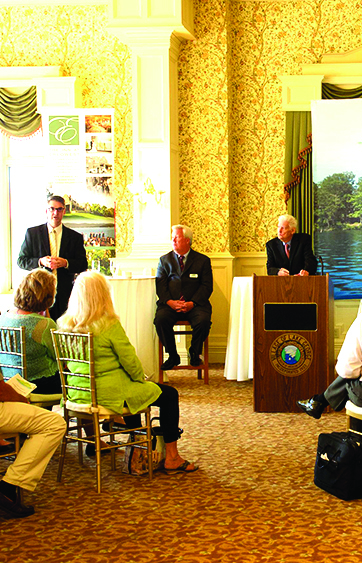 By Lisa Balschunat
Shifting the Lake George region's business mindset from being a seasonal destination to being a year-round one was the focus of a panel discussion in September.
The session– entitled Lake George 365–took place at the Inn at Erlowest, coinciding with the Lake George Regional Area Chamber of Commerce annual board of directors meeting.
While winter sports, festivals, carnivals and events have sparked winter tourism over the years, the consensus of those in attendance was there is much more to do and that it is time to connect the business dots throughout the region.
One take away was to immediately launch #Lake George 365 and securing the domain name of Lake George 365. The hashtag is already gaining some steam on social media and the Chamber will be centering its marketing efforts there.
"We've got to figure out a way to get together and have that vision and that strategy," said Tom Guay, general manager of The Sagamore. "Everybody has great ideas, and then we leave and we get busy … So, the goal is to figure out, from this meeting … what are we going to do about this? How can we come together and have a common theme?"
Michael Consuelo, Chamber executive director said communication needs to continue beyond the panel discussion.
"Whether it's by email or a phone call, you need to let us know what your thoughts are," he said. "We, as a chamber, can partner and collectively start to think about some of the ways we can continue this program.
"We're going to work on it. I can assure you, it's not just going to end today. One thing I did take away from this is that it's branding. Its awareness."
Ralph Macchio, owner of Lake George Forum and Wild West Ranch, said his approach is to "start with even a small number of businesses that are open year-round. Plan together, start to do things together. As a group, we need to get together to do something even if it's small at the beginning … We're growing. We're not stagnate. We've got a future."
Adirondack Winery owner Sasha Pardy said her winery is "focused on three key things: branding, keeping a full calendar and staying involved in the community."
"It's important we keep our staff employed year-round and our business operating year-round," she noted.
"Tourism is the number-two industry in the county," said Frank Dittrich, owner of the Inn at Erlowest. "Tourism generates, per household, about $2,400 of tax benefit to every resident in the county. It's a big engine here … I think what we're finding is there are folks that are willing to invest. They're willing to take some risk … There are assets in this community that we have that no one else has."
The event also included remarks by State Sen. Betty Little and Assemblyman Dan Stec.
"It is important we promote tourism within our district. It creates jobs and brings people here," Little said. "We have so much to offer."
Stec said that the present business climate is ripe for year-round business opportunities and that collaborative efforts will go a long way to achieving success on what was previously known as "the off season" in the region.
During the chamber board meeting portion of the session, members elected Fred Vogel, owner of the Lodges at Cresthaven, as new board president. He will serve a one-year term, replacing outgoing president Ron Miller, of Love Is On Lake George Cruises.
Officers re-elected to another term were First Vice President Janice Bartkowski-Fox, owner of Adirondack Cotton Co.; Second Vice President Dennis LaFontaine, owner of Martha's Dandee Crème; Secretary Gary Thornquist, general manager of Lake George RV Park; and Treasurer Matthew Taormino, general manager of Dunham's Bay Resort.
Amanda May Metzger, Chamber marketing coordinator, contributed to this report.