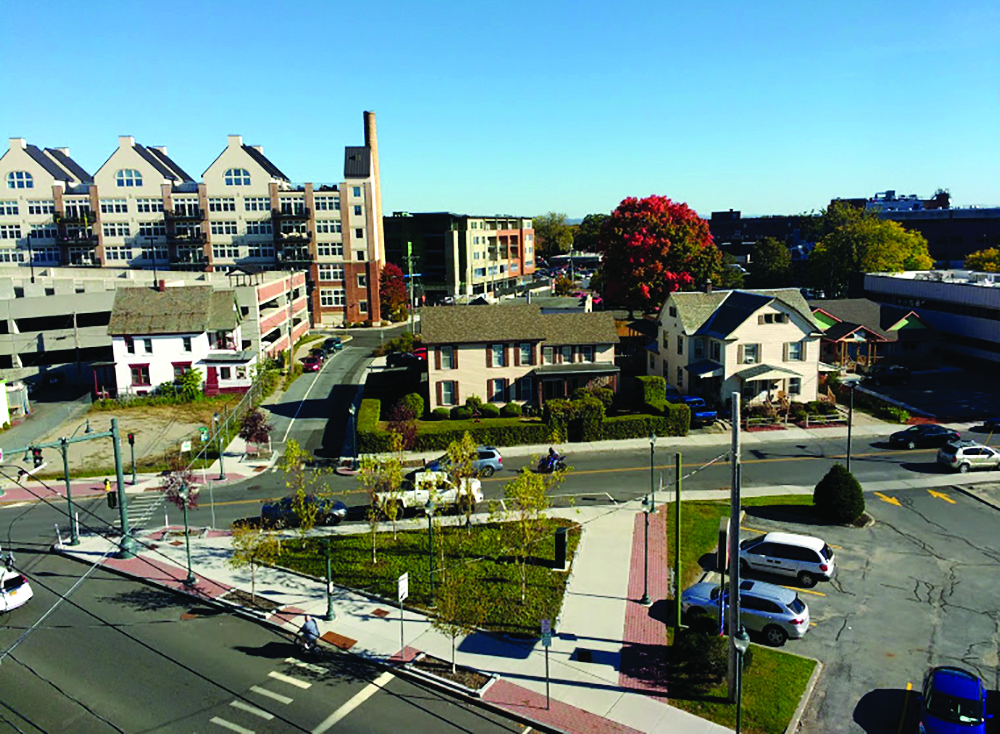 By Lisa Balschunat
The local committee examining the use of the $10 million Glens Falls Downtown Revitalization Initiative (DRI) grant is in the workshop phase and seeking public input.
According to application requirements, the grant can be used for "economic development and housing projects in two key geographic areas, and on other projects that have a major impact."
The district identified by the 12-member committee encompasses South Street, from Hudson Avenue to Glen Street, along Glen Street to Park Street and along Hudson Avenue back to South Street, including connecting streets. Two other project areas, identified by the committee, is an "outer district" from Ridge Street (adjacent to The Queensbury Hotel) to Centennial Circle roundabout and east on Warren Street, and the newly defined AWE (arts, wellness and entertainment) District, with to be incorporated into the identified area.
Committee Co-Chairman Omar Usmani indicated that $9.7 million will be used for projects and $300,000 will be used for planning, including market research and project cost estimates. The state designated BFJ Planning of Manhattan and Elan Planning Design and Landscape Architecture of Saratoga Springs as principle consultants for the DRI committee. Both companies have extensive experience in city and urban planning and development.
The state requires completion of the project profiles by Jan. 13; completion of the development of implementation strategy by Jan. 27, and the release of the draft plan to the community by Feb. 3. The committee has a Feb. 28 deadline to submit recommendations to the state.
Interested citizens are invited and encouraged to attend the public committee meetings, held on the second Wednesday of the month at 2:30 p.m. in the community room at Crandall Public Library.
An October meeting focused on refining revitalization strategies and project details using a design charrette format. A charrette is an intensive planning session where citizens, designers and others collaborate on a vision for development.
Proposed plans for South Street include mixed-purpose buildings with market-rate and affordable housing, space for niche retailers, restaurants, and a complex suitable for a year-round farmer's market. As part of the AWE District, the grant proposal submitted to the Capital District Regional Economic Development Council (REDC) also proposed a downtown Glens Falls campus of SUNY Adirondack.
The DRI had many requirements for applicants, asking cities to prove that the target neighborhood is: compact and well-defined, walkable but of sufficient size to support year-round growth and activity, and contain properties that contribute (or could contribute given sufficient renovations) to the attractiveness of the area. City-owned property development projects will be awarded through a competitive proposal process and developers will negotiate directly with the owners of private property in the area.
Committee members are: Usmani, REDC representative and executive partner of Aeon Nexus Corp.; co-chairman Dan Hall, Glens Falls councilman-at large; Andrew Mender, REDC representative, director of corporate alliances, Six Flags Great Escape; Dan Bruno, chairman of the Glens Falls Planning Board; Judy Calogero, chairwoman of the Glens Falls Industrial Development Agency (IDA); Scott Endieveri, Fourth Ward councilman; Dan Girard, city Ward 1 supervisor on the Warren County Board of Supervisors; Mary Gooden, member of the Glens Falls Local Development Corp.; Robert Landry, executive director of the Glens Falls Housing Authority; Scott Martel, business manager of Local 773 Plumbers and Steamfitters; Jim Siplon, chief operating officer, JUST Beverages; and Patricia Tatich, assistant planner, Warren County Planning.
Ed Bartholomew, president of the Warren County Economic Development Corp., serves as the committee staff member.