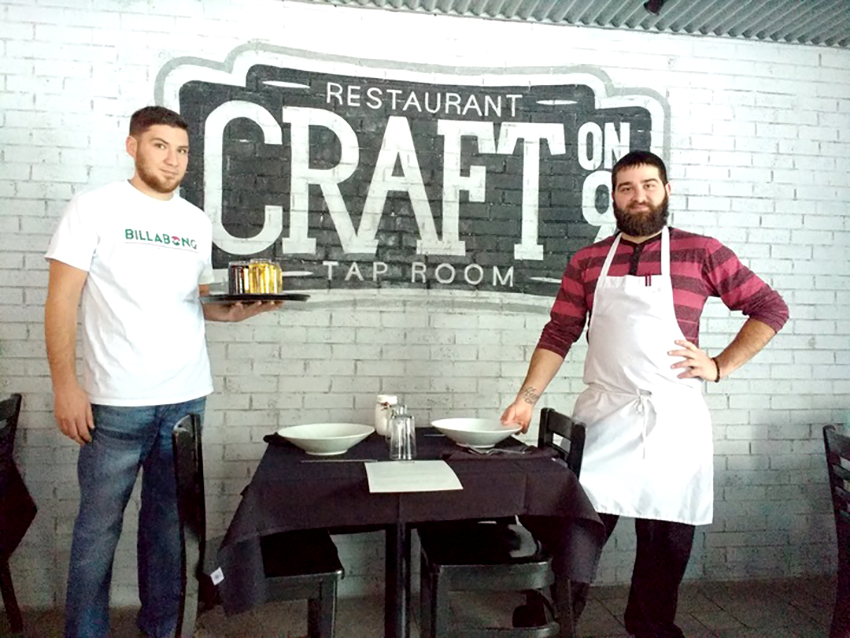 By Liz Witbeck
A new specialty restaurant has opened in the Glens Falls region. Robert Murphy opened Craft on 9 Tap Room at 1451 Saratoga Road in Fort Edward.
The restaurant is in the former location of Luisa's, which had been in business for 13 years.
"I grew up in South Glens Falls and when I heard Luisa's was going out of business, I thought that this would be the perfect opportunity," said Murphy.
Murphy has worked for several years in the industry. By age 20, he was head chef at George Henry's in Warrensburg. He then worked at Bistro Tallulah in Glens Falls. Murphy said he felt ready at this point in his life to start his own venture.
Some of his fondest memories are of him and his friends traveling to Vermont, visiting restaurants and having drinks with friends, he noted. The trips he made inspired him in his creation of Craft on 9, where the beers are center stage.
There are sections of the restaurant for families looking to come in and enjoy a night with their children, or a bar section for people who want to come in and have drinks with their friends.
Craft beer is a passion for Murphy.
"It has so much more flavor. It's really blowing up in popularity now," he said.
"It used to be that if you wanted to get good craft beer, you had to go out of state. But now we are lucky to have so many breweries close by. Fifty percent of our board is New York craft beers."
Murphy joked that if people want something like Bud Lite, they will have to look somewhere else.
"People are willing to try something new. They are willing to pay a couple more dollars for something that has higher quality."
Murphy said he went to great lengths to find craft beers that are exotic and cannot be found in most other locations. He believes this helps him stay competitive, and help introduce his customers to high-quality products they would not otherwise find. One of the craft beers on tap is Hill Farmstead, brewed in Vermont. Craft on 9 is one of the few restaurants that carries their product.
"We have some really very rare kegs here," said Murphy.
The menu at the restaurant changes often, to reflect the season and the interests of guests. Some of the dishes on the menu include a hand cut fettuccine, tossed in a Bolognese, with kalamata olives, artichoke hearts, wild mushrooms and spinach, topped with herbed goat cheese and parmesan bread crumbs.
Another one of the favorite dishes is a braised beef brisket, served in a red wine au jus, served with creamy polenta and wilted spinach and pickle relish, topped with shoestring onion rings. Murphy plans on adding new dishes in the upcoming weeks, including a ramen bowl.
After the restaurant was purchased, Murphy and his team completely remodeled the venue. His family and girlfriend renovated the kitchen, the dining room, the entryway and more. It took them seven weeks to complete the projects.
"The only thing that we kept was the half-wall in the dining room and the tile floor," said Murphy.
Murphy said he has seen lots of support from guests who used to frequent the previous restaurant.
Future plans include live music on certain nights. Murphy also wants to plan beer dinners, where guests can come in and enjoy a five-course meal paired with various craft beers.
The bar opens at 3 p.m. and dinner begins at 5 p.m. The restaurant is open every day except Tuesdays. For more information, call 223-0512 or visit them on Facebook.