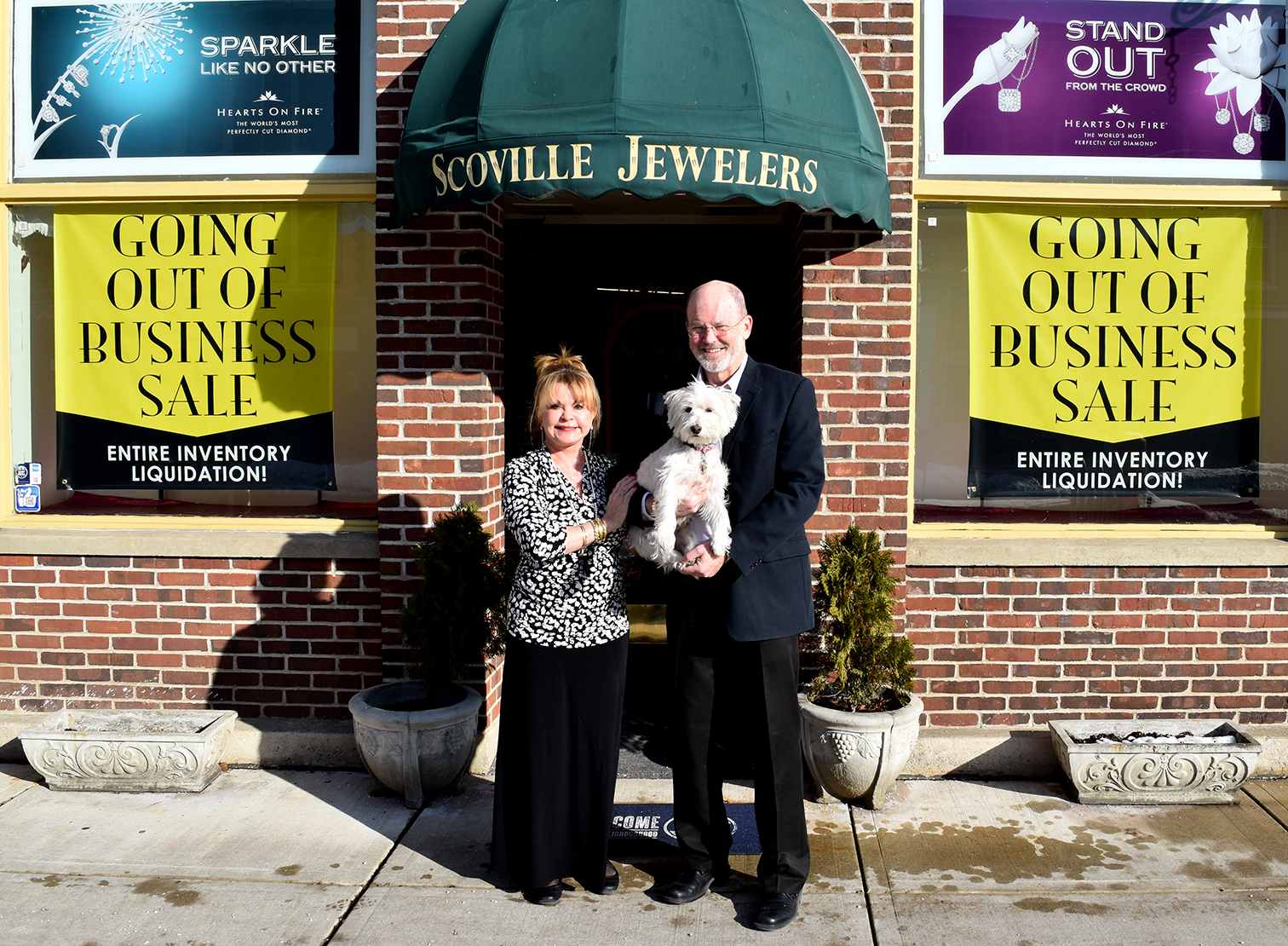 BY Molly Congdon
One of the landmark businesses in downtown Glens Falls, Scoville Jewelers, will soon be closing its doors for good.
Chris Scoville and his wife, Debra Vales, are retiring and will close the store after the Christmas holidays. Their plan is to embark on a year-round travel to search for an eventual winter residence on par with their summer home in Lake George.
Scoville is a lifelong resident of the Glens Falls area and has fond memories of mopping floors and doing chores for his mother and father, Shirley and Montgomery Scoville, who opened the store in 1952. He joined the family business in the mid-1970s and became general manager in 1978. In 1985, Chris and Debra purchased the store from his parents.
Over the years Scoville became well known for his skill in selecting quality diamonds and creating unique custom designs. His wife played a key role in keeping the store current, as well as broadening its scope to include "fashion" accessories and jewelry.
Scoville Jewelers moved to various locations in downtown Glens Falls since 1952, and moved into its present location and final resting place,167 Glen St., in the early 1970s.
It has been one of the most prominent downtown retailers. Customers visiting the store experienced a warm, welcoming environment where their needs and concerns came first. The business has been recognized with a number of community awards including the Adirondack Regional Chamber of Commerce's Best Small Business Award and The Hyde Collection's Corporate Leadership Award.
"The business is a downtown anchor, which attracts customers from throughout the region who otherwise would not come," said Edward Bartholomew, president of the EDC Warren County. "For two generations, Scoville Jewelers has been a key retail business for the retail shopper. This family not only attended to their business, but was always ready to pitch in and support downtown Glens Falls and its beautification efforts."
Despite the fact that the business is still successful, Scoville and Vales felt it was time to retire and move on.
"It's difficult when the business has had so much history," Scoville said. "But it's the right thing to do. Our decision should in no way be a reflection of the current viability of operating a business in Glens Falls. The future is bright for downtown."
In fact, Scoville predicts that 2017 will be the best year ever for downtown Glens Falls.
"The list of people and businesses that have and continue to contribute to the success of downtown is very long," he said. "I believe that in 2017 we will see the fruits of their labor mature."
Scoville and Vales will continue owning the building at 167 Glen St., which contains several apartments as well as the retail space on the first floor. The second floor two-bedroom apartment is about 1,800 square feet. They are hopeful that they will find a new tenant before Christmas.
"We want to thank the entire Glens Falls community for supporting us all these years," Scoville said. "We hope to see them during our huge 'going out of business sale.' This was a very difficult decision for us, and it has been bittersweet saying good bye to all the great customers and friends who have been an important part of our lives for decades."