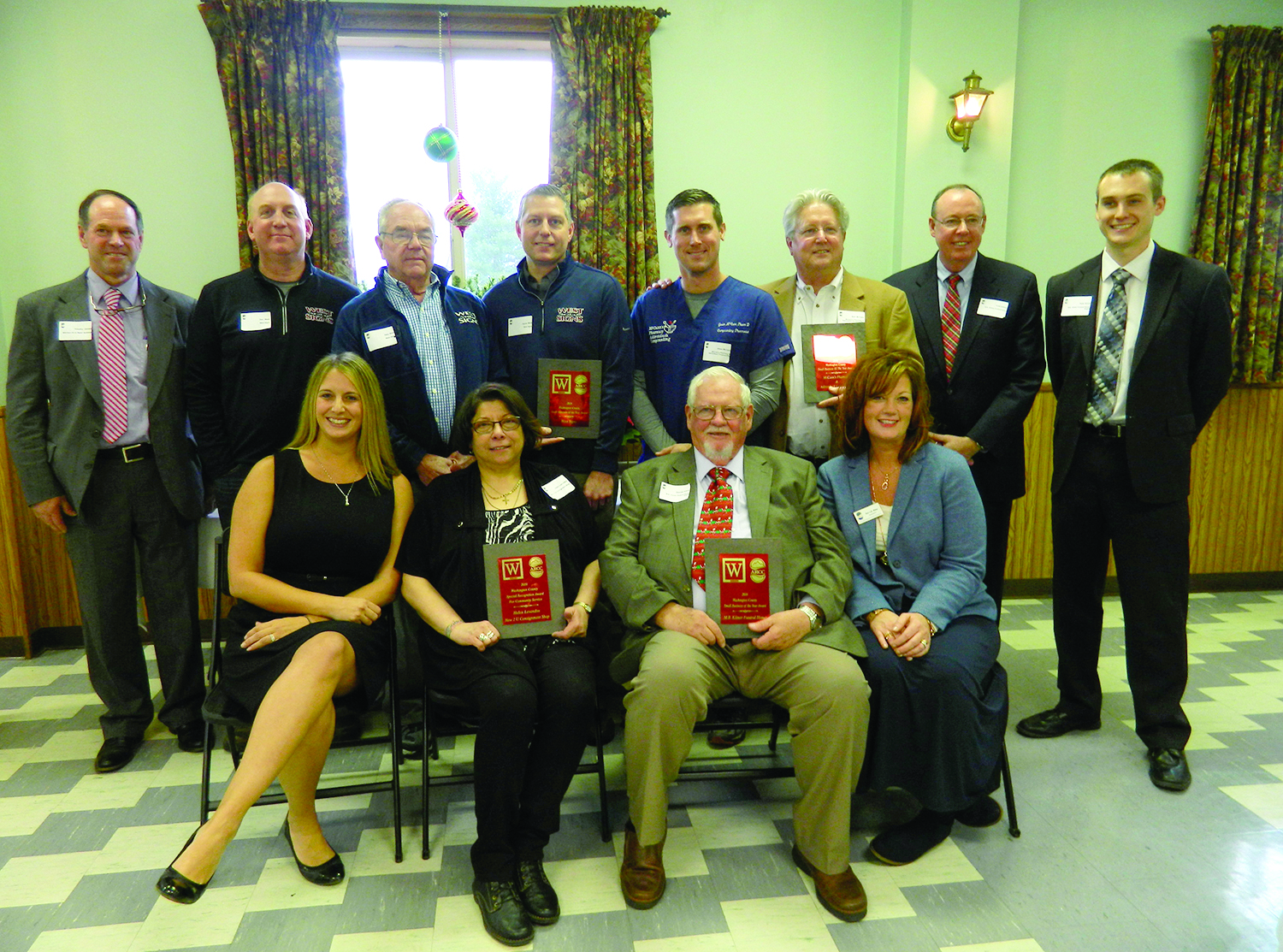 By Lisa Balschunat
Six business were recognized for their commitment to customers, dedication to the community and longevity in business at the 12th annual Washington County Small Business Awards luncheon presented by the Adirondack Regional Chamber of Commerce and Washington County Local Development Corporation on Dec. 2.
About 100 people attended the event at the Kingsbury Firehall, including state Sen. Betty Little and Rep. Carrie Woerner.
"I have much admiration to see a family business last long enough to pass on jobs to your kids," Little told award recipients. "What a legacy."
Woerner said "you've been in business during good economic times and challenging ones … you are the backbone to creating our local economy."
M.B. Kilmer Funeral Homes in Fort Edward, McCann's Pharmacy & Adirondack Compounding in Hudson Falls and West Signs in Hudson Falls received the 2016 Small Business of the Year awards. Zayachek Mechanical in Argyle received the Innovation and Community Commitment award and New 2 U Consignment Shop in Hudson Falls received the Special Recognition award for community service.
M.B. Kilmer Funeral Home opened in Argyle in 1927 to assist clients at a time when wakes and funerals were still held in homes. The storefront location sold furniture and caskets to its clients and prepared the deceased. In 1930, the building burned to the ground, but Maurice Bristol Kilmer was determined to continue the business and reopened at its current location on Main Street. In 1970, the Kilmers opened a second location in Fort Edward, and in 1992 a third location in South Glens Falls. Kilmer Funeral Home is soon to be a fourth generation business.
McCann's Pharmacy & Adirondack Compounding in Hudson Falls opened in 1896. Founded by Joseph McCann, the pharmacy has been family owned and operated for 121 years. While pharmacy chains have created fierce competition, McCann's has remained at the forefront in the industry and continues to operate independently. The pharmacy prides itself on exceptional customer service and remains one of the only compounding pharmacies in the region.
West Signs was founded by Hubert West in 1923 and is now a third-generation business. Located in Hudson Falls since the 1960s, the company began making signs primarily for stores and motels, then expanded to billboards and car lettering. Over the years, the company's product line has broadened to include banners, site signs, car wraps, LED signs, and custom embroidered and printed apparel.
Zayacheck Mechanical began as a father-son team in 2004 to provide large industries with on-site mill maintenance, repair, welding and fabrication. Pete and Mike Zayacheck launched the company with a 1990 Ford pickup, a 32-foot gooseneck trailer and 55 years of collective experience. Today, the company is an $11 million business servicing industries in 12 states. The office staff in Argyle supports 104 employees who work on the road 24/7 during outages. The majority of the work is done in waste-to-energy facilities rebuilding existing equipment, installing new equipment and providing mill maintenance support.
New 2 U Consignment Shop opened in 2013. Owner Helen Levendos was recognized for supporting North Country Ministries and the Little Theater of the Farm in Fort Edward through her consignees clothing donation program and for her passion to coordinating fundraising events for non-profit organizations. Over the past 10 years, she has raised money for the Alzheimer's Association, American Heart Association, Juvenile Diabetes, House of Grace, Big Brothers and Big Sisters and the American Cancer Society.
Presenting awards were Deanna Derway, president/executive director of the Washington County Local Development Corporation, and Tori J.E. Riley, president/CEO of the Adirondack Regional Chamber of Commerce.