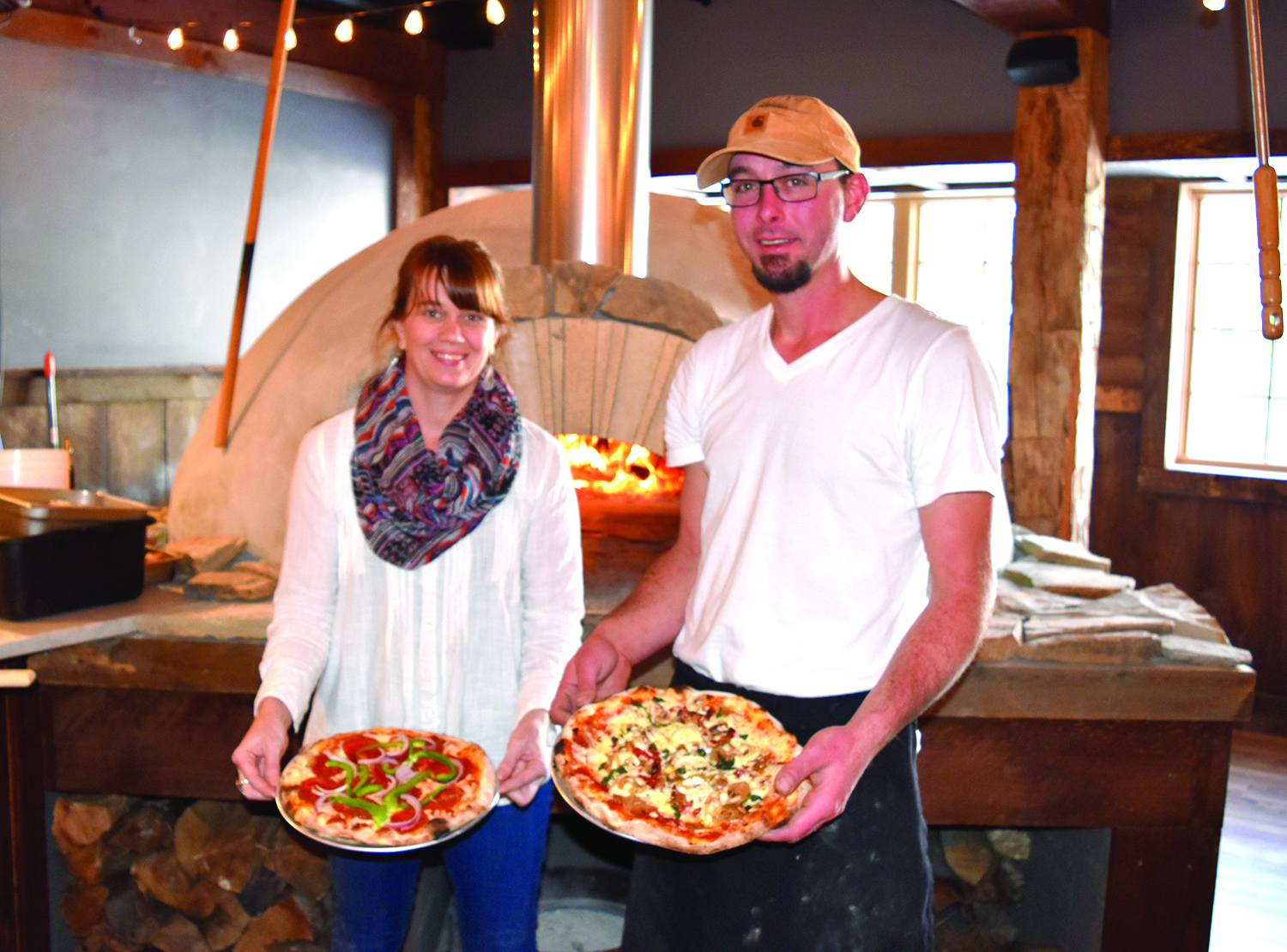 By Maureen Werther
The owners of Sutton's Marketplace seem to have a knack for knowing what the public will enjoy. After being open for just a short time, the newest addition to Sutton's – Farmstead Flatbread wood-fired pizza and taproom – is already becoming a local favorite, the owners say.
Jered Holycross and Jane Sutton moved back to the area from Vermont in 2008 and have been helping Sutton's Marketplace move in a new direction. Farmstead Flatbread is part of that movement, offering locally sourced produce, meats, cheeses and craft beers. Jane is the daughter of Donna Sutton and her late husband, Steve Sutton, whose family opened Sutton's in 1976.
She has a degree in hospitality management from Champlain College, and her husband, Jered, completed his culinary training at the Center for Culinary Arts in Connecticut. Together, they have created a menu with an assortment of sandwiches, salads made from locally sourced produce, meats and cheeses, as well as their flatbread pizzas. The already -popular chicken wings are made using a dry rub created by Jane's brother, Gabe Sutton.
"People are saying these are the best wings they've ever had," said Holycross. Even though they have only been open since mid-November, he said that they are already seeing repeat customers.
"One family has already been back to eat four times since we've opened," he said.
Holycross and Sutton get most of their ingredients through the Hudson Valley Cooperative and in the summertime they will be sourcing from Fresh Take Farms in Middle Granville.
Currently, they travel to Menands three times a week to purchase fresh produce.
Farmstead Flatbread has a full bar, with locally distilled spirits and locally brewed beers. Their list of craft beers is currently at 20 and still growing, including IPAs, Belgians and hard ciders.
Farmstead Flatbread is only the most recent change that has happened at Sutton's Marketplace. In 2015, Sutton's decided to go back to its roots by opening a farm stand. The business began in 1976 as a farm stand and Sutton thought it would be a good idea to re-institute that family business tradition.
In January 2016, they also renovated the second-floor gift shop, tearing out old carpet to expose the wood flooring that came from a local barn. They expanded their toy/children's area to include more Adirondack-inspired books, stuffed animals, puzzles and other toys, all geared toward fostering a love of learning and the indoors. They also added a men's department.
The perennial favorite, Sutton's Café and Bakery, will continue to offer its assortment of pancakes, omelets and other favorites throughout the year. During the winter, they will be closed on Mondays and Tuesdays.
Sutton's Marketplace is at 1066 Route 9, between Northway exits 19 and 20 in Queensbury. Farmstead Flatbread will be open 11:30 a.m. to 9 p.m. Sunday through Wednesday and 11:30 a.m. to 11 p.m. Thursday through Saturday.