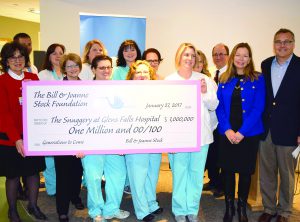 In her 30-plus years living in Glens Falls, the late Joyce Stock served as a nurse at Glens Falls Hospital, built a popular restaurant and raised three sons who share her philanthropic generosity.
In January, her eldest son, Bill, returned to Glens Falls to honor his mother's memory and with one of the largest philanthropic gifts in Glens Falls Hospital history in the form of a $1 million donation from the Bill and Joanne Stock Foundation.
The money will go toward a $5 million renovation project underway at The Snuggery family-centered birthing unit at the hospital.
The hospital announced that the birthing unit will now be known as The Joyce Stock Snuggery at Glens Falls Hospital.
The Stocks' gift brings the total raised for the Snuggery renovation to $2.24 million, surpassing the fundraising goal of $1.25 million established in August 2016 and covering nearly half the total project cost of $5 million.
"Glens Falls Hospital is a vital part of our community. I am very impressed with the talented and dedicated staff, and I look forward to our new partnership," said Stock, a 1979 graduate of Glens Falls High School. "As an independent hospital, operating in a largely rural area, the challenges are great, and they do a remarkable job. We believe this gift will make a sustainable difference for the hospital and for Glens Falls."
Stock said the gift was inspired by his mother who worked as an RN in the hospital's emergency and intensive care departments for approximately a decade before opening the Heidelberg Inn restaurant in Queensbury with her husband, Bill, in 1972.
Stock said the community "has had a major impact on my life both personally and professionally. I am fortunate to have had inspirational teachers, great role models, and so much support from family and friends. It is important to pay that back."
Upon graduating from Glens Falls High, Stock earned his degree in mechanical Engineering from RPI and had a career in the automotive industry. In 2005, he co-founded and became CEO of Chicago-based Power Stop LLC.
In 2013, the couple established the Bill and Joanne Stock Foundation. The foundation is a major sponsor of the One Darn Cool School at Phoenix Children's Hospital.
"Words cannot express how much Bill and Joanne's gift means to our hospital and our community," said vice president of philanthropy Cynthia Sherwood. "We hope that other families across the region will be inspired to join the Stocks in supporting this incredible birthing unit that is so much a part of so many families' lives."
Other major donors to the capital campaign include Stewart's Shops and the Dake family at $250,000; The David S. and Janet R. Sheridan Foundation at $250,000; The Sandy Hill Foundation at $200,000; The Charles R. Wood Foundation at $100,000; and Philip H. and Susan K. Morse at $100,000.
The Snuggery renovation project is being performed in phases through the end of this year, and will include a complete remodeling of all patient rooms; relocation and expansion of the special care nursery; the creation of a new visitor waiting room; two new nurse stations; and reconfiguration and renovation of the unit's hallways to improve traffic flow and provide easier, faster travel between patient rooms and the Snuggery operating rooms when unplanned cesarean sections are necessary.
Donations for the future of The Snuggery can be made at www.glensfallshospital.org or by sending a check to Glens Falls Hospital Foundation, 126 South St., Glens Falls, NY 12801, Attn: The Snuggery.