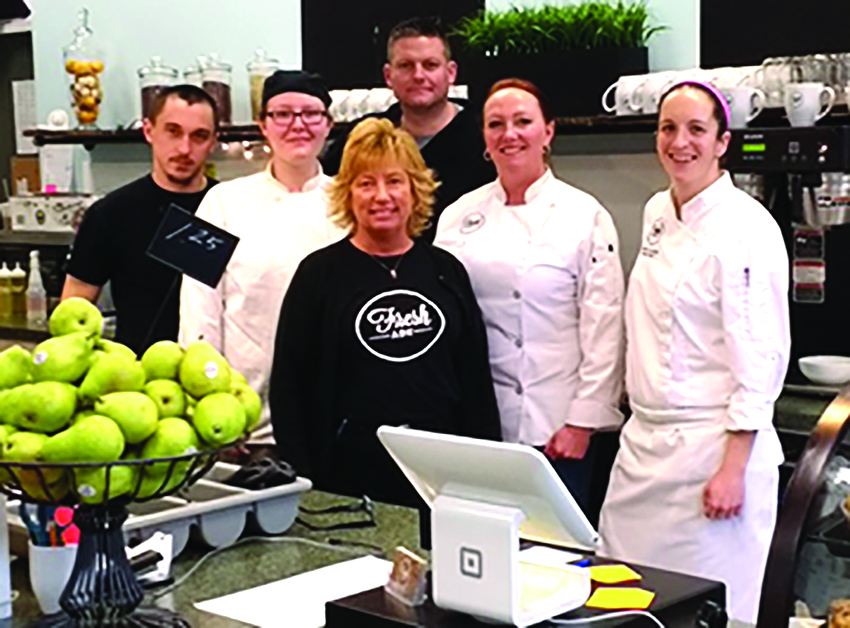 By Jill Nagy
Devoid of energy, inexorably gaining pound after pound of unwanted weight, and itching all over, Melissa Brennan said she knew things were not right.
She eventually discovered that she has celiac disease, an allergy to gluten. She is also lactose intolerant and had a serious histamine overload.
Radical changes in her diet solved those problems, but left her with another one: If she wanted to go out to eat, there was nowhere around where she felt safe.
So, she invented one.
Fresh ADK at 11 South St. in Glens Falls, in the Empire Theatre Plaza, opened in late January. It offers meals for people on vegetarian, vegan, paleo, gluten-free or dairy-free regimens. It also has food for people just wanting to eat fresh food, prepared to order.
The restaurant is fairly small, seating about 18. Everything is prepared on-site by a staff of five people.
"It grew out of a need of my own," she said, similar to her 20-year career building, owning and operating child care centers. She had to give up that business because she was too exhausted to continue, she said.
The children who inspired that earlier career are grown up now and, in fact, helped her create Fresh ADK. Her son, Cartland, is a graphic designer, and her daughter, Larissa, lends a hand in marketing.
The cafe offers prepared food to eat on premises or take out. They also have delivery service.
Breakfast and lunch items are offered all day, with dinner items added in the evening. The menu–available on the cafe's website–has each item labelled to indicate for whom it is safe to eat.
For breakfast, there are eggs, breakfast sandwiches and even breakfast pizzas. Lunch items include fresh salads, sandwiches, healthy pizzas and more. There are also dessert items
Everything, she said, is made from "fresh, raw ingredients." She encourages customers to order ahead by telephone or online, so she and her staff can get a head start on the preparation.
The cafe is located next to the Glens Falls Co-op. It's a "good synergy for both of us," she said, "We go hand-in-hand."
However, she is exploring other sources of supplies because of the volume she requires.
Although she is just getting started in Glens Falls, Brennan is already looking to expand.
"It needs to be available for more people," she said of the types of food she serves.
She said people have travelled as long as one and a half hours to get to Fresh ADK. She is looking for additional locations, either to operate herself or to train other people to operate.
The eatery is open from 7 a.m. to 5 p.m. Monday to Friday and 8 a.m. to 2 p.m. Saturday. It is closed Sundays. The telephone number is 502-1552. The website is FreshADK.com. There is also a Facebook page.