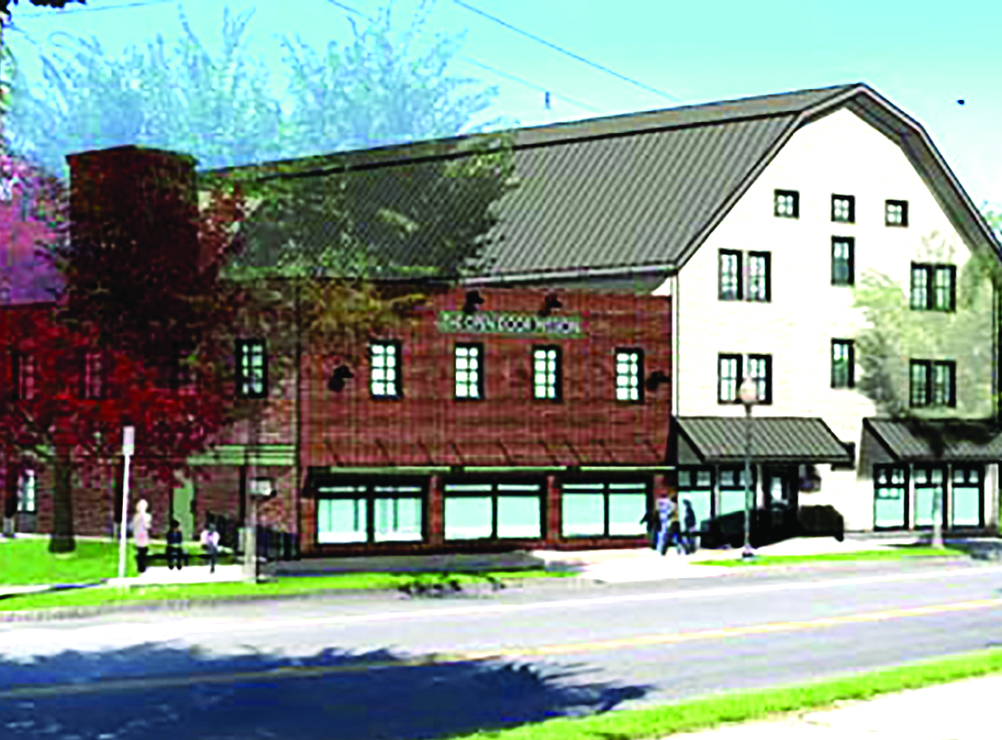 For 25 years, the Open Door Mission has served the needy and indigent from its soup kitchen on Lawrence Street, and before that on South Street. But on Jan. 5, Open Door leadership announced a new door of its own has opened since they acquired title to the former Warren Furniture building, 226 Warren St., Glens Falls, at the intersection with Platt Street.
The Open Door board and Kim Cook, executive director, held an event at the new property to announce its Pathway Home Capital Campaign and to showcase the building that they plan to renovate, with the help of local, regional, and federal funding, as well as support from the community.
The mission is inviting local donors to support the $1.75 million community portion of the campaign. Invitations will be extended in late spring or early summer to involve the entire community with the completion of the campaign. Additional local, regional, and national grants are being secured throughout this year.
The multi-phase project will result in a significant increase in the quality and capacity of services for those in need, said Cook.
The last 25 years have seen growth in The Open Door's programs, but they have been held back by a lack of space, officials said. Some of the key programs and services they intend to offer over time in the new facility include a day room, a larger dining room, a resource center with classroom and computer lab, men's shelter programs with life skills, addiction recovery and discipleship; job training by way of culinary arts, horticulture and various social enterprises; and a health clinic.
"Poverty and homelessness are increasing in our area. Even as our downtown is seeing revitalization, many are being left behind. Glens Falls is better than this. It's Hometown USA," said Cook.
Cook stepped into the lead role in 2013.
"As I have gotten to know our guests, eating meals together, crying and laughing with them, I have realized that they are people like you and me," she said. "Too often though, they have lost hope. Life has beaten them down to the point they can barely deal with the problems of the day, let alone make plans for a positive future."
According to Cook, the effects of poverty are having an increasing impact on the region. She said a sustainable community requires that people get help to move toward stability, housing, jobs, physical health and emotional health in order to become positive members of the community.
"We believe that offering these programs in a safe place where people are given love and respect is key in making a difference," said Cook.
Many were at the announcement event to applaud the efforts of the Open Door including state Sen. Betty Little, who said the project "showcases the good in humanity, which is always great to see. But I think it is particularly timely at the start of a new year when many of us resolve to do better in some way. This is more than just a helping hand but something that will offer those in need programs and resources to help them change their lives in a positive and lasting way."
"The services you are planning to offer are clearly needed in the city and surrounding communities," said Glens Falls City Councilman, Bill Collins. "I applaud your success to date in securing the capital needed to purchase this building and hope for your continued success in raising the money needed to accomplish such ambitious and courageous goals."
Those who want to help with the project can contact Cook at 792-5900 or admin@opendoor-ny.org