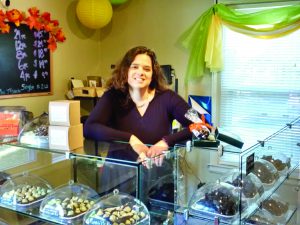 Barkeater Chocolates will soon have its gourmet chocolates, handcrafted in North Creek, available in a local grocery store chain.
The company announced March 2 that its products are being rolled out to 72 Price Chopper and Market 32 stores across New York state over the course of the next several months.
The 72 stores are offering Barkeater's famous Barkeater Bars in five flavors, Grown Up Peanut Butter Cups, a locally sourced all-natural crunchy peanut butter, and two varieties of their "bark" product.
"We've been working with Price Chopper for several years now, and are thrilled that they are choosing to increase our footprint to all of their New York stores," said Deb Morris, a chocolatier and co-founder of Barkeater Chocolates.
"The Golub family is very discerning about what products they offer their customers, and we're honored to have a place in their stores," she added.
Mona Golub, a spokeswoman for Price Chopper and Market 32, said Barkeater Chocolates was a natural choice.
"As a homegrown company, we are committed to sourcing and procuring foods from local producers with an exceptional commitment to quality, and Barkeater Chocolates is a perfect fit," she said. "Their chocolate peanut butter cups, bars and bark are amongst the best that our category managers, who source product from all over the world, have ever tasted."
In 2008, Barkeater Chocolates started making small-batch chocolates in a rented space at a local bakery. Today, the company employs eight people at its own production facility and distributes their chocolate throughout the Capital Region, the Adirondacks, New England and some Mid-Atlantic states.
They are an innovative company that specializes in flavors, such as a quinoa Ka-Pow! bar, one of only a handful of chocolate products across the country that utilizes quinoa with dark chocolate, according to the company.
The company website is www.barkeaterchocolates.com.