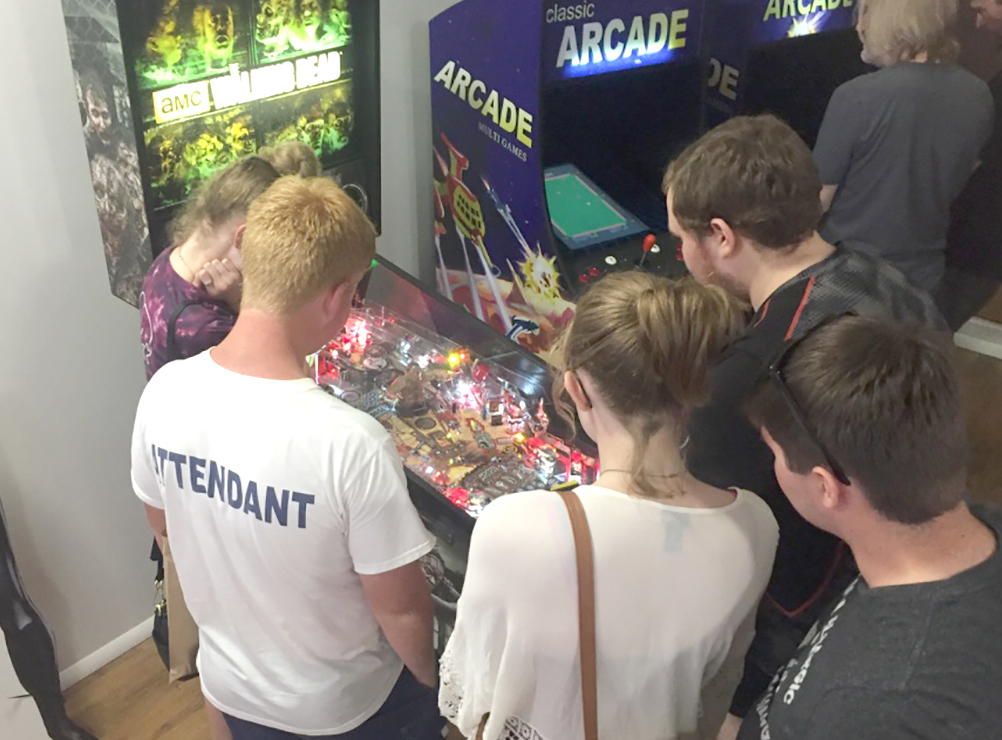 By Liz Witbeck
Comic books and games have always been a part of Troy Rollins' life. His childhood centered on enjoying games and comics with friends.
"We'd travel for hours to get to a cool game store," said Rollins.
Now the time has come for Rollins to open up his own game store. He has been involved in independent software development and media production for the past 25 years.
The Freakopolis Geekery is a comic book and game store located at 120 Main St. in Whitehall.
Rollins operates the store with his sons, T.J. and Ian. Both went to SUNY Adirondack. He wanted to create a business that they could be involved in together as a family.
"I couldn't see them going into my software development business. This is something that they can eventually take over," Rollins said.
The Freakopolis Geekery is a place where freaks, geeks and everybody in between can come to enjoy and share their interests in a community-based setting.
"We know enough about this to do a good job," he said.
The store has more than 100 different titles of comics available. Popular Marvel and DC comics can be found, as well as smaller, independent comics such as Dark Horse.
The Freakopolis Geekery carries trade paperbacks and graphic novels.
Games are a big draw to the store, Rollins noted.
Tabletops are spread in the middle of the shop, so customers can come in and play with friends or other guests. Dungeons and Dragons, Star Wars and HeroClix are some of the most popular games.
The store also hosts frequent gaming nights. There are demo nights, where people can attend to learn how to play certain games. There are also gaming nights and tournaments.
Customers can also come in and play old-fashioned arcade games such as pinball. Rollins said people have enjoyed learning how to play the older-style games.
"You won't believe how many people age 25 and younger I have had to show how to play pinball," he said.
The storefront is one aspect of Freakopolis. Behind the scenes, Rollins and sons have been creating the Freakopolis Network, an animation lab that works in conjunction with the store. It combines their talents in software, media, writing, and more.
There are five employees handling the Freakopolis Network.
The network produces a series of animations located in the city of Freakopolis. The inaugural cartoon, "The Ultimate Z-Sports Tournament" pits residents of Freakopolis in a battle against "undead" residents on an island for 30 days.
The Freakopolis Network puts out new animations approximately once every eight weeks on a YouTube channel, said Rollins. They also produce live videos in which they review the latest news in geek culture, including comics, games, science fiction, television, film, and general news.
"It's our own contribution to pop culture animation," said Rollins.
"Our hope with The Freakopolis Geekery is that it's a way for people to come out and meet the creators of these animations," he added.
And customers are coming out. Just like Rollins and his friends used to drive for hours to visit their favorite stores, people drive for hours to visit The Freakopolis Geekery.
"We have people who come from Ticonderoga, Glens Falls, Vermont, to visit us," he said. "People are really blown away. They don't expect to find this … I'm confident in saying that regionally we're one of the best."
Recent events at The Freakopolis Geekery include a Star Wars Destiny tournament and a Coast to Coast Comic Con. The store has an impressive social calendar, and encourages people to check out their Facebook page for upcoming events. Their Facebook and YouTube pages are also where they can view the latest videos, produced by The Freakopolis Network. The second animation in "The Ultimate Z-Sports Tournament" is due to be released shortly.
The store is open Wednesday through Friday from 2-8 p.m.; Saturdays noon to 8 p.m.; and Sundays 11 a.m. to 5 p.m. It is closed Mondays and Tuesdays.
For more information, visit them on social media pages or the company website at freakopolis.net. The phone number is 294-5551.