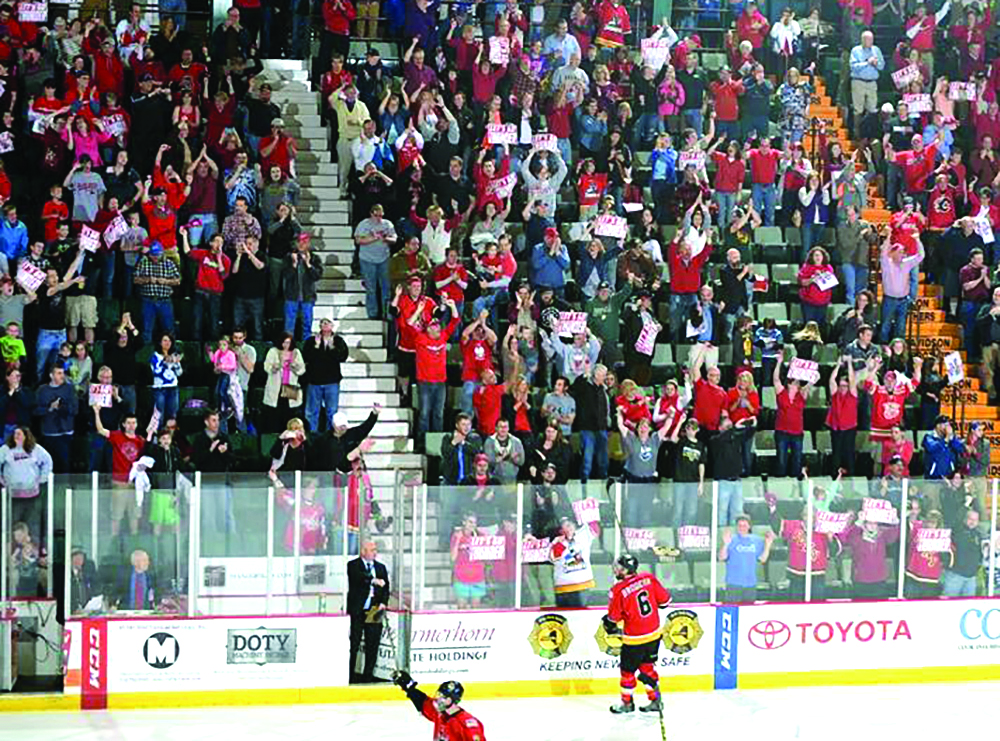 The Adirondack Thunder welcomed 101,883 fans into the Glens Falls Civic Center during the 2016-17 regular season, some 13,253 more fans than the 2015-16 season, team officials reported.
According to the organization, Adirondack was one of 11 ECHL teams to see attendance increase from 2015-16 to 2016-17. The team's 15 percent attendance increase was the largest in the ECHL this season.
"We're thrilled with the fan support we've received this season, leading to three sellout nights at the Civic Center," team President Brian Petrovek said. "The energy in our building has continued to grow and our players and coaches feel it and are impacted by it. We can't thank our fans enough for their support and passion in creating a fantastic atmosphere for our team to play in as we begin what we hope is a long and successful playoff run."
The Thunder saw an average of 368 more fans on a per game basis during the 2016-17 season, bolstered by three sellouts, up from one last season, officials said. The team had two crowds of greater than 5,000 fans, including a franchise record 5,135 fans on Feb. 25.
Officials said the attendance growth began with season ticket sales as the Thunder ranked tied for first in the ECHL with a 97 percent season ticket renewal rate and second in new, full season tickets. Adirondack has already sold over 100 new full season tickets for the 2017-18 season.
"As new owners of the Adirondack Thunder, we have already been excited by the influx of new season ticket holders and the incredible atmosphere in our building over these last few weeks," Glens Falls Civic Center General Manager Jeff Mead said. "We hope to see the Civic Center full for playoff hockey for another great playoff run as we transition into the Thunder's local ownership beginning this summer."
The Adirondack Thunder started the 2017 Kelly Cup Playoffs with a pair of games April 14 and 15 against the Manchester Monarchs. The team returns home to Glens Falls for, if necessary, five home playoff games.
The complete round one schedule is:
Game 1: Adirondack @ Manchester, Friday, April 14, 7 p.m.
Game 2: Adirondack @ Manchester – Saturday, April 15, 6 p.m.
Game 3: Manchester @ Adirondack – Tuesday, April 18, 7 p.m.
Game 4: Manchester @ Adirondack – Thursday, April 20, 7 p.m.
Game 5: Manchester @ Adirondack – Saturday, April 22, 7 p.m.
Game 6: Manchester @ Adirondack – Tuesday, April 25, 7 p.m.
Game 7: Manchester @ Adirondack – Wednesday, April 26, 7 p.m.
Round one playoff tickets will be sold at $20 for adults and $16 for youth at the box office, with all sales tax and facility fees included, making round one pricing $1 less per ticket than regular season box office prices. Fans can also purchase the Kelly Cup Mini Pack at the box office, which consists of four tickets, four hot dogs and four sodas for $75, good in any silver section.
The Thunder will also offer group tickets, available at $15 per ticket, for all parties of five-or-more for post-season play. All fans interested in group tickets should call the Thunder front office at 480-3355 ext. 1 to reserve seats.