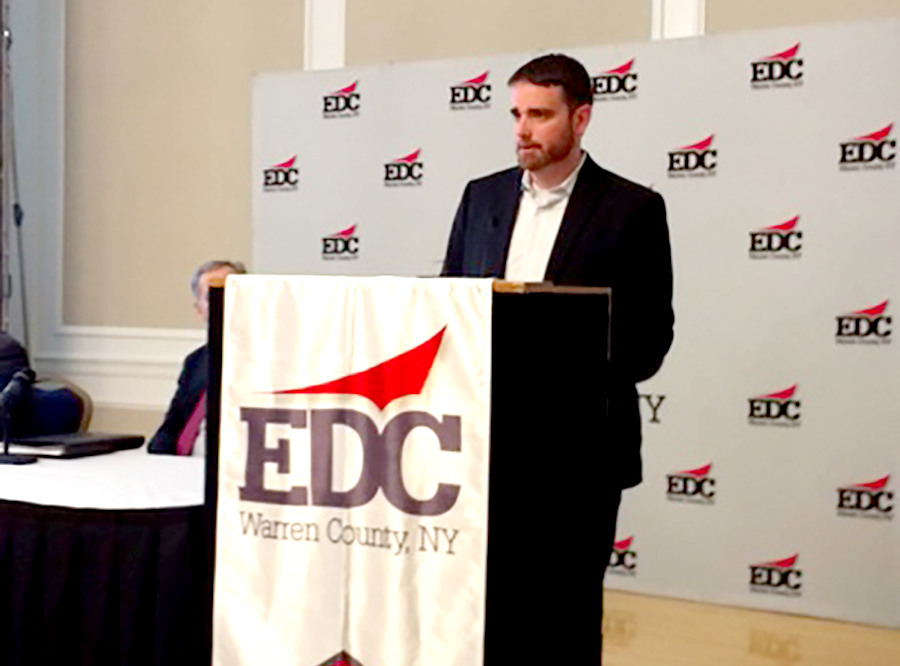 By R.J. DeLuke
"It's great to see the revitalization in the region, especially in the city of Glens Falls," said Andrew Kennedy, president and CEO of the Center for Economic Growth (CEG) leading off his remarks at the annual EDC Warren County economic outlook breakfast at The Queensbury Hotel in Glens Falls on March 22.
CEG is the regional economic development organization for the greater Capital Region and New York's Tech Valley that includes Warren County. He was one of three speakers at the event, each of them with talking points about how public/private partnership and collaboration have helped–and can continue to be a vital part of–local economic development.
Kennedy outlined the services his agency can provide, such as helping attract new business and investment, supporting programs that allow businesses to thrive and preparing communities for development opportunities when they arrive.
Among the specific programs Kennedy viewed as important was the Business Growth Solutions program for small to medium-sized companies in the manufacturing and technology sectors across several industries. CEG team members and third-party partners help businesses find new revenues and increase profitability.
He said it has had a $40 million impact on the area's economy.
Another highlighted program was Talent Connect, a new program that helps employers recruit and retain skilled workers. It also identifies jobs that are emerging and helps create a skilled workforce for them
"We like to be that sort of connective tissue, that one-stop shop," for assisting businesses, said Kennedy.
Michael Yevoli, regional director of Empire State Development Corp., praised the efforts of the EDC as a key to growth in the economy. "Do not hesitate to reach out to our office" for assistance with expansion projects or business proposals, but also in the case of some kind of crisis that might affect a company.
"We can help make connections for you, if not assist you outright," he said.
The state has provided more than $437 million in funding since 2011 for more than 500 economic development projects in the Capital Region that includes Washington, Warren and Saratoga counties, "and we're not done yet," said Yevoli.
Glens Falls officials have had the job for the last few months of deciding how to spend $10 million it received from the State Development Corp. in the form of a grant from its Downtown Revitalization Initiative.
Yevoli the local team, including the EDC, "did a fantastic job" presenting its proposal. The grant award came about from a competitive process among other regions. All review teams from his agency ranked the Glens Falls project at the top of the heap.
The state is now reviewing the specifics of the plan. "We're moving forward with the project with implementation coming very shortly" he said.
Bolton Supervisor Ron Conover spoke about more than $4 million in recent capital improvements to his small town, in particular the revitalization of its pier on the lake that was in bad condition–so much so that Lake George steamboats couldn't stop there, hurting tourism.
The town needed a solution, but collaboration was key. Working Chamber of Commerce and the state's Capital Region Economic Development Council, with some $27 million in funding, there are waterfront improvements, including a new pier, construction of a new visitors center in the park at the pier and expanding the local history museum.
He said residents, not just tourists, can now be seen enjoying the park and the center. Events, like concerts, are held during the summer, getting good attendance.
"It's the water gateway to our community," Conover said.
"I can't say enough about the collaborative work that went into both of those projects."
Multiple groups have also worked to develop hiking and bicycle trails to connect with trails in nearby Haugue and Lake George. It has brought an increase in activity. He estimated 6,000 people hiked a mile-long trail to The Pinnacle last year.
"People have always come to Bolton and the Adirondacks for the vistas, views and clean water," he said.
"It's a marvelous example of sustainable development," the supervisor said.