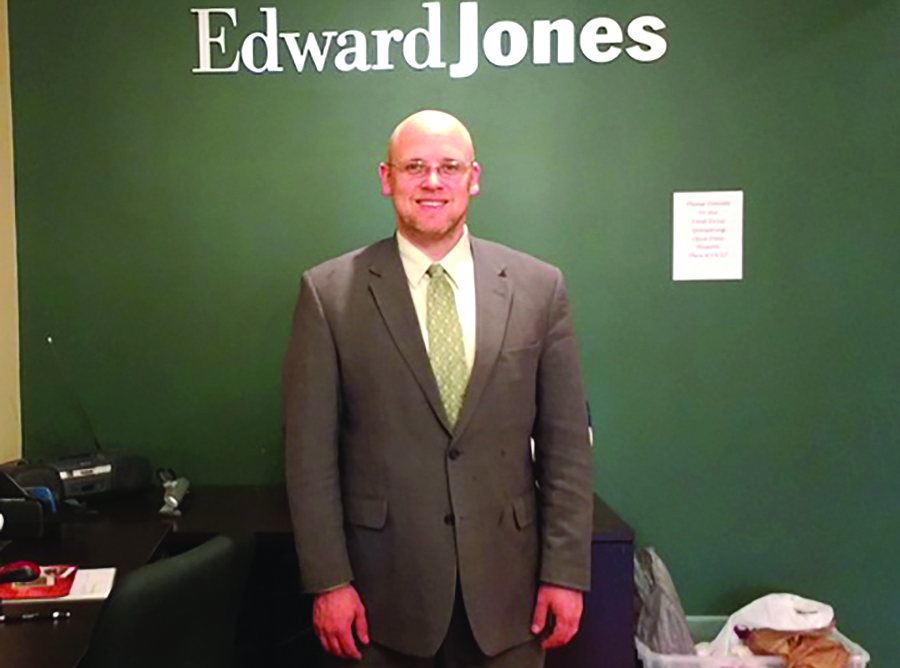 By Jennifer Farnsworth
Steve Babson II started his professional career almost 20 years ago in downtown Glens Falls, and it now appears to be coming full circle.
Today, the Glens Falls native is an Edward Jones financial advisor with a new office at 55 Bay St., Glens Falls.
"I like to say that I started my career a block out of the heart of downtown Glens Falls 17 years ago and I'm finishing a block out of downtown Glens Falls in the other direction. I want to continue to help people as best I can, listen to them intently and create strong plans so they can have the future they envision," said Babson.
Babson graduated from Glens Falls High School and SUNY Oswego before opening a coffee shop at the old Triad's building, currently Rock Hill Café. He spent some time with The Chronicle, before working with the Regional Radio Group as a sales representative. He then started to follow a path in business and finance working in banks in both Glens Falls and Mechanicville.
"Within the first month of being in banking I determined that the financial services field is where I wanted to ultimately be. About a year before I left banking, I wasn't sure where my career path was heading. I had a lot of different experience and didn't know what I could do where everything I had done would be an asset," said Babson.
As a financial advisor, Babson said he provides services to help his clients build personalized strategies to achieve their financial goals. In doing so, he hopes to build a lifelong relationship with a client. His services include investment reviews, retirement planning, education savings, life insurance, and overall financial strategies.
Babson said he knew, after looking at several other properties, that Bay Street location was the perfect fit.
"I am fortunate enough that the timing worked out and something amazing was available in the Smith Flats building," he said. "When I first saw the building it was stripped to brick and studs and broken floors and ceilings. I could literally see from the bottom floor to the top floor ceiling. I walked in and smiled and after about two seconds I knew this was where I wanted to be."
One of Babson's ongoing goals is to give back to the community by being an active member of it. Babson is a board member for Fort Edward Heritage Days and a current percussionist for the Lake George Community Band.
"I'm working on getting involved with another group or two in Glens Falls and my plan is to be contributing to those in some way this year … I feel I owe my hometown a lot and want to continue to give back so bring it on," said Babson.
He can be reached at 761-1215.