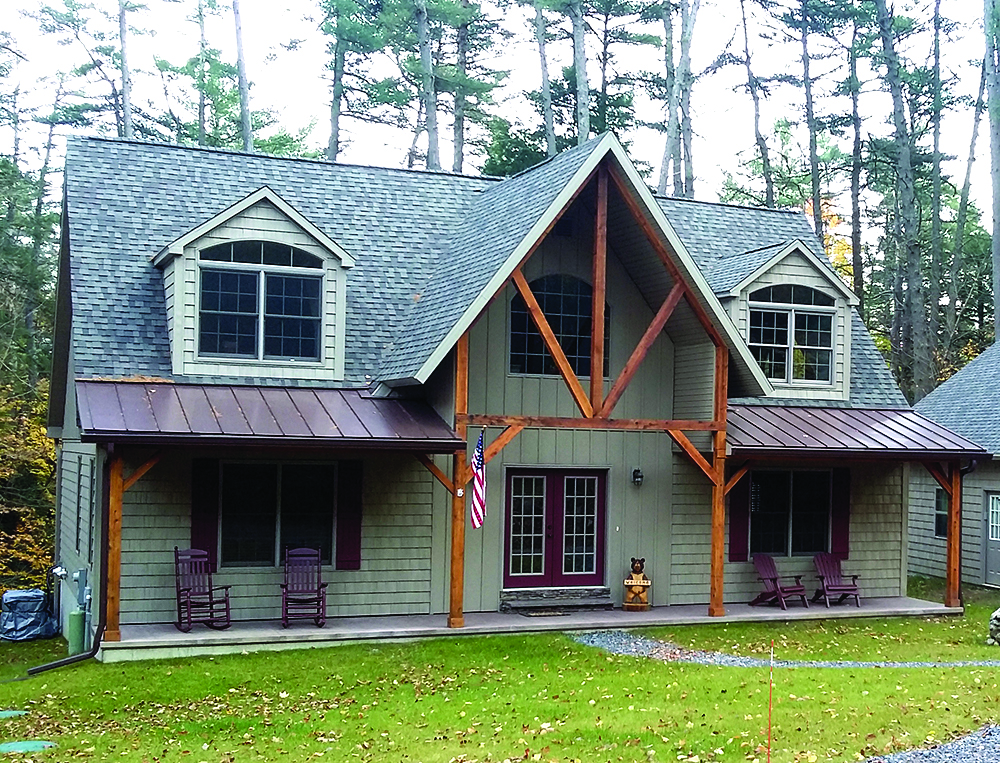 Wood Brothers Quality Construction in Glens Falls started three years ago. This is one of the company's new homes, of which it builds two or three per year.
Courtesy Wood Brothers Quality Construction
By Maureen Werther
Some people excel in one area but may fall short in others. For Dan Wood, owner of Wood Brothers Quality Construction in Glens Falls, a combined excellence in his craft and knowing how to run a business has brought him early success and a steadily growing reputation in the upstate New York and Vermont regions.
In his third year of business, Wood said he made the right decision to venture out on his own. After working in the construction field for 15 years, first as an estimator and then as a project manager, he felt it was times to "take the leap."
"I reached a point where I was doing a lot of jobs on the side," he said. The timing was right and he made the change from employee to business owner. He's never looked back.
"There's always that uncertainty and knowing that you have to raise a family," said Wood, who is also the father of two young girls. "I'm doing exactly what I was meant to be doing. This is a passion for me."
That passion is two-pronged. He loves building things, but he is equally passionate about marketing and selling them.
Wood began his building career designing and constructing birdhouses, then finding ways to sell them. He attributes much of his drive to growing up in a large family that didn't have a lot. As one of seven children, his parents always pushed them to do their best.
Wood studied business in college before embarking on his career in construction, working mainly in Vermont. He moved full time to Glens Falls three years ago. Wood is excited by the growing opportunities the region has to offer.
He said he loves building timber-frame and cedar homes, which are very popular in the Adirondacks and beyond.
"When I first started, I took every job I could–trim work, siding, renovations, remodeling. The jobs kept getting bigger and I got to a point where I had to hire two guys," said Wood.
In addition to renovations and remodeling, Wood Brothers is currently building about two to three new homes a year and his goal in 2017 is to have a crew of 10 people on his team.
The company recently completed one of its biggest commercial projects to date, the new Surfside Hotel in Lake George. MLB Construction was the general contractor for the project, but the hotel's owner, Salim Amersi, hired Wood Brothers to do all the interior trim work, such as tile, carpeting, and baseboard trim and portions of the exterior trim work.
At this point, about 90 percent of Wood Brothers' jobs are residential. However, looking five to 10 years down the road, Wood has his eye on doing larger commercial and residential projects. He is even considering buying property for new home development in the region. But, those plans are still in the formative stage.
For the time being, Wood is dedicated to growing his reputation as a full-service, customer- and detail-oriented operation. He said he is a stickler for details ever since those birdhouse-building days.
"People enjoy working for me, but they know that I want things done right," he said.
He said he getting and keeping good help is an issue he has faces. Its one that is common nationally in the construction and trade industry. While there are a lot of people in the trade industry, there is a high rate of burn-out and the challenge is finding and keeping the best people. So far, he feels fortunate, he said.
But, Wood noted, he still has one of the two original people he hired when he first went out on his own.
In addition to being detail-oriented, Wood is committed to delivering customer service and being responsive.
"Time and time again, I will hear from customers that they've called contractors and never heard back from them. I vow that I will give the best customer service," he said.
Wood Brothers moved into its new office space in the Union Square building in Glens Falls in 2016. Prior to that, Wood worked from a home office. Since moving into the new space, Wood says that his focus is more intense, he can accomplish more tasks and improve efficiencies.