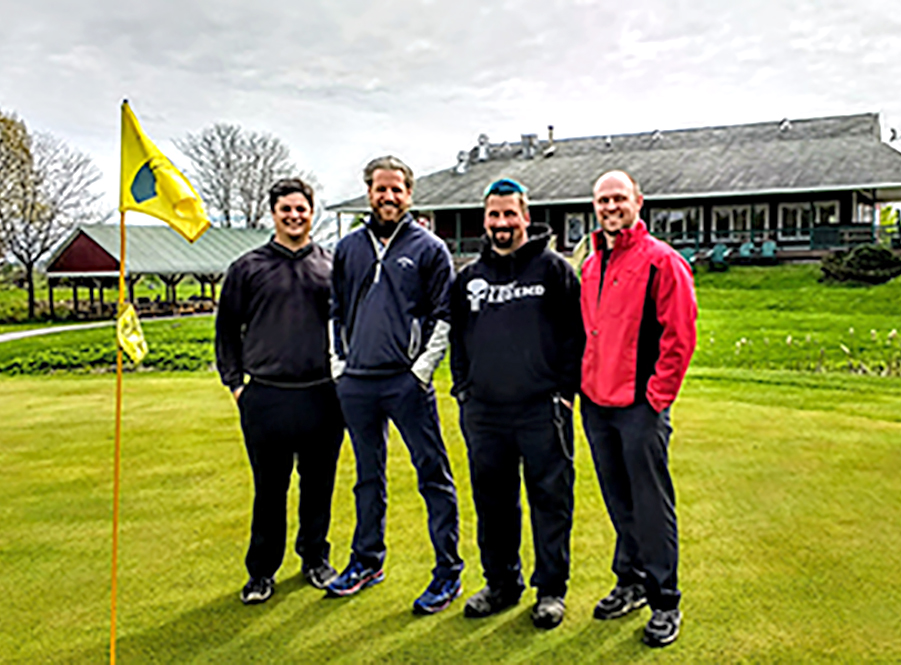 By Liz Witbeck
Kingsbury National Golf Club is open for the season and is gearing up to be a destination golf club in the Adirondacks.
The golf course was previously named Kingswood, and under different management.
In October, the course was purchased by Deric Buck for $1.75 million. Buck formerly owned Bay Meadows Golf Club in Queensbury.
Kingsbury National Golf Club is located at 111 County Route 41, in Hudson Falls. It is an 18-hole, links-style course. It includes a new restaurant.
When the property came up for sale, Buck knew that he had to purchase it.
"This place is absolutely gorgeous," said Luaces. "There are rolling hills. We have nine ponds on the property. You can see the Green Mountains." He referred to the golf course as being "in the middle of paradise."
The course stretches 7,100 yards and plays  to a par of 72.
Buck hired Adam Luaces as general manager of Kingsbury National Golf Club. He is a native of Glens Falls. He worked in New York City, with a background in logistics.
Buck and his team worked for months to bring the golf course up to superior standards.
Chemicals were purchased to improve the grass on the golf course. Buck spent approximately $100,000 on sand and gravel, to put in the sand pits on the course, he said.
One of the biggest renovations on the property involved the pro shop. Buck, Luaces and the staff took the previous bar and pro shop and converted it into what is now a restaurant, Fire Rock. It opens on Memorial Day weekend.
Fire Rock's interior is Adirondack charm with a modern rock and roll twist. There is reclaimed barn wood, stainless-steel fans, cement-poured bar counter tops and more.
The menu, too, is Adirondack homestyle food with a modern flair.
The restaurant will serve roasted pig, smoked meats and more. The team brought in someone from the Houses of Blues organization to work as executive chef.
The new ownership plans to make Kingsbury National Golf Course to be a destination golf course where guests can "stay and play." To that end, Luaces visited several golf courses, researching the destination-golf-course concept. There are plans to build several cabins on the property, where guests will be able to stay.
"This is an amazing 'stay-cation' way for people to experience the beauty of the Adirondacks," said Luaces.
He said Buck's leadership will make Kingsbury National Golf Course a success.
"Everybody believes in Deric Buck. It is all about the quality behind his name and his work," Luaces said. "He is a good business man. He makes people feel at home. It's that 'Cheers' effect. Everybody knows your name."
For more information, visit www.kingsburynational.com or call 787-8888.