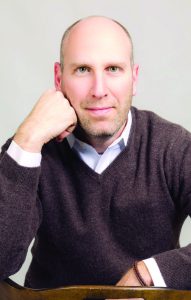 JUST Goods, Inc., which owns JUST Water in Glens Falls, announced that Ira Laufer is the company's CEO.
Laufer joins the company with 17 years of experience leading better-for-you and specialty CPG brands including Red's Natural Foods and Vitalicious. He took over the job on May 1.
The company said he will lead the next phase of growth and expansion for JUST Water, JUST Goods' sustainable line of 100 percent spring water in an innovative, grab-and-go bottle made from plant-based, renewable resources.
His main focus will be to further leverage the JUST brand, execute entry into additional categories as well as create line extensions in the beverage category, said the company.
"We're excited to have Ira join our journey," said Jaden Smith, one of JUST's key investors. "He has the experience and shares the vision we have to do good for the planet."
"JUST is doing such remarkable things for local communities and for the environment," said Laufer. "I am looking forward to continuing the momentum strategically and developing even more opportunities with the JUST team."
Jim Siplon,CEO of JUST Goods and a member of the EDC Warren County board of directors said, "All of us at JUST are pointed to the next chapter of the company and brand's growth here locally in New York and across the country.  Ira brings a wealth of experience and contacts in the industry to our continued mission of re-invented consumer goods, unique community connection and sustainability focus."
Unlike conventional water in plastic bottles, JUST Water's bottle features a paper-based body with a shoulder and cap made from responsibly-sourced sugarcane. With a commitment to sustainability, JUST Water is sourced from the Glens Falls watershed, a natural spring in the Adirondack Mountains in partnership with the city of Glens Falls.
For more information, visit www.JUSTwater.com