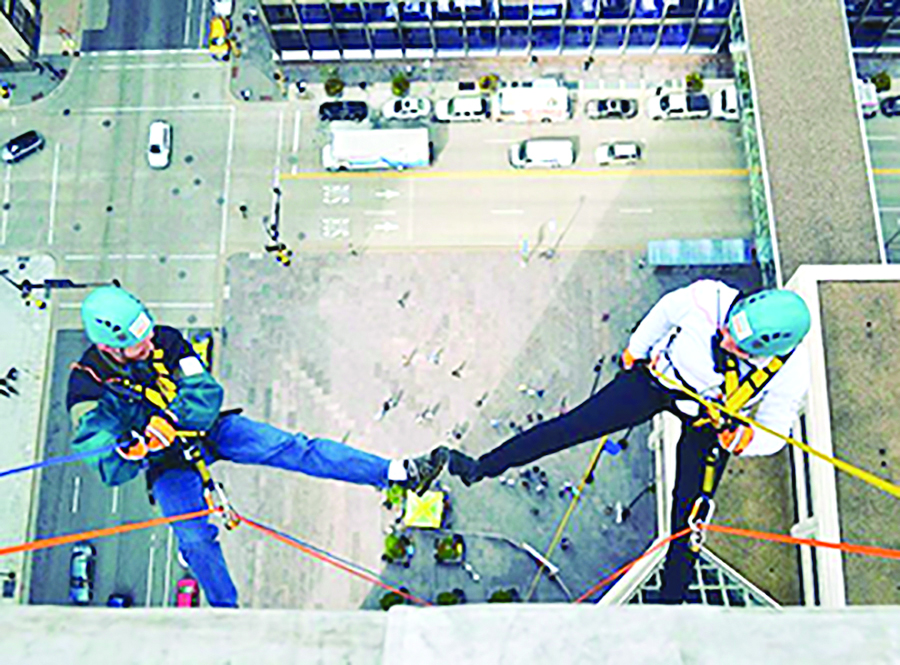 By Susan E. Campbell
A unique fundraising event promises to jump-start Tri-County United Way's new fiscal year and help dozens of worthy agencies receive the financial assistance they need.
"We are going over the edge," said Duane J. Vaughn, executive director of the United Way office that has served Warren, Washington and northern Saratoga counties since 1923.
She meant, literally, over the edge of the five-story Queensbury Hotel. Tri-County United Way has partnered with Over The Edge, a company out of Canada that has raised $50 million for nonprofit agencies since its inception by helping brave volunteers rappel down the side of a building—scaling down the building using a special rope setup. Professionals guide participants through the entire rappel, and Over the Edge adheres to strict guidelines set by experts in the industry;
"This fundraiser works like a walk-a-thon or road race where participants collect pledges from their own pools of friends and family," Vaughn said.
Because the participants raise the money rather than the nonprofit organization itself, Vaughn hopes to reduce "donor fatigue."
"Ours is a very giving community and donors are very important to us," he said. "We are always looking to find ways to lessen their burden."
Vaughn joined United Way in September 2016 following a 14-year career as executive director of Wai House, an emergency shelter program for homeless youth.
"I enjoyed everything about the program and helped thousands of young people," he said. "It was time to stretch my legs a little bit within the nonrofit sector."
Vaughn is originally from the North Country and he and his wife, SUNY Adirondack's human resources director Mindy Wilson, live in Fort Ann. An immediate goal for Vaughn in his capacity as executive director is to help his office move toward more of a community-impact model.
United Way has long relied on workplace campaigns, where businesses give their employees the opportunity to contribute regularly through their weekly paycheck, for the majority of its fundraising. The community impact model focuses more effort on improving lives and resolving priority issues through specific sustainable programs.
Every year, starting January first, community agencies can apply for financial assistance from United Way. Neither Vaughn nor his small staff—a full-time director of resource development, a part-time business manager, and a part-time administrative assistant—decide how funds are allocated.
That responsibility is the privilege of 22 volunteers who, from the and of March through the end of May, meet with applicants and review their funding requests.
"This is a democratic and fair method of assessment that lets the volunteers see our resources put into action," said Vaughn.
This year, applications came in from Literacy New York, the Twin River Council of Boy Scouts, Adirondack Samaritans, Greater Glens Falls Senior Center, Caratis Inc. respite care, the Senior Center of the Kingsbury and Fort Edward area, Family Service Association, Glens Falls Youth Center, Big Brothers and Big Sisters, Salvation Army and Catholic Charities.
Tri–County United Way has been able to fund approximately 78 percent of the amounts agencies request each year. Vaughn said his goal is to achieve 100 percent, as well as to grow campaigns that will help more nonprofit organizations get the money they need.
"Some agencies get government funding and some do their own local campaigns, but they are not staffed to go out and raise money," he said. "How can we help them? By fundraising so that they can spend more time working on their programs that serve their community."
Vaughn plans to be one of those rappeling down The Queensbury Hotel on Saturday, June 17. So far 30 people have secured their spot by submitting an $85 registration fee online. There is room for 90 such volunteers each pledging $1,000 from among their personal contacts.
For a $2,000 pledge, employees can join forces and "toss their boss." To sign up or to pledge money, simply log on to www.tricountyunitedway.org or www.otecwe.com/glensfalls.
Many local businesses are supporting this first-ever fundraising event. Hilltop Construction is the lead sponsor, donating $10,000 in honor of its 40th anniversary. Other sponsors include Parker Machine Co., Hudson Headwaters Health Network, Nemer Chrysler Dodge, Davies Davies & Associates realtors, Jaeger & Flynn Associates insurance, FitzGerald Baker Morris Firth attorneys at law, Stored Technology Solutions, Keena Staffing, and Trustco Bank.
Vaughn hopes that the Over The Edge event will get Tri-County United Way off to a strong start as its new fiscal year begins July 1.
The year that ends June 30th witnessed many success stories in collaboration with local businesses and agencies.
"We are very excited about all the events and programs coming up," he said. "We know there are other agencies that need our help and we are going to get there."
Learn how to volunteer time and financial resources through the local United Way by visiting www.tricountyunitedway.org'