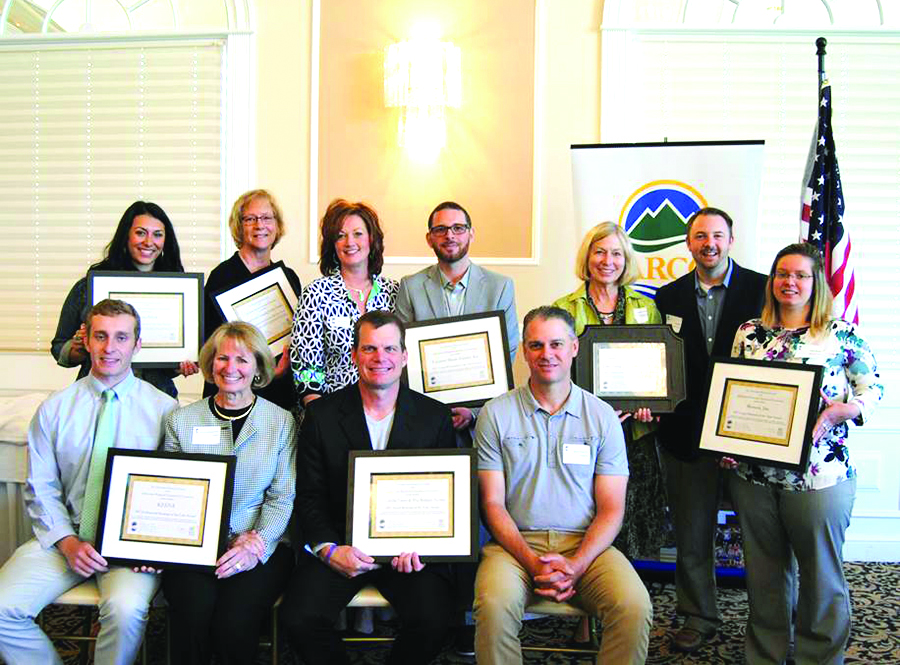 Keena Staffing was named Professional Business of the Year by the Adirondack Regional Chamber of Commerce and Adirondack Business Council at the 27th annual ARCC Business of the Year Awards ceremony on June 7 at the Hiland Park Country Club in Queensbury.
The awards recognize achievement in business, commitment to community and contributions to the region's quality of life.
Nominees in the Professional Business of the Year category included Adirondack Technical Solutions, ConfiData and the Kinney Agency. Denise Barnes, Sherry Barnaby, Michael Gerarde, Connie Gerarde-Niles, Doreen Kelly and Michael Niles were on hand to accept the award.
The Small Business of the Year award went to Talk of the Town/The Bullpen. Nominees on that category included StreamLined Graphics, the Spa Studio and Tom McDermott Motorcycle Sales. Paul Bricoccoli and Jason Krogmann represented the winning business.
Rookie Business of the Year was MinkyMink and proprietor Maura Bannon accepted the award. Nominees included Jonathan Reid, Just-A-Buck and Square Nail Rustics.
The Nonprofit of the Year award was presented to Matthew Way of Luzerne Music Center Inc. Other nominees were the Open Door Mission and Planned Parenthood Mohawk/Hudson/Glens Falls;
The Large Business of the Year award was presented to Brian Steid  of Morcon Inc. Other nominees were Lake George Steamboat Co. and Telescope Casual Furniture.
Independent Business of the Year was BJS Artworks Framing Center and Beverly Saunders represented the company and accepted the award.  Other nominees were Advokate, Lighthouse Advisors LLC and Pepe Productions.
Sponsors included Northeast Promotional Group, Glens Falls National Bank and Trust Co., NBT Bank, Whittemore, Dowen & Ricciardelli LLP, the Adirondack Trust Co., Hilltop Construction Co., Glens Falls Hospital and KEENA.