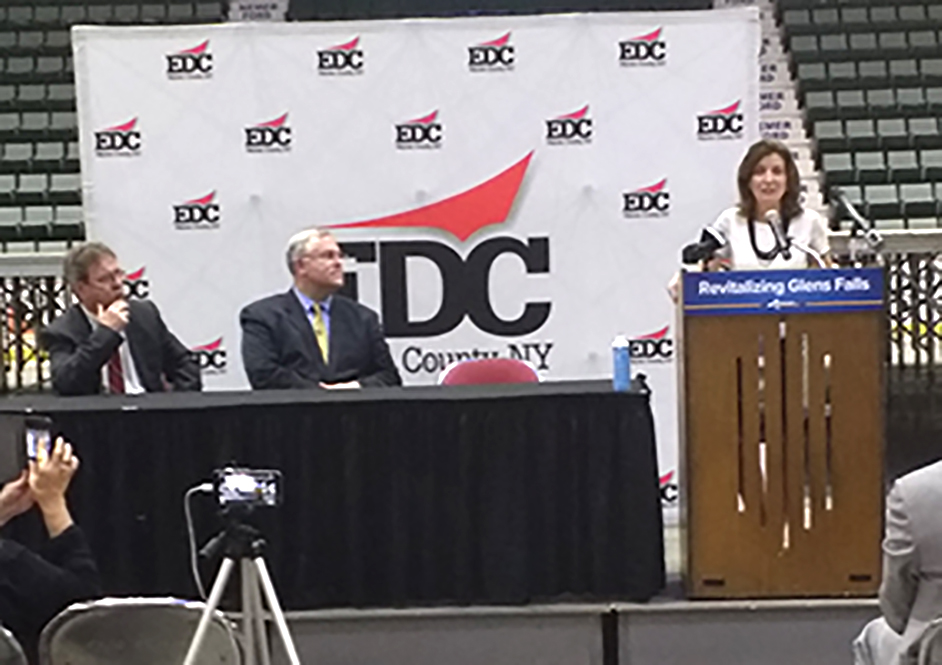 New York state in May announced the winning projects selected for the City of Glens Falls in the Capital Region as part of the state's $100 million Downtown Revitalization Initiative.
The DRI aims to transform local neighborhoods across the state into vibrant communities where the next generation of New Yorkers will want to live, work and raise a family. Working together with state agencies and the Regional Economic Development Council, the City of Glens Falls has built a strategic investment plan that identifies catalytic downtown projects consistent with the initiative's goals.
Glens Falls has received $10 million  under the state initiative.
"The Downtown Revitalization Initiative recognizes that vital central business districts can anchor the growth of an entire region, especially those with a strong central market as their focal point," said Lt. Gov. Kathy Hochul, who made the DRI announcement at the Glens Falls Civic Center in an event hosted by EDC Warren County.
"Through the DRI, Glens Falls will create a new downtown building with retail space, an incubator kitchen and farmers market," she said. "Glens Falls will also strengthen pedestrian access in its walkable neighborhoods and support small business growth through grant funding to create a thriving downtown where people want to live and work."
Officials said the eight winning projects are:
• Market on South Street.
It will create new opportunities for local retailers, artisans, restaurateurs and farmers by expanding upon one of the city's greatest assets: its connection to regional agricultural resources.
It will focus on access to healthy food options while improving the facilities provided to the Glens Falls Farmers' Market Association, generating new opportunities for commerce, community gathering and wellness education. It will be designed with public green space for easy pedestrian and bike access, and will substitute displaced surface parking at the site with an adjacent public garage.
• Relocate SUNY Adirondack Culinary School downtown.
This will assist SUNY Adirondack in relocating its Culinary School to a downtown location in Glens Falls. Support development of a new downtown facility that includes classroom space, a working kitchen, and a restaurant for training students in front-of-house and back-of-house operations. The preferred build-out would include a dining area, teaching kitchens, bakeshop, classrooms, and faculty offices.
• Improve streetscape in key downtown areas.
It involves improvements in key areas of downtown to increase safety, improve accessibility, benefit pedestrian access, and improve the appearance of retail areas. Specific improvements will include additional bike lanes, sidewalk improvements, street furniture, and tree planting, landscaping and underground utilities on Park, School, Elm, and Exchange Streets.
• Redevelop four vacant parcels.
The parcels contain vacant buildings on the southwest corner of South and Elm streets, a key intersection in downtown Glens Falls. It will result in  adaptive re-use of two buildings for mixed-use redevelopment and demolition of two buildings to create a pocket park and surface parking.
    • One Mile Public Arts Trail.
The new trail will go through downtown and tie together several arts organizations and historical buildings, creating a new attraction. This project includes trail clearing and landscaping, construction of informational kiosks, wayfinding and promotional materials, bicycle racks, and design and installation of distinctive design elements along the path, such as pavement stamping.
    • High-speed Broadband.
This will be provided to residents and businesses in downtown Glens Falls. The project will allow the city to issue an RFP to hire a broadband provider to install necessary infrastructure to develop a broadband wireless service for residents and businesses following a wireless propagation analysis.
• Fund for downtown revitalization.
A revolving loan and grant fund will be created to support revitalization of Glens Falls. The fund will assist small businesses, building owners, non-profit organizations and entrepreneurs to support economic development, improve the built environment, and support job creation in the DRI area through a series of competitive grant funding opportunities.
• Downtown park on South Street with green infrastructure.
The new park will have green infrastructure for storm water management on the corner of South and School streets. This will transform two vacant, deteriorated lots at a key gateway to downtown into a public green space.
State Sen. Betty Little of Queensbury said, "I'm extremely pleased that the City of Glens Falls is the recipient of this funding which I know will go a long way to transform the downtown economy. I'm certain that we will see a lot more economic activity that will benefit the local businesses and improve the experience of local residents and visitors."
Assemblyman Dan Stec thanked EDC Warren County's leadership "for pursuing this opportunity, together we are building a sustainable future for the city of Glens Falls. These funds will allow for the rehabilitation of existing buildings while providing economic revitalization opportunities for future generations."
Glens Falls Mayor John Diamond said the projects "will serve to transform the South Street corridor into the vital, vibrant neighborhood our forbearers envisioned when they called it the Street of Dreams. There's a palpable energy rising in our city and we can't wait to get started on realizing this formidable vision."
Under the DRI, Glens Falls will focus on projects in the downtown area that will leverage significant private investment to promote sustainability and reduce the city's carbon footprint, provide innovative wellness opportunities, and expand upon its economic potential as a regional center of culture and commerce, officials said.
Glens Falls was selected as the winning DRI community in the Capital District region after the local regional Council weighed seven criteria in selecting Glens Falls as its nominee.
"This critical investment will allow the city of Glens Falls to become a major economic hub while bolstering small businesses and spurring tourism across the region," Gov. Andrew Cuomo said. "These projects will help ensure that the Capital Region remains competitive and lead to a stronger, more prosperous Glens Falls."