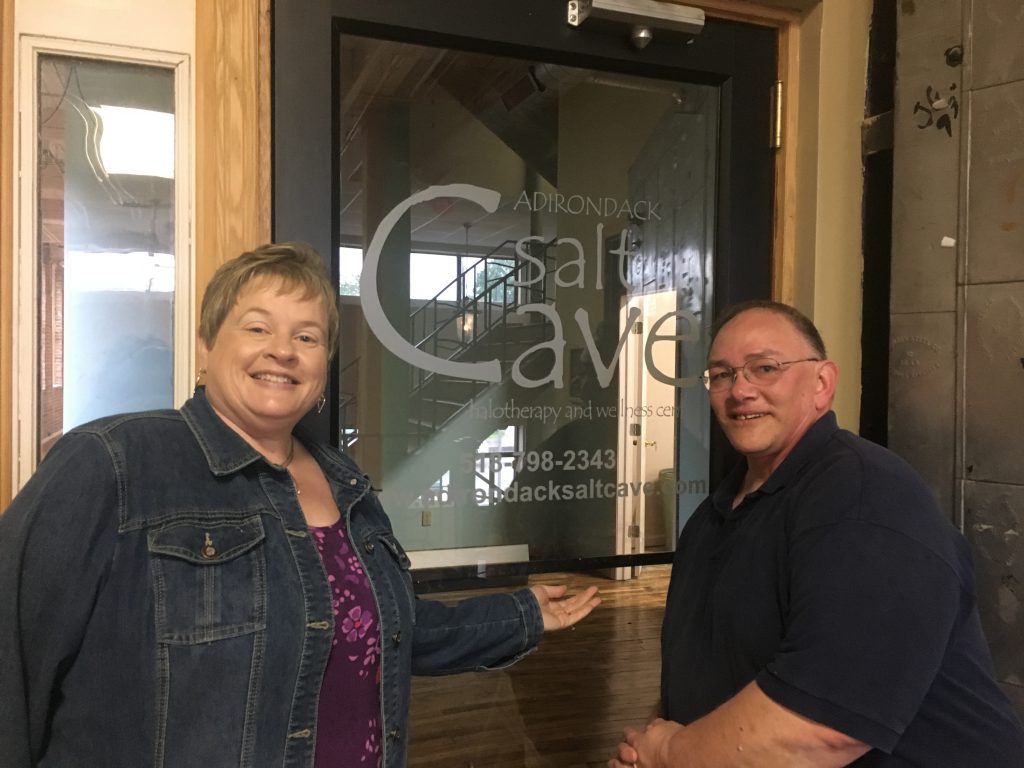 By Maureen Werther
A popular holistic therapy is coming to Glens Falls.
Over the last decade, more and more spas, massage therapy and wellness centers have added Himalayan salt caves to their treatment environments. Massage therapist Dana Russell and her husband, Greg Russell, will open Adirondack Salt Cave LLC, Halotherapy and Wellness Center in the Union Square building at 11 Broad St. in Glens Falls. They said they expect to be busy right out of the gate.
Halotherapy is the inhalation of micronized dry salt particles inside a chamber that mimics a natural salt cave environment. While this treatment is a relatively new phenomenon in the United States, it has been practiced for centuries by the indigenous people of the Himalayas. Europeans have also used halotherapy to treat respiratory ailments since the 1840s. Others have used it to improve symptoms of allergies and skin conditions such as eczema.
Salt is said to be a natural antibacterial and anti-inflammatory, and contains nearly 90 different trace minerals. Inhalation of micro-particles released into the room—or cave—by way of a halogenerator. The benefits of this treatment are reputed to include improvement of respiratory problems such as allergies, COPD and asthma.
Proponents say that when inhaled, micro-particles of dry salt absorb and removing allergens, toxins and foreign substances in the lungs and throughout the respiratory tract. Salt also reduces any inflammation and opens airway passages, making it easier to breathe.
Dana Russell is a licensed massage therapist and Greg manages the business side of things. Dana currently owns and operates Tranquil Massage and On The Right Path Wellness Center. She said that the services provided by these businesses will continue to be available at Adirondack Salt Cave.
Greg Russell said they performed extensive market research and traveled to salt cave environments around the country.
"Dana had maxed out the number of clients she was able to treat and was looking for a way to help more people," he said.
They already had a small relaxation room at On The Right Path that had the purified salt in it.
"People would spend time in the room, waiting for their massages. After a while, they were coming in just to sit in the room," he said.
The couple reached out to designers of salt cave environments across the country, mainly to determine if halotherapy was continuing to grow in popularity, or if it was just what Greg called "a flash in the pan."
They discovered that designers were as busy as ever creating environments for spas, massage therapy centers and even in hotels and resorts. The Russell's anticipate being able to draw upon clients from throughout Warren, Washington, Saratoga counties and beyond.
As their business progresses, the Russells have plans to offer massage, reiki, yoga and even children's story hour in the cave. They have designed the room to be free of salt on the floor, making it handicap-accessible as well.
The Russell's will continue to operate Tranquil Massage at the new location. The other business, On The Right Path, will be incorporated into Adirondack Salt Cave LLC.
For more information, visit them on Facebook or call 518-744-3873.