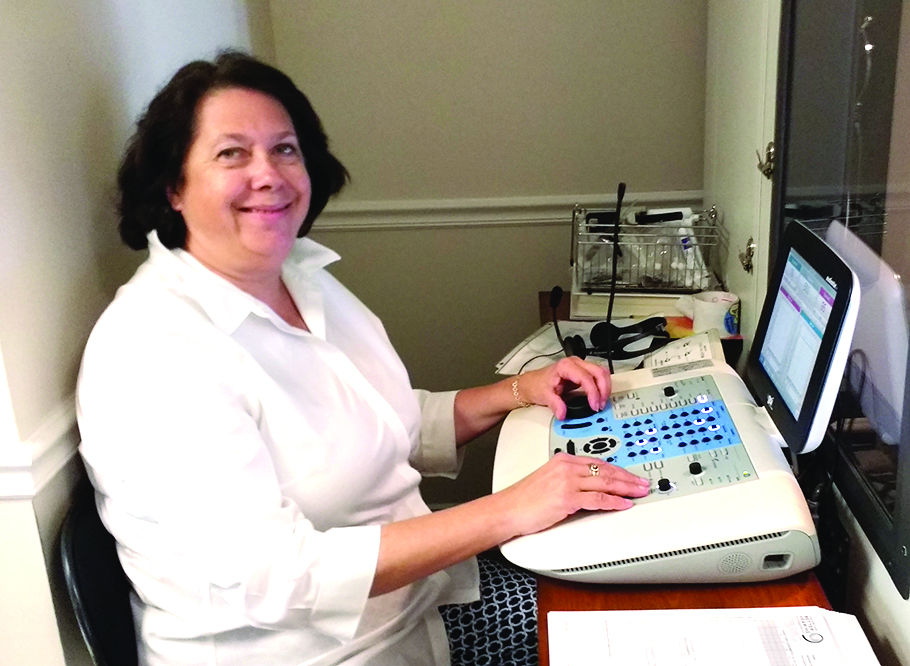 By Jill Nagy
Typically, people wait seven years between noticing a hearing loss and doing something about it, observed Dr. Susan Boggia, an audiologist at the Center for Better Hearing in Glens Falls.
Telltale signs include missing the punch line when someone tells a joke on the other side of the room, or turning up the sound on the TV beyond where other family members might want it. Having problems hearing in a crowd—distinguishing speech from background noise—is pretty common as people age, she said, "nearly everyone experiences that."
Boggia said she recommends that people, as they get older, get a baseline hearing evaluation. The evaluation determines how someone hears different tones and different frequencies and how well he or she hears different words. Sometimes, it is hard to understand speech even if it is loud, she noted.
The common problem of hearing in a crowd can get a lot worse if the situation is ignored. That is an issue involving processing of sound by the brain.
"It is important to stimulate the brain," Boggia said. "The longer you wait, the more significant the loss becomes," and the harder it will be to adjust to hearing again. "Your brain has to relearn how to process sound and how to ignore it and it takes some time for your brain to acclimate," after a hearing loss is compensated for.
The most common correction is one or two hearing aids.
"There is still a stigma to hearing aids," she said. "People are reluctant to get help" because of that stigma.
Other assisted-listening devices are also available, such as amplified telephone receivers or transcriber telephones that write the incoming message, much like the closed captioning on a television set. There are also headphones that allow a hearing impaired person to turn up the volume without disturbing other people in the room and alerting devices for doorbells or smoke alarms.
Many of these devices are available at the Center for Better Hearing. The Glens Falls Lions Club's loan-out program for devices is also housed at the center. People can try out various devices and, if they decide to purchase one of them, she will help with the purchase.
The cost of hearing aids varies based upon the technology. Boggia said the typical price range is from $700 to $3,300. Some health insurance policies cover part of the cost.
Boggia shares her practice with audiologist Dr. Cara Bedore, who also has a doctorate in audiology.
At the Center for Better Hearing, she said, "We try to provide a very comfortable environment, rather than a clinical one; we try to make the office comfortable."
She has been in private practice in Glens Falls for about 10 years
Boggia received her masters degree from Adelphi University and her doctoral degree from the University of Florida. She is credentialed by the American Speech, Language, and Hearing Association and is board certified and a fellow of the American Academy of Audiology. She is a state-licensed audiologist, certified teacher of the speech and hearing handicapped, and registered hearing aid dispenser.
Boggia is also affiliated with several hearing associations on the national, state, and local level and serves on the board of the local Association for the Hearing Impaired.
Bedore, Au.D., FAAA, has been a practicing clinical and dispensing audiologist for the last 10 years. She began her audiological career post-graduate from SUNY Plattsburgh 15 years ago. She interned at the Stratton VA Center in Albany. She then joined a private practice and participated in the beta testing for the Universal Hearing Screening of Newborns at Albany Medical Center.
She earned her Doctorate in Audiology from Salus University, Elkins Park, Pa. in 2005, is board certified, a fellow of the American Academy of Audiology, and a state-licensed and registered hearing aid dispenser.
The Center for Better Hearing is located at 318 Ridge St. The telephone number is 518-798-4800.