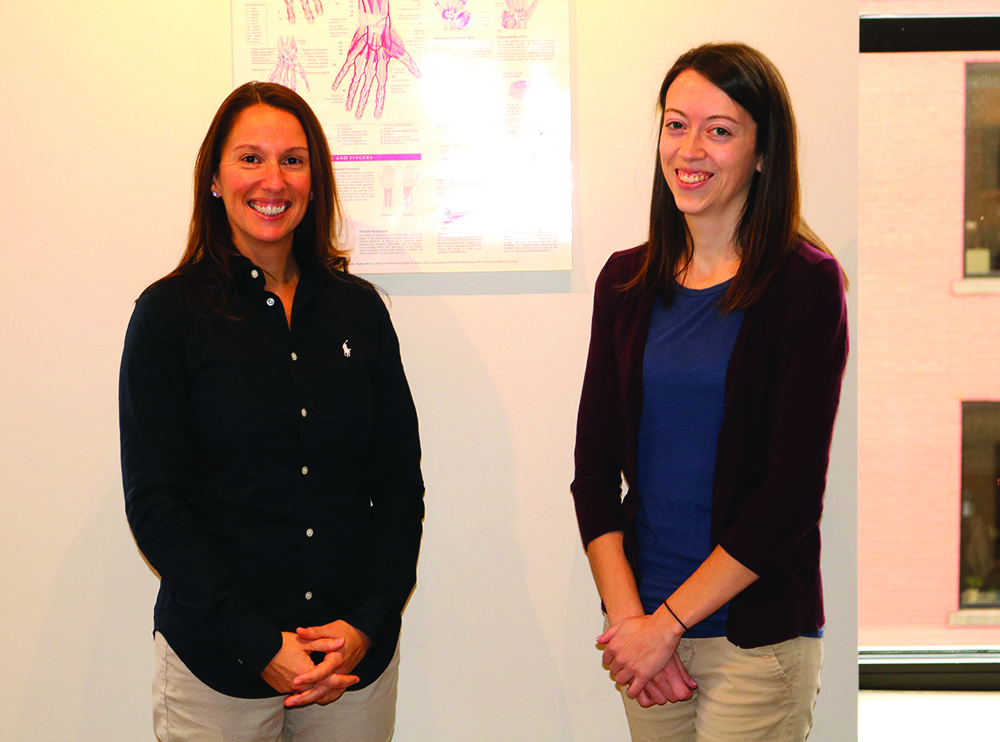 By Rachel Phillips
Many patients suffering from arthritis and carpal tunnel syndrome might think surgery is the best option to get relief. Kate Schlesier of Hand To Hand Occupational Therapy hopes to change that mentality.
Schlesier's occupational therapy clinic in Glens Falls helps diagnose and treat conditions of the upper extremities, which includes the hands, wrists, elbows and shoulders.
Unlike a physical therapy clinic, which will tend to a broad range of conditions across all parts of the body, Hand To Hand Occupational Therapy has dedicated its practice to exclusively treating the upper extremity, with emphasis on improving function and the ability to perform everyday tasks. Their specialization allows them an in-depth understanding of the upper extremities, and the ways in which conditions affecting them can be treated, she said.
Located at 100 Glen St., Suite 3D, Hand To Hand Occupational Therapy is one of the few occupational therapy practices in New York state, according to Schlesier. That's due in large part to difficult and rigorous qualifications the state puts on practicing OTs and certified hand therapists in particular.
Schlesier's practice only employs certified hand therapists, which she said assures her patients receive the most specialized and high-quality care possible. It also requires significant amounts of study and testing.
Certified hand therapists must have a minimum of three years of experience and 4,000 hours logged in treatment of the upper extremities. They must also pass a rigorous exam of advanced theory and complete 80 hours of continued education to maintain their titles.
Dedication, hard work and continuous education in new research and treatments are what have allowed Schlesier to help patients recover from surgeries and also regain usefulness of their hands and upper extremities without needing surgery.
Hand to Hand Occupational Therapy doesn't just treat patients. The practice also diagnoses patients and educates them to help them improve their conditions.
Additionally, the clinic is a supplier of durable medical equipment. Custom-molded orthotics are used to treat conditions like arthritis, tendonitis, fractures and dislocations, and can be billed through the patient's insurance. Not only does this spare patients from having to purchase orthotics out-of-pocket, but it can also help speed up their recovery, since the equipment can be fitted to suit their needs.
The extent to which she is able to help people is one of the reasons Schlesier chose to become a certified hand therapist. She enjoys being a niche expert and also loves being able to get people better in a short period of time.
"Hand and arm injuries really affect people's ability to function," said Schlesier. "They affect things that are meaningful, like sports, work, and hanging out with your children."
Schlesier is committed to increasing her attempts at educating the community.
"There are a lot of times when a patient has arthritis and they don't think that there's much they can do. But there's a lot Hand To Hand can do to help. Osteoarthritis of the thumb is really common, for example, and there's a lot of education we can give them to help improve their condition."
Many patients are seeking treatment post-surgery, but Schlesier said she wants to change that. She has seen many patients recover use of their hands, and reduce their pain and discomfort, with non-surgical treatment She wants to educate patients, as well as primary physicians, on treatment options
Schlesier recently re-launched her website, handtohand.com, where patients can learn more about the practice and the services she offers.