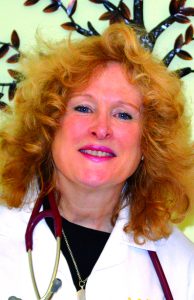 By Dr. Diane MacDonnell
There is a silent epidemic of inflammation that wears many masks and goes by many names. Cancer, heart disease, thyroid disease, Alzheimer's, multiple sclerosis, inflammatory bowel disease, allergies, asthma and a host of others diseases all have a major inflammatory component.
Every major disease, those diseases that steal our wellness, our vigor and sometimes our very lives, are fueled by inflammation and a resulting immune dysfunction.
Autoimmune disease, which can be considered inflammation gone unchecked for a lengthy period, occurs when the immune system is so reactive and overwhelmed by toxins such as food allergies, environmental toxins, undiagnosed viral or bacterial infections and stress, that it begins mistaking the body's own tissue as "the enemy" and produces antibodies against thyroid, gut, joint, brain or other tissue. This "friendly fire" leads to tissue damage and the evolution of autoimmune disease. It is estimated that 24 million people in this country now suffer from autoimmune disease.
Physicians are trained in treating this inflammatory response without necessarily getting to the root cause of the inflammation. Conventional medicine does not recognize autoimmune disease as a disease of the immune system as a whole; rather, patients will typically see a specialist who focuses on the organ that is being affected: an endocrinologist for thyroid disease and diabetes, a rheumatologist for rheumatoid arthritis affecting the joints, a dermatologist for psoriasis and eczema, a gastroenterologist for celiac and inflammatory bowel disease.
Patients often suffer from more than one of these conditions and visits to each of these specialists will likely result in a prescription for a different medication from each. The prescribed medication may reduce the symptom, but unfortunately, it does so at a price. Medications such as steroids, non-steroidal agents and increasingly more powerful and toxic immune suppressing drugs are employed . These medications can have severe side effects such as bleeding, infections, weight gain, depression and even cancer.
An Integrated Approach to Allergies, Asthma and Autoimmune Disease
Conventional, allopathic medicine plays an essential role in our lives – life saving and life sustaining interventions such as antibiotics for infections, trauma surgery for devastating injuries, emergency medicine intervention for severe, acute issues. Conventional medicine has proved less successful, however, for chronic disease such as immune dysfunction.
Diseases of this nature typically require a "systems approach" which looks at the many factors in a person's life which, over time have contributed to a disorder. Immune dysfunction and autoimmune disease is a process which respond particularly well to an integrated approach. Finding and addressing the factors that underlie the problem, yet not closing the door to conventional approaches when appropriate, can provide powerful , healing intervention.
Improving an autoimmune disorder can be a long and complex process. Yet there are some basic measures which are essential:
• Heal the gut. Eighty percent of our immune system resides in the gut. You simply can't have a healthy immune system without a healthy gut. In autoimmune disease the gut becomes leaky—meaning that the normally tight junctions between the cells of the fragile lining of the digestive system become loose, allowing undigested food particles, bacteria and toxins to leak through the wall and enter the bloodstream.
These particles are recognized by the body as foreign invaders and this triggers a huge inflammatory response from the immune system. Eventually the immune system becomes overwhelmed by the constant activation and begins making mistakes including formation of antibodies against our own tissue—a process called molecular mimicry. The overburdened immune system also begins to miss detection of malignant cell mutations, accounting for the significant increase in cancer rates in those with autoimmune disease.
Testing for food allergies and sensitivities and eliminating those foods is an important first step in cooling the fires of inflammation.
• Remove gluten from the diet. Removing gluten from the diet on a temporary or permanent basis can be extremely instrumental in recovery from allergies and autoimmune disease. Gluten is inflammatory to the intestine and to other tissues of the body. Anyone with significant allergies or autoimmune disorders should consider being tested for a gluten sensitivity or allergy.
Even if the test is read as "negative," a trial of a gluten free diet may greatly improve inflammation. Other frequent dietary culprits include eggs, dairy and soy. A careful elimination diet can help elucidate which foods are the culprits.
• Avoid genetically modified foods (GMO).These foods—commonly soy, wheat, beets, some corn—are suspected to inflict damage to our digestive lining and should be avoided. Unfortunately, GMO foods or foods with GMO ingredients, do not have to be labelled as such so it can be difficult to avoid them.
The Environmental Working Group website, www.ewg.org, is a helpful resource as it provides a list of companies that have signed a pact not to include genetically modified ingredients in their products. This website also provides a list of "the dirty dozen" and "the clean 15," fruits and vegetables that carry a heavy pesticide load and should be organic versus the ones that are acceptable to choose non-organic.
• Reduce your stress. Imbalances in cortisol and DHEA, the adrenal hormones, triggers inflammation throughout the body. Meditation, prayer, focus on the breath, guided imagery are all helpful to move the body toward balance.
• Get adequate sleep. Sleep deprivation or poor quality sleep has a direct inflammatory effect on every organ of the body. Getting seven to eight hours of uninterrupted sleep in total darkness is essential to wellness and a healthy immune system. Avoid exposure to the blue/white light light of TVs, computer screens and phones in the one to two hours prior to bed as they interfere with quality sleep.
The road back from illness can be challenging; but the body has an amazing ability to heal if we remove or reduce the contributing factors.
The above measures are but a few important interventions along that path. There are other important measures that can be of critical importance in the healing process such as targeted supplements and safe exercise. Don't hesitate to discuss any health program with your doctor or other trusted professional and ask for guidance.
MacDonnell, M.D., offers individualized, integrative approach to wellness at North Country Holistic Care Center in Glens Falls.