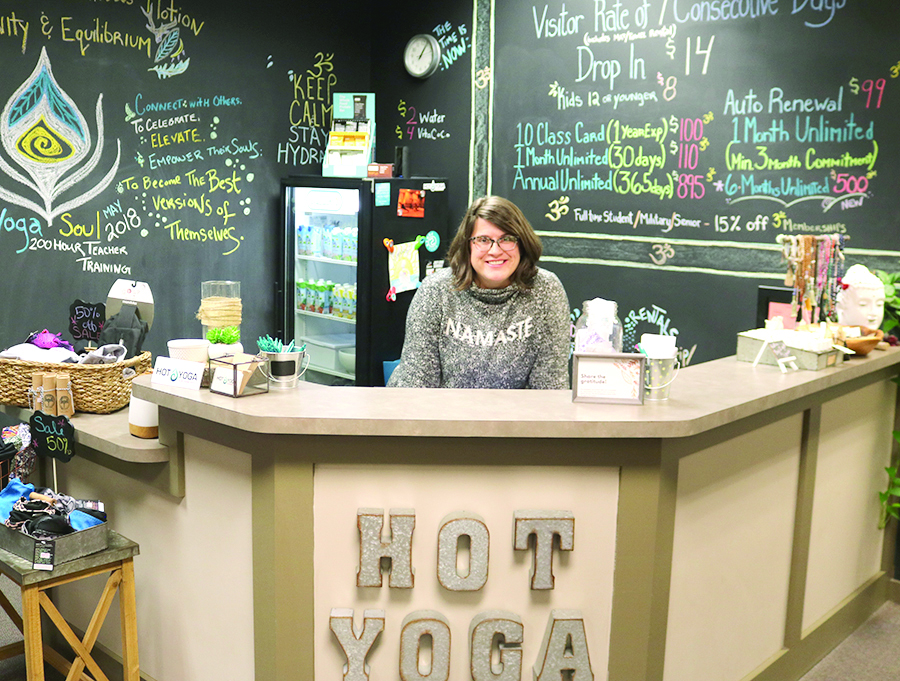 By Jennifer Farnsworth
Stephanie Angelucci said purchasing Hot Yoga Queensbury earlier this year was a decision that she felt confident in making. After practicing yoga in that exact location for years, when the opportunity arose, she knew it was one she wanted to take advantage of.
"It sort of fell into my lap. I purchased the studio after practicing here for years and it has been going amazing. It is certainly a labor of love and the community is strong," said Angelucci.
She has experience as a critical care nurse and spent almost nine years as an officer in the Air Force. She had  been practicing yoga for about 18 years, before she decided to become an instructor.
She said she sees now that her experience as a nurse, along with her years with the military, helped lead her to where she is today.
"I feel my background as a nurse really helps in all parts of my yoga teaching and the military background has helped tremendously transitioning into the role of business owner. I lucked out and bought a business that I love. It found me," said Angelucci.
Hot yoga takes place in a heated room which helps to stimulate the lymphatic system responsible for flushing out toxins, creating a detoxification process. Angelucci said while they are primarily a hot yoga studio, they also offer different classes for those looking to do a more traditional yoga.
"We have clients from ages 3 to 80, male and female. Our specialty is hot yoga, but we offer a variety of classes. We have seniors. We teach the hockey team and local athletes, college students, parents. There is really something for just about everyone," said Angelucci.
She has a team of 12 teachers. She hopes to be able to expand with a second studio. Her future plans also include adding more classes to the schedule in attempt to grow their community of clients.
"I would love to offer more specialty classes where I can infuse my background and meet the needs of our area. More kids and prenatal, classes for individuals with arthritis, injuries, you name it. I would love to see the community grow as well. Yoga really is for everybody," said Angelucci.
Hot Yoga Queensbury has classes open to the public and they do not require a membership to attend. They do encourage those interested to visit their website, look at the yoga class schedule and read the class descriptions ahead of time in order to get a sense of what class would be the best fit.
All of the teachers are certified.
Hot Yoga Queensbury is located at 118 Quaker Road. Its website is www.hotyogaqueensbury.com and its phone number is  518-636-5354.