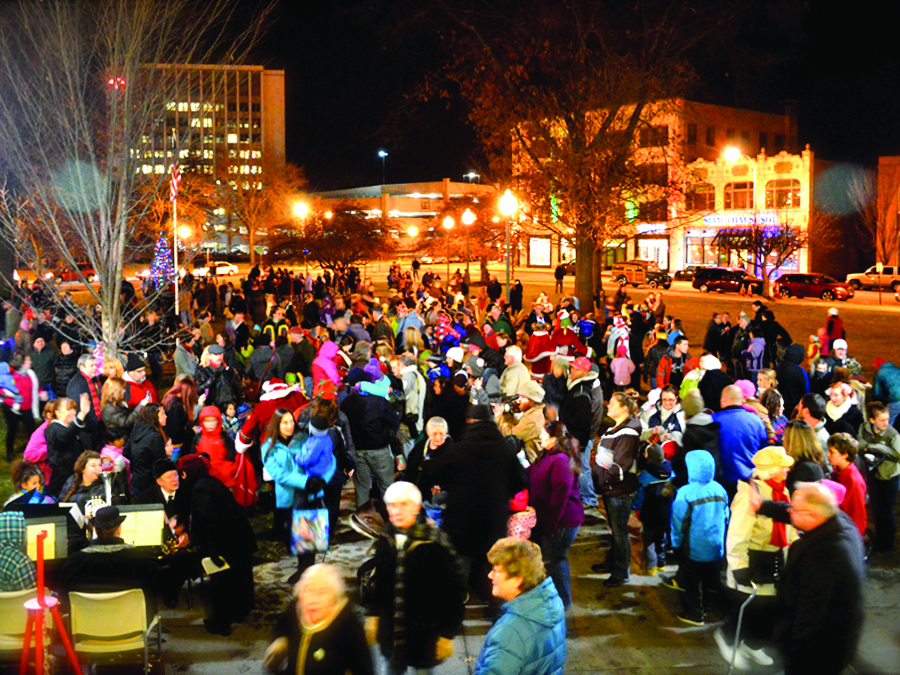 By Maureen Werther
The Glens Falls Collaborative is wrapping up preparations for its annual Hometown Holidays event that will take place at venues around the city.
This year's festivities will last for two days, beginning at 5 p.m. on Friday, Dec. 1, with a party in City Park hosted by DeeJay DuBray, followed by carols, courtesy of the Glens Falls Symphony Children's Choir, and a tree lighting with Santa and Mrs. Claus.
The chairperson of this year's event is Nancy Turner, owner of the Bell House Inn at 153 Bay St. in Glens Falls and a newcomer to the city. Turner and her husband, Bill, moved to Glens Falls from Altamont about a year and a half ago to be closer to their grandchildren.
While they were getting ready to open the Bell House Inn, they heard about the Glens Falls Collaborative. Nancy decided to become a member and from there, she went on to become part of the lodging sector on the board.
"Glens Falls Collaborative hosts nearly every event that you see in downtown Glens Falls—Boo to You, Fit Fest, Pet Fest,'" she said, naming off some of the events the Collaborative has initiated since its founding in 2012.
Rich Cirino, president of the Collaborative, said that last year's event was extremely successful, noting that the City Park was nearly full to capacity.
"There is going to be way more things happening at this year's event," said Cirino.
At the January meeting of the Collaborative's board, Turner suggested that they extend Hometown Holidays into a two-day event, as part of an ongoing effort to develop Glens Falls as a tourist destination and to get more "heads in beds," said the innkeeper.
Turner added that she would like Hometown Holidays eventually to become a weekend long event, with activities running from Friday evening through Sunday.
Turner, who started putting the event together in January, said that the responses to the event from local businesses, churches and nonprofits have been overwhelming. "Everyone wants to be involved. We've gotten so many emails saying, 'Yes, include me,'" she said.
Following the party in City Park and the tree-lighting, visitors can stroll through the downtown area, sipping hot beverages, courtesy of local businesses and non-profits. There are events that will please all ages, from visiting Santa Claus at the Glens Falls National Bank and Mrs. Claus visiting NBT Bank with a team of reindeer, to enjoying a horse-and-wagon ride around the city.
There will be a wide selection of musical venues to choose from, including a ride on the trolley with the music of Sax-o-Claus, organ music at the First Presbyterian Church, and a selection of holiday music and refreshments at the Church of the Messiah.
In addition to music, there will also be dance performances occurring. On Exchange Street, students from the Bolton Dance Studio will perform a selection of holiday and seasonally-inspired dances. Visitors can also stop in at Lower Adirondack Regional Arts Council (LARAC) to watch excerpts from "The Nutcracker" ballet performed by students of Reality Dance Studio.
Visitors strolling along the streets doing window shopping will be treated to wandering carolers, and there is an authentic 1942 Christmas radio show that will be aired at Spot Coffee.
There will also be plenty of activities for children at various locations, including the World Awareness Children's Museum at 89 Warren St. Visitors can also take in the Festival of Trees at nearby Queensbury Hotel.
The Adirondack Thunder hockey team will be playing a home game on Dec. 1 at Cool Insuring Arena. Kids will be admitted free with the purchase of an adult ticket.
"Saturday's events begin with Holiday House Tours of some beautiful homes in the Broadacre neighborhood, from noon to 3 p.m.," said Turner.
Tickets are available on the Glens Falls Collaborative website, www.glensfallscollaborative.com. The cost is $20 per person and a map of the homes on the tour will also be available on the website.
The Hyde Collection will present a free concert featuring the Glens Falls Symphony Children's Choir,
Another kid-friendly event on Saturday will take place at the Shirt Factory. Shop owners there will host a scavenger hunt, with the prize being a basket of goodies, all courtesy of the Shirt Factory businesses. That event will take place from 3-5 p.m.
Following the Shirt Factory scavenger hunt, Turner recommended "dropping the kids back home with a sitter and heading over to 14 Hudson for a Spirits Tasting from 3:30-5 p.m., as well as a tour of one of the luxury apartments in the building."
She added that more events hosted by local businesses are being added and the complete list will be available on the Glens Falls Collaborative within the next few weeks. Sandwich boards and posters will be placed throughout the city.
For more information about the upcoming Hometown Holiday, visit the Collaborative's website at www.glensfallscollaborative.com.