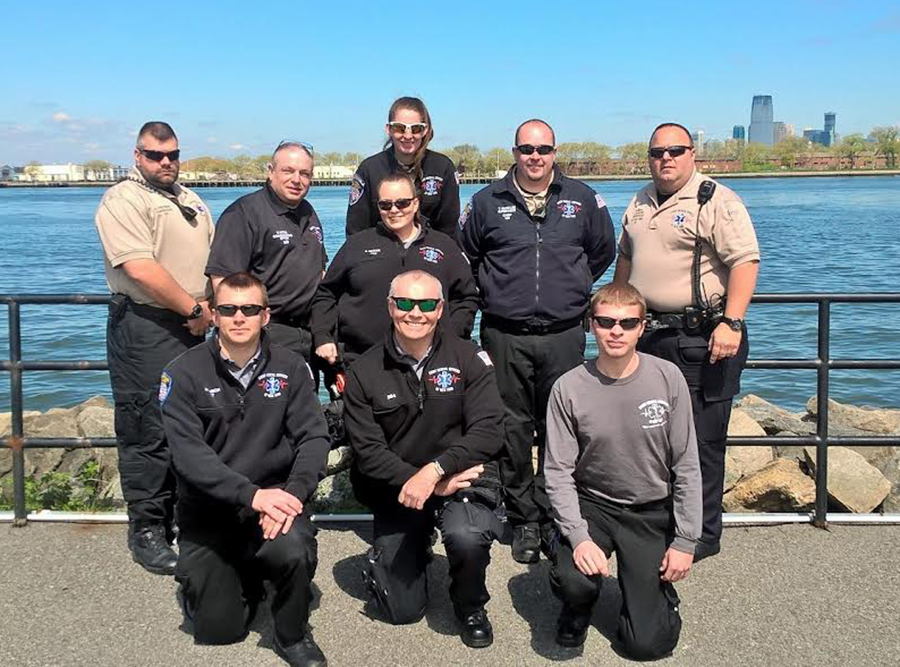 By Rachel Phillips
In 2014, a participant at the Red Hook Criterium bike race in New York City crashed into a metal barricade. Due to his broken ribs, the patient began to suffer respiratory problems. Fortunately, Event Medical Services of New York was onsite and able to provide basic life support and get the person in an ambulance in under three minutes.
A year later, after a full and speedy recovery, he was able to participate in that same race once again.
"If it had just been an ambulance, they couldn't have gotten to him so fast inside the track like that," said Travis Dunklee, owner and founder of Event Medical Services of New York, based in Lake George. "That's where our motto 'When seconds count, count on us' comes from, because more often than not we're there in 30 seconds."
Upon realizing there was a gap in the market for affordable, proactive, and effective event medical services, Dunklee started his business in 2007 out of the desire to help his community.
Hiring an ambulance to attend large-group events is often a necessary precaution, but it can cost upward of $150 an hour. There's also no guarantee the ambulance will stay on site if an emergency calls it away.
The providers of Event Medical Services of New York, however, will be present for the duration of the event, no matter what happens, and their services come at an affordable rate, said Dunklee. The staff is often the first line of defense before an ambulance is able to help.
Dunklee said the success of his business is largely due to the excellence of his providers. Not only do all 15 of them volunteer for their communities as firefighters or for ambulance services, but they've all undergone difficult certifications in order to work with him.
He said all of the providers are state certified EMTs, but in order to work outside of New York state, they also have to be in a national registry. The process for becoming a national provider is no easy task, requiring practical, physical and mental exams, a background check and federal testing.
Each provider has a number of strengths that Dunklee factors in when putting together teams to cover specific events. By pairing together providers whose strengths complement one another, Dunklee is able to provide his clients with a well-rounded and well-prepared EMS team.
"When you're running a special event," said Dunklee, "you have to be prepared."
When a client requests a team to attend an event, Event Medical Services sets to work, providing a full assessment of the risks involved, including weather, location, number of people in attendance and more. After that, they determine the number of providers they'll need to send. On the day of the event, the team is there with a range of equipment.
Event Medical Services is located in Lake George, but works all across New York, Massachusetts, Pennsylvania and New Jersey. They also work in the five boroughs of New York City, sometimes even for events hosted by impressive names like MTV, Nickelodeon and Country Music TV.
The providers will service any type of group event, including festivals, concerts, or sporting events like high school sports, motocross and snowcross. Dunklee even has a dive team on staff.
Along with EMS, Event Medical Services offers training in first aid and CPR. The classes, taught by instructors who have rescue and emergency training themselves, are good for everyday people hoping to get certified, as well as firefighters and other first responders. The courses are $90, and can even happen one-on-one, for people who can't make it to scheduled group courses.
The company even offers a fully accredited pet CPR course for dog and cat owners of all ages, as well as an equine first aid course.
Dunklee encourages charities hosting group events to reach out to him so he can provide his services free of cost.
"We want to give back to communities we live in because at the end of the day, they're the reason we exist, and they're the reason we got into EMS services," he said.
For more information, call 518-636-5879, or visit their website at emsofnewyork.com.