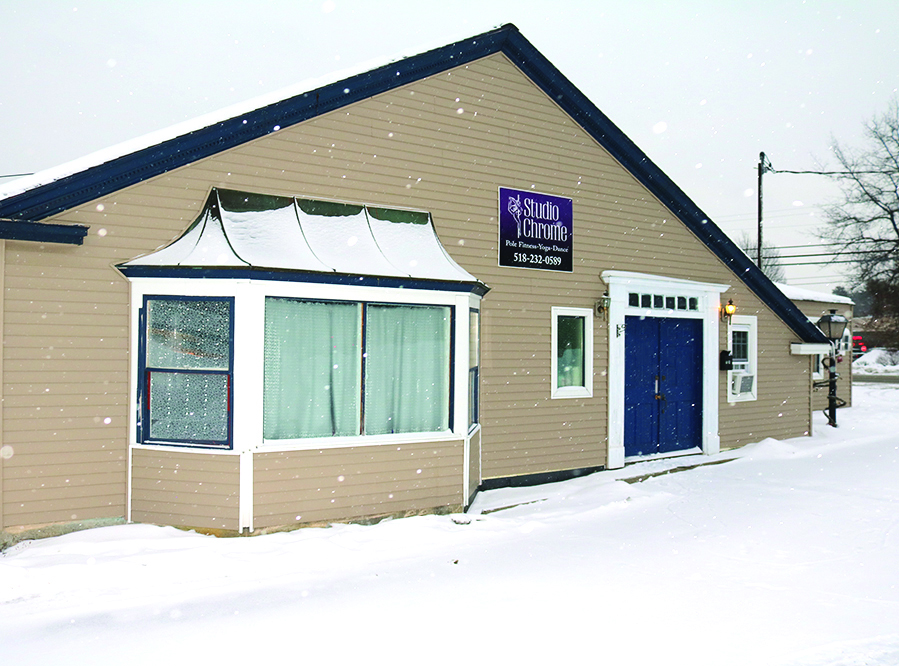 By Maureen Werther
Since its opening in April, Studio Chrome at 164 Saratoga Ave. in South Glens Falls has been attracting a growing clientele looking for a different way to get in shape.
Owner Terri Murray has incorporated pole dancing for clients seeking something different.
According to Murray, Studio Chrome is the first fitness studio of its kind in the area that uses pole dancing. She said that it is more than dancing and fitness. It's also about confidence, self-esteem and camaraderie.
Referred to as "pole sports," the routine is recognized by the Global Association of International Sports Federation as an official performance sport, and it is even being considered as a future Olympic sport. It involves acrobatics and dance moves on a vertical pole.
The moves are precise and balletic in nature and the physical strength required to master the moves is considerable. Movements include lifting, spinning, rotating and even turning the body upside down on the pole.
"The 'pole community' is so supportive of each other, and the classes give them the chance to improve their fitness levels and even do better in other fitness programs," said Murray.
Murray's new signs, which she hopes will help customers locate her more easily, were erected at the end of 2017. She said she waited several months to put the sign up because she wanted to be sure she was in the best location for her business.
The studio has nine poles. Murray likes to limit the class sizes to one person per pole.
"Every person needs to have her own space," said Murray. But, she will also accommodate people who want to come with a friend—maybe people who haven't been to a class before and are nervous or intimidated.
Murray added that once a person starts coming to a class, the fear and self-consciousness quickly fade as women become stronger, more agile and more confident in their abilities.
"I've seen people just blossom here," said Murray. "The confidence this gives people transfers into other areas of their lives. Even if they feel dorky at first, they eventually get over that feeling."
Murray said most of the students who've been with her from the start now have poles of their own at home.
Murray, 34, is self-taught and has received certification as an instructor. She first saw the sport on a television program and thought it looked like fun. She has been teaching pole fitness for seven years.
In addition to pole fitness, Studio Chrome also offers a variety of other classes, including activities ranging from yoga to twerking.
Murray is holding an open house 6-8 p.m. on Jan. 27 as a way of introducing more people to pole fitness and the other classes she offers.
"People interested in learning more about Studio Chrome and attending the open house should sign up on the Studio Chrome Facebook page.