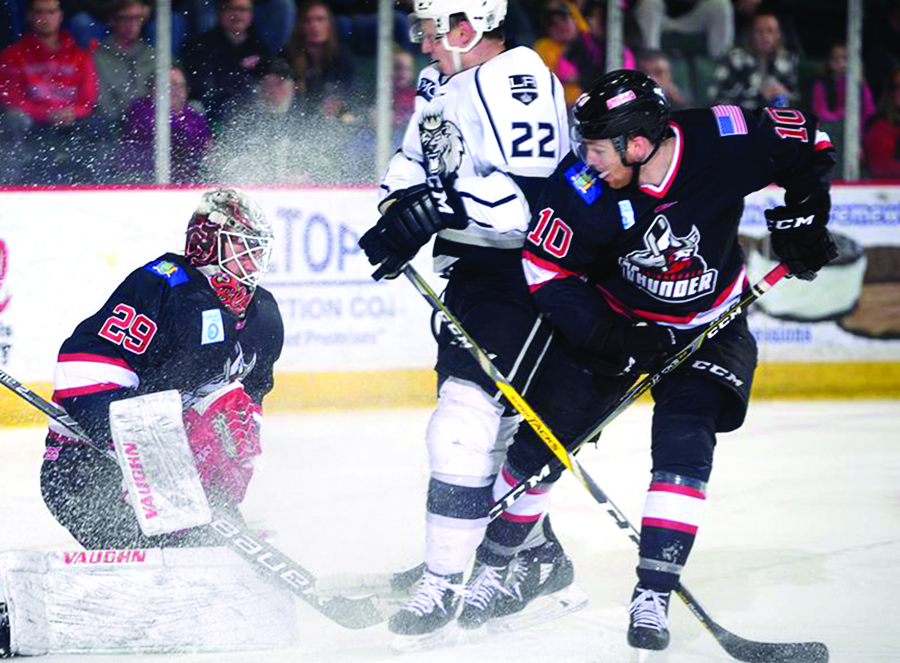 The Adirondack Thunder have clinched a 2018 Kelly Cup playoff berth.
The Thunder has now reached the postseason in each of its three seasons as members of the ECHL.
The team will take on the Worcester Railers in Round 1, courtesy of the Thunder finishing first in the North Division and Worcester finishing in fourth. The Thunder and Railers will play a best of seven series in a 1-2-2-1-1 format, beginning with Game 1 at Cool Insuring Arena on Friday, April 13 at 7 p.m. The series will then shift to the DCU Center in Worcester for Games 2 and 3, to be played on Saturday, April 14 and Sunday April 15 at 5:05 p.m.
Adirondack would then return home for Game 4 and if necessary Game 5. Game 4 is scheduled for Wednesday, April 18 at 7 p.m. and Game 5 is slated for Saturday, April 21 at 7 p.m. Worcester would host Game 6, if necessary, on Monday, April 23, followed by Game 7, if necessary back at Cool Insuring Arena on Wednesday, April 25.
Playoff ticket packages for 2017-18 and 2018-19 season ticket holders are on sale.
Round one playoff tickets will be sold at $20 for adults and $15 for youth at the box office for all Adirondack home dates.
The Thunder will also offer group tickets, available at $15 per ticket, for all parties of 20 or more for postseason play. All fans interested in group tickets should call the Thunder front office at 518-480-3355 x300 to reserve seats.