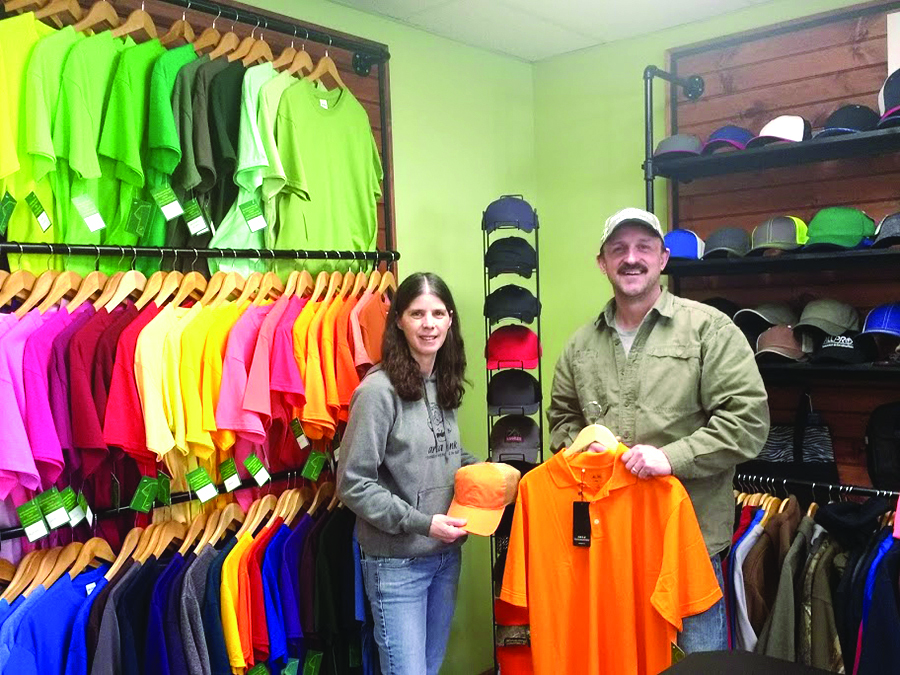 By Maureen Werther
In 2008, Robert Chadwick decided to join his wife, Wendy LaFountain-Chadwick, in ARCA Ink, her screen-printing and embroidery business. 
She began the company seven years before, first operating from the family's basement, then in 2013 relocating into a rental space. 
Wendy LaFountain-Chadwick has been involved with screen-printing for more than 32 years and, according to her husband/business partner, she is known as one of the best screen printers in the area. 
LaFountain-Chadwick seems to embody the adage, "do what you love, and you'll never work a day in your life." As a team, the pair have steadily grown their business and are currently looking for an inside sales person and another printer. 
ARCA Ink makes shirts, hats and a range of other promotional products—anything that has a logo, according to Chadwick. Their accounts include schools, athletic associations, teams and a growing number of corporate clients.
Chadwick, who has worked for Champlain Stone and owned his own construction business, decided to join forces with his wife when the construction business encountered hard times in 2008. ARCA is an acronym formed from the first letters in the names of their four children: Ashley, Ryan, Cierra and Alyssa.
ARCA Ink's first commercial space was located at 4 Highland Ave. in Queensbury, in the Warren Tire building. By 2017, the couple knew they had reached their peak work output and it was time to work "on" their business instead of "in" their business. 
"We were maxed out. My wife and I were doing all the work—sending emails, managing the accounts payables and accounts receivables, the screening, embroidery. We reached a saturation point and we knew we wouldn't grow anymore," he said.
The couple developed a plan for growth, which included a three-year business projection, and they obtained financing to purchase their own building. In January 2017, they moved into a new factory and showroom at 30 Bluebird Road in South Glens Falls. They moved their state-of-the-art screen-printing and embroidery equipment into their new facility and their large showroom allows them to display the full range of their products. 
They also hired a full-time person who now runs the embroidery department, freeing up Chadwick to generate sales and expand the geographic reach of the business. 
 "The change in location has really worked for us. We went from a 3,000-square-foot space to 9,000 square feet," he said. "Moving here and hiring another person has been great for our business. We now have a really nice showroom and a better website, and we're doing more things to promote our business."
The business also became a certified with the Woman Business Enterprise National Council (WBENC). They  received that designation two months ago. Chadwick said it is the world's largest certifier and a leading advocate of woman-owned businesses in the world. His wife owns 51 percent of ARCA Ink.
Since they made the decision to purchase their own building and hire an employee, ARCA Ink has seen growth in their bottom line, according to Chadwick. 
"In 2017, our sales figures were 70 percent higher than in 2016 and the way it stands now, in 2018 we are 78 percent higher than this same time in 2017," he said.
ARCA Ink is continuing its expansion and is looking to hire a salesperson to manage the expansive showroom and another person to do screen printing  This will free Chadwick to prepare bids and go out on the road to increase the company's sales. 
The husband-and-wife team believe their business has grown, in part, because they have made the right choices and are part of a community that supports them. 
Chadwick said that a company's reputation follows them. "If you try to do what's right, that is a big part of what has helped us grow as a business."
Going forward, the owners are optimistic about the future of their business. Their goal is to achieve a revenue level and staffing that will allow them to shift their role from workers in a job to owner of a business. Chadwick said that they have already surpassed their sales goals for 2018. 
"It's great, but it's also scary," he said. "We've set a standard and we want to keep on going, until we get the company to the point where we want it. We want to be able to take a week's vacation and know that everything will be okay. "