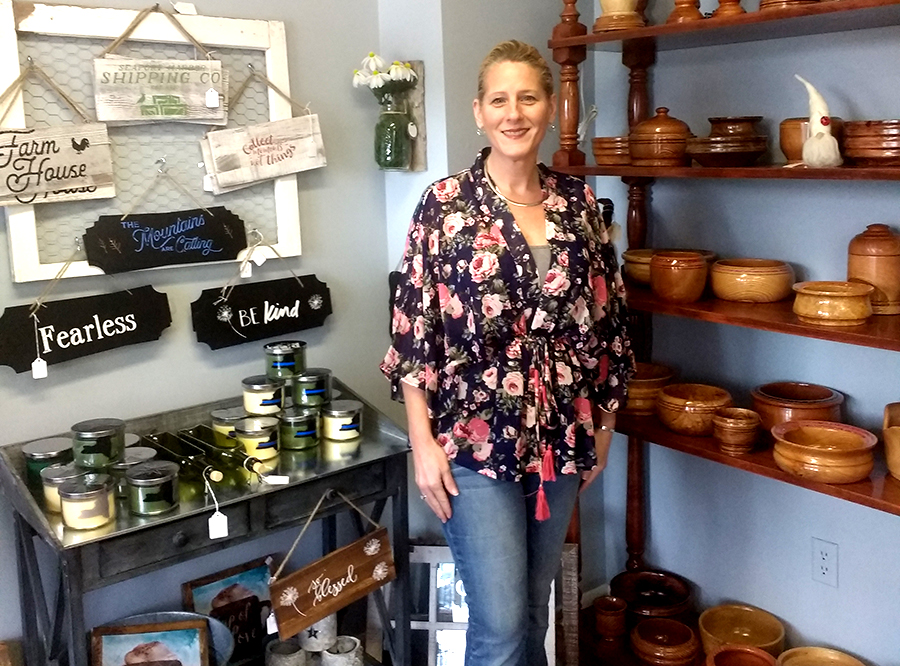 By Susan E. Campbell
Crafted On The Park is a new retail shop on Main Street enabling 40 different craft vendors from nearby communities to market quality crafts.
The proprietor is Tammy-Lynn Mullen, who opened at 162 Main St. in December. But the business quickly outgrew that space and by early February had moved to the 1,500-square-foot space at 156 Main St. in Hudson Falls.
"So many crafters were interested in joining us," said Mullen. "Now we have five rooms and the hallways full of crafts of all kinds." 
To keep her products diverse and competition minimized among crafters, Mullen said she restricts the types of crafts she offers. One soap maker or metal worker won't have to compete with another, for example.
The only exception is that she carries re-purposed furniture from two different artisans, because these are one-of-a-kind pieces and very differently crafted, Mullen said.
She had been a nurse in Albany for many years working in neurosurgery and pain management. She and her husband relocated to Hudson Falls when their five children left the nest, she said. 
After they moved, Mullen "started making things," and soon "took advantage of the opportunity to try something different … I saw the storefront and everything fell into place."
Mullen was changing careers and building a presence in a brand new community at the same time. Her husband is from Hudson Falls, but Mullen did not know anyone outside of family.
But just as Mullen was opening at the first location, there was a fire next to their home that caused some damage. This setback, coupled with a cold and snowy winter season, postponed a grand opening for Crafted On The Park. She expects to hold it this spring. 
"Crafters are the nicest, most positive group of people and I feel fortunate to be working with such encouraging individuals," she said. "There are so many different talents among crafters. One is a computer specialist helping me with a website."
Others are stay-at-home moms, retired people, and everything in-between. They live in Fort Edward, Queensbury, Glens Falls and nearby towns, Mullen said. While most are from Warren and Washington counties, there is no exclusivity.
Mullen is pleased to be a new contributor to the revitalized downtown that was empty storefronts not that long ago.
"People are getting back to shopping local," said Mullen.
Her business can be found on Facebook.