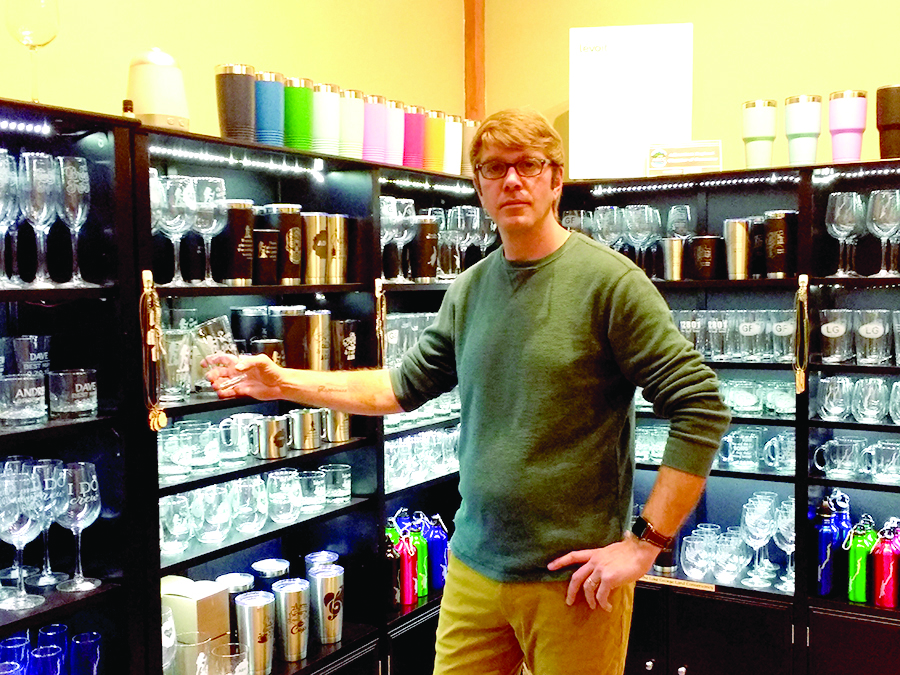 by Susan E. Campbell
Larry Gonyea traded in a desk job for selling etched glass gifts at his new shop, Adirondack Etching, located at The Shirt Factory.
"I was at Nielsen Media for 17 years, most recently as a systems analyst," Gonyea said of his former career. "But I always liked working with my hands and making gifts."
Most gifts were hand-made wood items. Gonyea is a self-described "second generation wood turner," learning the craft from his father. Woodturning is the art and craft of creating shaped objects on a lathe.
"My father is very good, and I picked up skills from him," he said.
He made such items as clocks, pens and jewelry, which often require sand-blasting. That process introduced Gonyea to etching glass, he said.
Gonyea felt there was a strong market for the kinds of items he was creating in his garage. He sold them at craft shows and online through his website, www.adirondacketching.com.
He purchased a machine to create his items faster, and promised himself that as soon as he could support a retail space, he would set up shop and leave the corporate world behind.
With a signed lease in January, Gonyea held  a grand opening March 29-31.
"I had a three-year plan," Gonyea said. "But I met my goal in 11 months."
Business has continued to grow quickly, due in part to collaborations with "like-minded" fellow crafters at The Shirt Factory, he said. For example, he is currently making a "man candle"—a glass with a man's beard etched on it, containing a whiskey-scented candle—provided by another resident artisan, Cooper Street Candle Co.
"When the candle is gone, you have a useable whiskey glass," he said.
Adirondack Etching does custom etches for all kinds of glasses—pint, wine, rocks, mugs—in all kinds of themes, including regional lakes and activities.
It sells wood items and etched items in aluminum, as well as stainless steel tumblers. While he has inventory at Suite 3G01 at 21 Cooper St., garden level, he also does custom pieces in quantities from one to 200, he said.
"My joy is in doing custom pieces," Gonyea said. "It could be a single anniversary or retirement gift, or large quantities for school teams and fundraisers."
"The school gets tired of doing the same chocolate bars and popcorn, and those are not locally sourced," he said. "This way the money stays local."
He has etched water bottles for the local Girl Scouts and wine glasses for Lake George Land Conservancy, to which he donates 30 percent of the purchase price. As an individual who enjoys giving back to the community where he lives and works, Gonyea sponsors hike-a-thons and other fundraisers.
Whatever the project or the cause, Gonyea said he enjoys "the personal connection with clients" and "loves being creative."
"This is what I was born to do," he said.