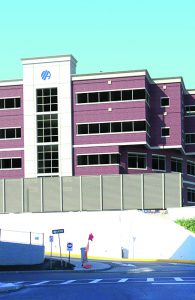 Trustco Bank, which has branches in Glens Falls, Hudson Falls, Lake George and Queensbury,  has committed $500,000 to support several initiatives at Albany Medical Center, including $350,000 for its new pediatric emergency department, recently named The Massry Family Children's Emergency Center.
The gift, which also includes commitments to the Fund for Albany Med and its signature events, has helped Albany Med reach the $15.4 million mark toward its fundraising goal of $20 million for the pediatric emergency department, hospital officials said. The total cost of the project is $50 million. 
When it opens in summer 2018, it will be the only one of its kind in northeastern New York and western New England, according to the hospital.
Robert J. McCormick, president and CEO of Trustco Bank said, "We are truly lucky to have an institution such as Albany Med in our community. The pediatric emergency center is a great example of how Albany Med stays on the forefront of medicine and how they continuously work to make the Capital Region a better place to live. The services they provide are tremendous."
Over the years, Trustco, the Schenectady-based bank, has made numerous gifts to Albany Med totaling more than $1 million in support of projects including the Patient Pavilion, opened in 2013, as well as renovation and expansion of the Emergency Department and the Pediatric Intensive Care Unit.
"Trustco's generous support of Albany Med underscores its commitment to the community and to the health of the thousands and thousands of children and adults across our region who look to Albany Med to provide the best possible health care," said James J. Barba, president and CEO of Albany Med. "Over the years Trustco has supported numerous initiatives that have allowed us to improve and expand patient care and to prepare for the future. Once again, they have shared our vision, and we very grateful for their significant support."
The pediatric emergency department is Albany Med's largest expansion project. Annually, there are more than 16,000 pediatric visits to Albany Med's Emergency Department: 80 percent of the children are treated and released, while 20 percent are admitted to the Bernard & Millie Duker Children's Hospital at Albany Med, officials said.
"Generous donors like Trustco are helping us build The Massry Family's Children's Emergency Center, where children will receive the specialized care they need from the region's only staff specifically and uniquely trained to take care of children with all types of emergencies, both big and small. This new pediatric emergency center will have a family-friendly environment and will make the entire emergency experience less frightening for children," said Dr. Denis Pauze, interim chair of the Department of Emergency Medicine at Albany Med.
The features of the new pediatric emergency department include:
• Triage area to immediately assess the severity of illness or injury
• Fast-track unit for children and teens with less serious conditions.
• Observation unit for stays up to 23 hours.
• Private rooms designed for the safety and comfort of children and parents.
• On-site X-ray and imaging.
• Negative pressure rooms for suspected contagious disease.
• Peaceful and child-friendly décor and child-size equipment.
• Games, toys and television to provide a distraction for children.
• Valet parking.
• Easy access for ambulances.
• Nearby rooftop medical helicopter pad.
 Trustco's donation was also earmarked to support the Fund for Albany Med, an unrestricted fund for the operation of the Medical Center, as well as Albany Med's signature events, including Dancing in the Woods which raises money for the Melodies Center for Childhood Cancer and Blood Disorders; Light up the Night which helps support the Emergency Medicine Department; and the annual golf tournament which helps fund the Bernard & Millie Duker Children's Hospital.