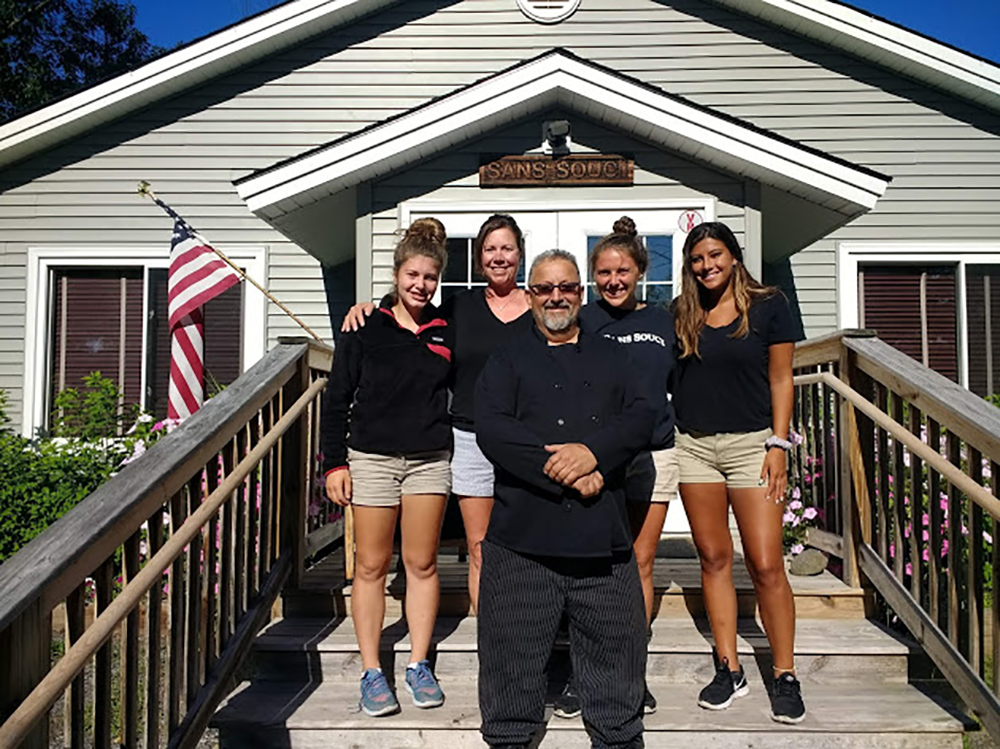 By Jill Nagy
Sans Souci, the iconic restaurant in Cleverdale, at the southeast end of Lake George, re-opened after a year's hiatus, with new owners and a new chef. 
After a "soft" opening May 15, the establishment celebrated its grand opening on June 20. 
The restaurant, located at 92 Mason Road, is open seven days a week for a 4-6 p.m. happy hour through dinner and remaning open until 1 a.m. 
A local restaurant and informal community center for almost 100 years, the former owners of Sans Souci were about to convert the building into a house. A group of nine investors were able to purchase the property, which includes a small cottage as well as the restaurant building.
Four members of that group—Charlie Crew, Carl Weiner, Steve Seaboyer and Larry Davis—also invested in the restaurant business. Chef Mike Cirelli, formerly of Cirelli's Osteria in South Glens Falls, is operating the restaurant.
When the restaurant closed in July 2017, "it left a real gap in the community," said Crew, one of the new owners. The combination of strong community support and an excellent chef have enabled the new owners to bring the establishment back to life, he said.
The menu has an Italian flair, Crew said, with pasta, seafood dishes and "wonderful steak." 
There is also a pub menu, a variety of specials throughout the week,  and a pizzeria on the lower level. Sans Souci has a full liquor license. The addition of catering to the restaurant's repertoire is new. Take-out service is also offered and, Crew said, there are plans to add a delivery service in the future.
Crew was a long time General Electric employee at its Pittsfield, Mass., facility. 
"Restaurants were never in my wheelhouse," he said, but he and the other owners are, more or less, stepping back and letting Cirelli run the business. Meanwhile, they have also turned their attention to the cottage on the property, in need of a major fix-up before it becomes a rental property.
Public response has been "excellent," Crew said. The former clientele, mostly local, year-round folks, are back, joined by fans of Cerilli's who followed him from South Glens Falls. 
There are 13 employees, some part time. 
The telephone number for Sans Souci is 518-656-5009.