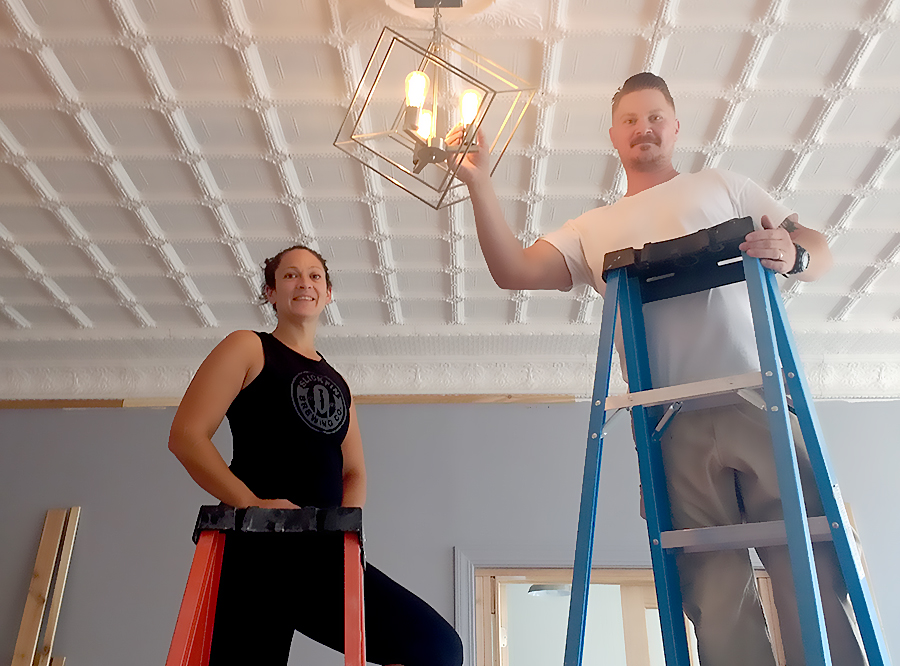 By Maureen Werther
Kris and Heather March are working hard to meet a planned opening of Slickfin Brewing Co. in November.
The brewery and tap room will be located at 147 Broadway in Fort Edward.
Kris said he first became interested in brewing when he was in the U.S. Marines, stationed in the Middle East. In 2012, he began developing recipes in earnest, with the help of his friend. They began entering competitions and did well, prompting them to seriously consider opening a brewing company and tap room.
By 2016, the Marchs were out of the military and had a young daughter. Kris was working in the robotics field in Boston and making a weekly commute between Fort Edward and Boston.  After a year, he decided to pursue his passion for craft brewing full-time. He quit his job in 2017 and began renovations at the Broadway location.
The Marchs were able to obtain financing through a Washington County Local Development Corp.  economic development initiative. Kris said the location could not be better, situated with the river and a marina as a backdrop.
Kris has done most of the renovation work himself, even making his own floorboards to replace some damaged parts of the original flooring. In addition to the wood flooring, the original tin ceilings have been restored and the walls have been painted. The goal is to achieve what he called an "antique industrial look with a clean, bright and airy feel."
Heather continues to work full-time at a nearby restaurant while she helps with the details of the renovation. Once the tap room is open for business, she will be its manager.
Kris said once the renovations are complete, he and Heather will apply for the liquor license.
The couple also plans to become members of the Adirondack Regional Chamber of Commerce, which will coordinate a ribbon-cutting event in November.
The owners plan to bring local musicians to the taproom, which will be initially be open Thursday through Saturday.