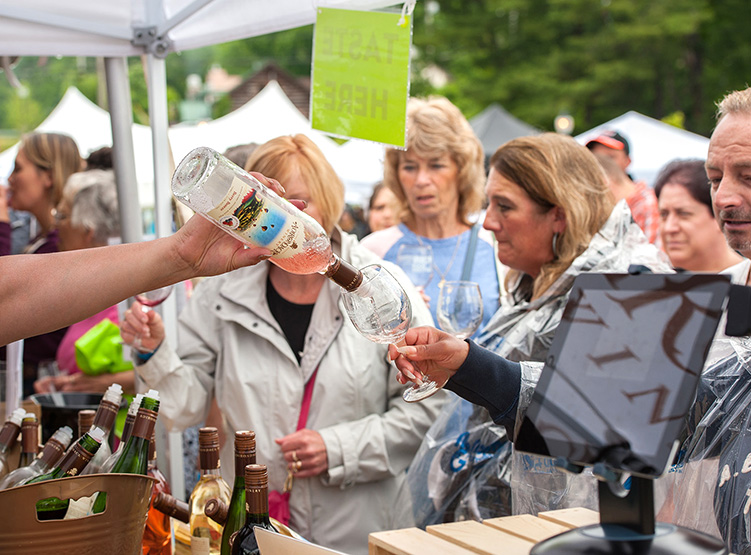 The 2018 Adirondack Wine & Food Festival was the biggest yet, with a record 6,376 tickets sold and an estimated $1.87 million economic impact on the Greater Lake George Region, according to organizers of the event.
Despite a weekend filled with rain, the event sold 8 percent more tickets than last year. Counting festival vendors and volunteers, 6,393 passed through the gates over the course of the festival's two days, breaking the previous attendance record for Charles R. Wood Festival Commons in the Village of Lake George.
The event was held June 23 and 24.
"Our festival has grown every year and we are thrilled that so many people came to support it and enjoyed some of the best wines, craft beverages and foods New York has to offer," said Sasha Pardy, festival owner and co-owner of the Adirondack Winery in Lake George. "I am so proud of the impact this event has on the economy of the Lake George region and am looking forward to doing it bigger and better yet again next year."
A post-festival attendee survey showed the event is particularly popular with millennials. An estimated 56 percent of attendees at this year's festival were in their 20s and 30s and nearly 60 percent of attendees have a household income in excess of $75,000, the survey indicated.
According to Pardy, of the 6,393 attendees, 93 percent either planned their trip to Lake George specifically to attend the festival or chose their dates based on when the festival occurred. Some 20 percent of attendees had either never been to Lake George or hadn't been back in five-plus years prior to their festival visit.
According to the survey,  80 percent of attendees either shopped at local stores, visited local attractions or took part in activities in the region, while 100 percent said they ate or drank at a local restaurant or bar while they were in town.
The festival also had a significant impact on the lodging industry, organizers said. The attendee survey found that 56 percent of ticket holders stayed one to 14 nights at an area lodging property, generating nearly 8,000 room nights. Attendees traveled from 27 states with 61 percent being from outside the local region.
This year's festival featured more than 90 New York state wine producers, craft beverage makers, artisan food vendors, food trucks and more. New attractions included a new VIP ticket experience that gave ticket holders early access to the festival and a goodie bag.
It also raised thousands of dollars for Big Brothers and Big Sisters of the Southern Adirondacks, which received a portion of ticket sales revenue, as well as funds generated from the sale of raffle baskets including items donated by vendors, the sale of Lake George Premium Brand water bottles, and "Drink Local, Eat Local, Think Local" festival T-shirts.
The festival also featured celebrity chef William Cornelius under the popular culinary tent. He conducted hourly culinary demonstrations using his own hand-crafted sauces, as well as foods and craft beverages from festival vendors.
Founded in 2014, Adirondack Festivals LLC is based out of Queensbury.  The festival is held annually on the last weekend of June.