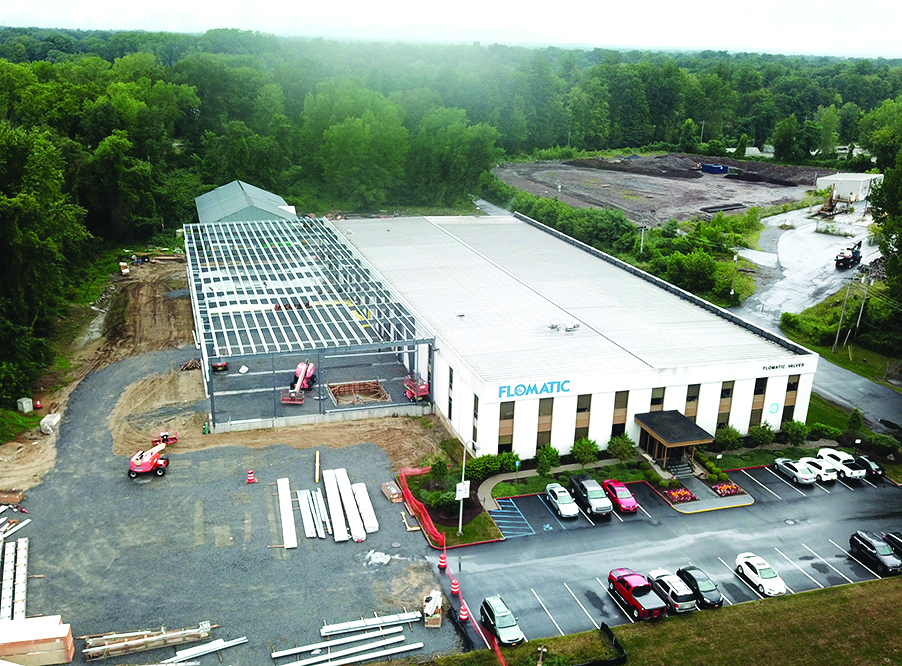 By Jill  Nagy
Flomatic Corp. in Glens Falls, a manufacturer of valves for water, wastewater, and irrigation systems, is adding 20,000 square feet of manufacturing, research and marketing space to its plant at 15 Pruyn Island Drive.
The result will increase the size of the facility by more than 40 percent, the company said.
Construction of the addition began in April and is scheduled to be completed in October, officials said. Total cost is estimated at $3.3 million.
A state grant of $660,000 will cover 20 percent of the cost. When the expansion is completed, Flomatic expects to hire about a dozen new employees for technical, administrative, production and warehouse positions. Currently, the company has 45 employees.
According to company President and CEO Bo Andersson, the new building will increase manufacturing capacity, allow the company to manufacture larger valves, and provide faster turnaround for customers' orders. Approximately 15,000 square feet will be new manufacturing space, some of it replacing an existing epoxy coating line.
Plans also call for a new test laboratory, including a 10,000-gallon tank for demonstrations. Part of the current building will be converted to storage space.
Flomatic sells and services its valves throughout the United States and in some 40 foreign countries. All of their products, however, are manufactured in Glens Falls. In fact, the company prides itself on providing American-made products, officials said. A national network of 40 independent sales representative agencies augment the Glens Falls operation.
The company was founded in Hoosick Falls in 1933 as White Flomatic Corp. The company's main products were check valves, regulators and hot water circulators for domestic and industrial heating systems.
Current emphasis is on valves for water, wastewater and irrigation systems. In addition to a large inventory of valves in different sizes, shapes and materials, the company also makes custom valves to customers' specifications. Andersson has headed the company since 1979. It has been located on its 11.2-acre site on Pruyn's Island since 1996.