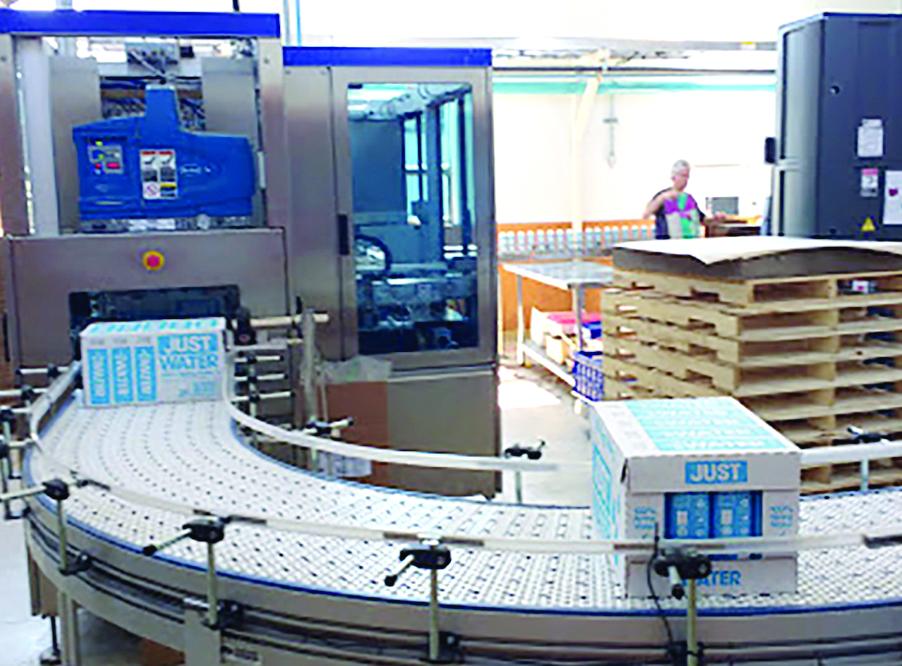 By Maureen Werther
It has been two years since JUST Water located to Glens Falls, setting up a water packaging facility in the former St. Alphonsus Roman Catholic Church on 31 Broad St.
In August, the company launched its signature baby blue water container in the United Kingdom.
With the help of actor Will Smith, whose son, Jaden Smith, created the company to help fight back against the global problem of plastic waste, JUST launched its increasingly familiar pale blue square "bottles" in some of the most popular retail locations in the UK, including Whole Foods and Boots.
JUST Water packaging is made of 54 percent paper, sourced from 100 percent certified and traceable Forest Stewardship Council-managed forests, 28 percent plant-based plastic (made from an FDA-approved sugarcane-based resin), 15 percent traditional plastic and 3 percent aluminum foil, which forms the protective liner on the inside of the packaging.
The final result is what the company likes to call "A Better Bottle."
According to Jim Siplon, chief operating officer for JUST, the expansion into the UK was in response to the great interest there and throughout Europe in plastic alternatives.
"We launched our product last month in London and elsewhere. The expansion has been in the works for the past year and a lot of it has been driven by the plastic packaging limitations in the marketplace," said Siplon. 
He said retailers there were looking for products to help them comply with the growing number of restrictions on plastic waste.
In order to move the project along to meet demand, JUST partnered with Red Star Brands to handle distribution. A company representative from Red Star said the brand "is well-placed to appeal to ethical consumers looking to lower their carbon footprint." The brand is already having a positive impact on the environment, while raising awareness of the problem.
Siplon said that the market will dictate they will go next. 
"We will continue to have conversations," he said, adding that Will Smith figured prominently in a lot of the conversations with the UK, and that the entire Smith family is eager to help bring their involvement and focus to bear. Smith "stocked some Boot stores in London and met with customers and engaged a lot of people," added Siplon.
Domestically, JUST recently expanded its product line to include infused water, a product category that is growing dramatically. Using the same paper and sugar cane base materials as the JUST spring water, they have created products that Siplon says "really stand out" from its competitors.
New flavors include tangerine lemon and apple cinnamon. Siplon said that growth has been dramatic in the six months the new products have been on the market, and the infused waters are available in large retail chains. Siplon said that they hope to be in Whole Foods once the Amazon acquisition is final and the stores re-open under the new ownership.
The company has also begun distribution of a smaller 330 ml bottle that is three inches shorter and oriented more toward the hospitality industry. JUST is currently marketing that product to airlines, hotel chains, and school districts.
Siplon said that the smaller version has been very popular in California, where school districts are using them in their lunch and meal programs. "The product has taken off more aggressively than we could have imagined, with very little marketing effort," he said.
Locally, JUST has partnered with Warren-Washington ARC, who will be acting as its local distribution arm. They will also be selling JUST Water at the ARC's bottle redemption center on Quaker Road.