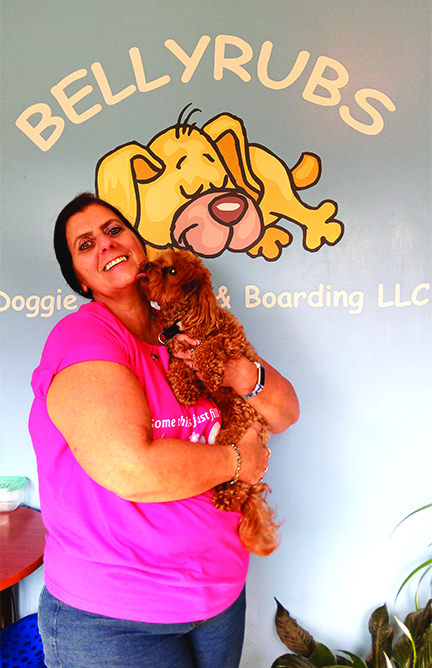 BY JENNIFER FARNSWORTH
For Susan Porlier, finding success has come with doing what she loves to do. She always knew she loved animals, so she found a way to make a living n that field.
Now, it's been over a decade since she first opened Bellyrubs Doggie Daycare and her passion for dogs is still fueling her success. She has two sites, at 44 Feeder St. in Hudson Falls and 1089 Saratoga Road, Gansevoort.
"I have been in business for 13 1/2 years. I now have two locations and 14 employees. I never in my wildest dreams thought my idea of a doggie daycare and boarding facility would take off like it did. We also do dog grooming and training," Porlier said.
Porlier said she always looked after family pets. She came to a point in her life where she decided to give up her career in the medical field and pursue her dream of opening her own daycare and boarding facility.
"I never knew what I wanted to be when I grew up. I never went to college. I have always loved animals, so when I came up with this idea, I finally knew what I wanted to do for the rest of my life. I am truly blessed," said Porlier.
Her empathy for dog owners who feel torn about leaving their pets for a time allows Porlier to meet the needs of clients who may be feeling apprehensive about the process.
"I hated leaving my dogs when I went on vacations, knowing they were just in a cage all day. I thought: why not have a place where they can play all day and not be in their pens?' I had done child daycare in my past, so I thought: why not have a doggie daycare I started doing some research … I thought why not open one here. I spent three years preparing for my opening day. Now I live my dream job," said Porlier.
She said one of things that made her a successful business person is that she is not afraid of confronting obstacles and conquering them.
"The challenges that I face, I face both in my personal and business life. I love challenges I feel it helps me to grow as a person. My best part of my actual work is working with the dogs who have issues. It is the most rewarding feeling helping them get over the issues. It is truly amazing to see the transformation," said Porlier.
She credits her success with going above and beyond to take the best care possible of the pets in her care. She said making the animals feel happy, safe and loved is her top priority, something that pet owners seem to take notice of. She also tries to make the care affordable for pet owners.
Porlier said she is content with where she and her Bellyrubs crew are at. She feels they are able to meet the needs of anyone who visits either of her locations.
"The plans and goals for my future are to do what I do now. I thought about opening a third location, but I opted not to. I don't want to spread myself too thin. I want to know all of my clients and for them to know me. I plan on continuing to extend my knowledge in anything animal related," said Porlier.
Bellyrubs has enclosed yards, with sun and shaded areas, toys, and a play pool for hot days. The inside is climate controlled playroom complete with cots, cushions and toys. They also have a grooming salon and overnight boarding, which is an extension of the daycare program.
More information is available at bellyrubsdoggydaycare.com or call 518-747-6815.