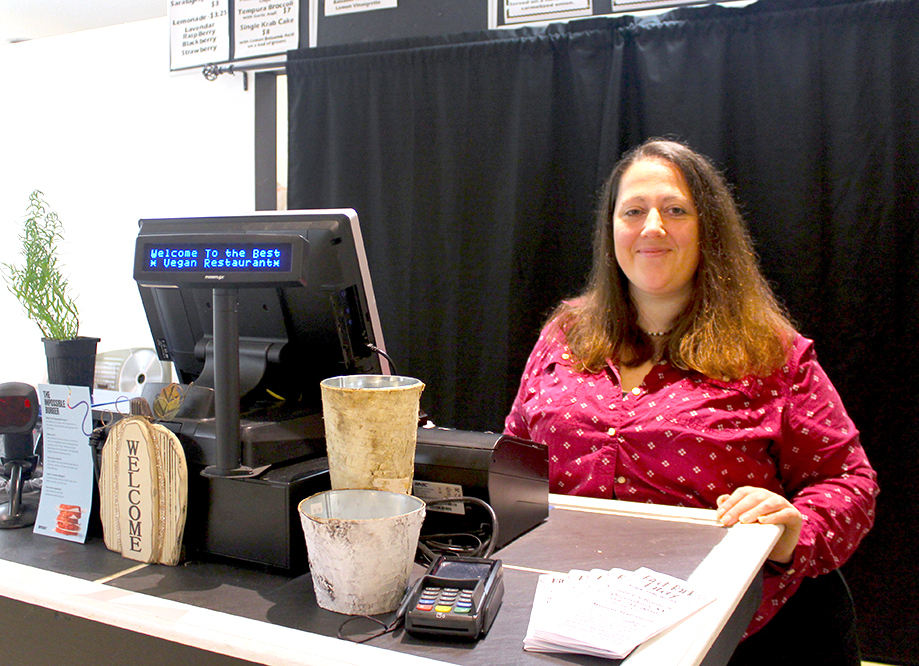 By Jill Nagy
Business is "exceeding our expectations" at a newly opened vegan restaurant in Queensbury, according to its owner, Tania Sharlow. 
The restaurant, the Birch Bark Eatery, opened Oct. 1 at 989 Route 9.
The vegan menu avoids meat and other animal products like eggs and dairy. Sharlow said she relies heavily on vegetables, beans and "rare flowers" in her cooking. 
However, she also offers "imitation comfort food," such as the "impossible burger" and imitation meat products made of seitan, a gluten-rich wheat product that can be seasoned like meat and has a similar texture. The burger sizzles on the grill and sheds blood-like juices when bitten into. 
Sharlow estimated that about a third of her clients are, like her, committed to a vegan diet. Another one-third or so, are vegetarian. The rest, she feels, are curious.
The eatery is small—three tables and a bar. It also sells food to-go. It is decorated in black and white with nature-inspired murals on the walls (painted by Sharlow's daughter, Azalea Gardner).  She describes it as "cozy, even a little bit elegant."
"I am trying to advocate for better animal rights," Sharlow said. She noted that, during 15 years working at a Dunkin' Donuts franchise, she "didn't feel morally right" providing products heavy in eggs and dairy products. That growing uneasiness was her motivation for opening the Birch Bark Eatery, she said.
Her raw ingredients come from the local farmers' market, he neighborhood super market, and Driscoll Foods, her main supplier. She credits the fact that grew up on a farm near Potsdam with fostering her feeling of being "close to nature and close to the earth."
Menu items include fried pickles with ranch, tempura broccoli with garlic aioli, krab cake with lemon balsamic aioli on a bed of greens, classic French onion soup, Philly Chzz Stayq, Cran-Faux-Turkey, BBQ Jackfruit, and numerous other sandwiches
There is also a stuffed burger filled with chorizo garlic chz filling, and a build-your-own burger option with three choices of patty including the Beyond Burger and Impossible Burger, both new foods which have been featured in the press lately for their ability to convert carnivores.
She chose the location because it was a blank slate and because being on a main road was an important factor to make it easy for travelers to find.
In the future, "We would, of course, like to grow," she said, noting that the small space they occupy is "challenging." 
She would like to add a breakfast menu and, come summer, serve up vegetable-based smoothies.  She said she would like to add "every niche market we can kind of grab and work with." 
Birch Bark Eatery is open from 11 a.m. to 8 p.m. seven days a week. They are online at BirchBarkEatery.com and can be reached by telephone at 518-741-0010.