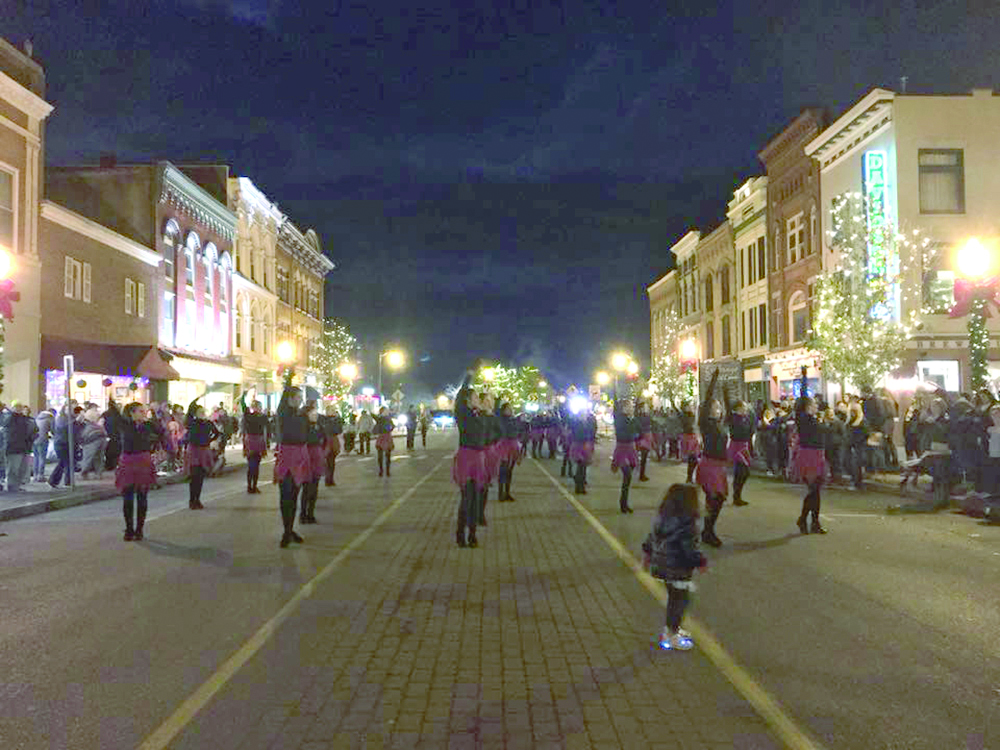 By Christine Graf
For the second year in a row, Nancy Turner is the chairperson of Glens Falls Collaborative Hometown Holidays celebration that will kick off on Friday, Nov. 30 in the downtown area. 
"The turnout was excellent last year. I think everybody really enjoyed themselves," said Turner. "But this year, there will be so much more."
Turner and her husband, Bill, are the owners of the Bell House Inn, located at 153 Bay St. in Glens Falls. For 12 years prior to relocating to Glens Falls to be closer to family, they were the proprietors of the Altamont Old Stone House Inn in Altamont.
This year, 12 downtown businesses will participate in a window display competition. The displays, in holiday or winter themes, will be unveiled on Thanksgiving Day. They will stay in place until Jan. 1.  People can go online to vote for their favorite window at glensfallscollaborative.com. 
 The two-day Hometown Holiday event will kick off at 5 p.m. that Friday in City Park, with the annual tree lighting. DJ Mark DuBray will be playing music. The Glens Falls Symphony Children's Choir will also sing Christmas carols. After Santa arrives, he and the mayor will light the city's Christmas tree. 
Local businesses will offer hot cider and cocoa during the evening, and Santa will be at Glens Falls National Bank. Mrs. Claus, will be at MB&T Bank with live reindeer. 
For anyone feeling nostalgic, Spa Coffee will  present a 1942 Christmas radio show. Those who would prefer to sing can visit the Crandall Library, which will be hosting Christmas karaoke. There will also be dancers from various dance academies performing in the streets.
Elf on the Shelf, a sometimes mischievous elf who finds interesting places to hide, will be making an appearance. Anyone who wants to find him will have to solve riddles and follow clues that will be displayed throughout downtown.
There will be horse and wagon rides, a concert at First Presbyterian Church, and a festival of trees at the Queensbury Hotel.  A free showing of a children's holiday movie will take place at the Charles Wood Theater at 7 p.m. The movie is sponsored by Art in the Public Eye. 
All events are free to the public. They are being paid for by the Glens Falls Collaborative, the city of Glens Falls and the Downtown Glens Falls Business Improvement District.
The festivities will continue on Saturday when five local properties will open for tours between 11 a.m. and 2 p.m. The properties are  First Presbyterian Church of Glens Falls, Chapman House, Sherman House, Hyde House
and Bell House Inn.
"There will be people in costumes making it fun and interesting," sad Turner. Tour tickets can be purchased online at glensfallscollaborative.com. Tickets cost $20, and one ticket grants admission to all five properties. Proceeds will be donated to Food for Thought. 
Trolley transportation ill be  available to travel between locations. 
There will also be a concert on Saturday at 2 p.m. at the Hyde Museum. It will include performances by the Glens Falls Symphony children's choir, the SUNY Adirondack Mountaineers and the South Glens Falls school choir.
At 2 p.m. on Saturday the Park Theater will show "North Pole, NY," a feature-length documentary about the Santa's Workshop theme park. Tickets are $10 for adults and $8 for seniors and children under 12. A Q&A with filmmakers will take place after the show.
Hometown Holidays concludes with the Downtown Sale and Market on Saturday from 4-7 p.m. Stores will have special sales and discounts, and several restaurants will offer food specials. 
"We want to get people downtown to start their holiday shopping," said Turner. 
The event website is glensfallscollaborative.com/hometown-holidays.