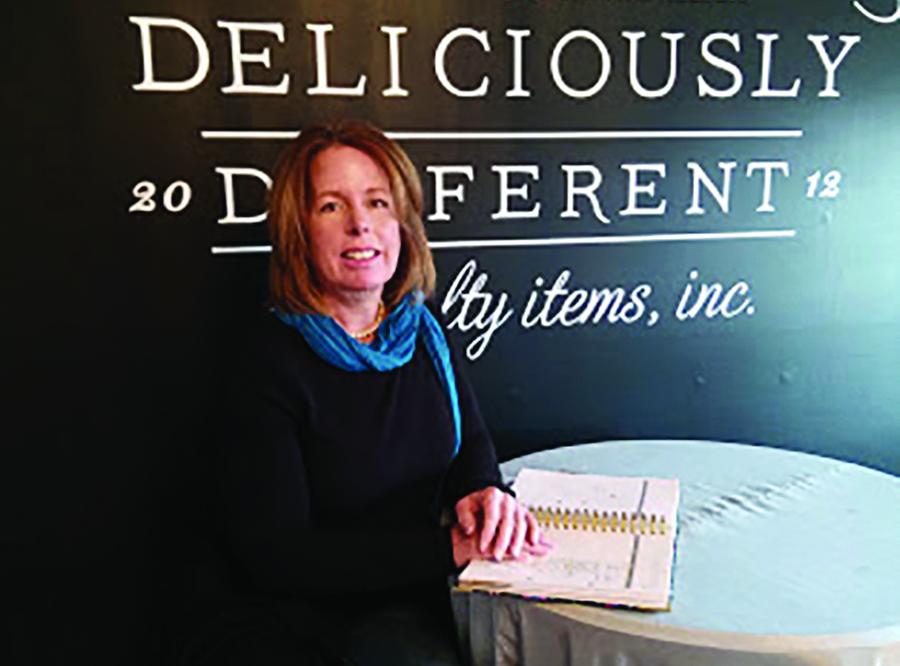 By Jennifer Farnsworth
Local caterers have advice for those entertaining during the holidays: Leave the cooking to them.
From last minute appetizers, to brunch, to full-scale, sit-down dinners, local restaurants and cafes are up to the challenge of ensuring a stress-free
Deliciously Different owner Robin Getchell-Smith said they love helping people cope with the holidays. During this time of year they are busy with dinner parties, including intimate dinners hosted at family homes.
"Our clients find it is such a more intimate way to celebrate rather than making dinner reservations. They can come early and stay late surrounded by their closest friends," said Getchell-Smith.
They also do many larger cocktail-style events this time of year.  Getchell-Smith said showing off a decorated home for the holidays and hosting a cocktail party is all part of the holiday fun.
"We love this type of event—lots of delicious seasonal specialty drinks and lots of passed appetizers while all the guests mingle—is a great way to ring in the holiday season," said Getchell-Smith.
Deliciously Different also offers items for pick up if people are having a party and just need a little help, or if they are attending a party and do not want to show up empty handed.  They offer a list of holiday-inspired sides and lots of appetizers and can assemble decorative platters upon request.
She said getting help with holiday cooking is definitely a growing trend.
"Let's face it, we all live crazy busy lives and if you can check something off your list, especially at this time of year, it is certainly worth it," said Getchell-Smith.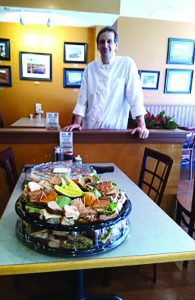 Deliciously Different is currently booked for the remaining Saturdays of December, but is available to help with Friday and Sunday events. Visit www.deliciouslydifferentspecialtyitems.com for more information on menu options.
If you are looking for things like deli platters, Gourmet Cafe is a strong option. Owner Francis Willis Jr. said their most popular items are their wrap and deli sandwich platters, as well as hot pasta dishes. They require 24 hours notice for catering orders off of their "Gourmet ToGo" menu. All other orders require more advance notice.
"This time of year it people throwing holiday gatherings, who do not have the extra time to cook everything themselves, reach out to us," said Willis Jr.
The Gourmet Cafe catering menu also has everything from a long list of appetizers to entrees such as roast turkey to chicken marsala, to beef stroganoff. They have a comprehensive list of sides, sandwiches, and much more. Visit www.DowntownGourmet.com for more information.
Samantha's Cafe and Catering is one of the area's longest running catering businesses, with over three decades serving foods made from scratch.
They are a full service caterer found at  everything from weddings to holidays. Each of their menus is customized to meet their client's needs. They are able to accommodate a number of dietary restrictions including vegan, gluten free, vegetarian, and more.
Bea Morin of Samantha's said holiday parties, for them, usually fall into one of two categories: office parties and in-home cocktail parties. Morin said office luncheons with hot buffets are the most popular.
"I would say the most popular entrees would be our amazing chicken alfredo with penne or the chana masala with yellow rice, the latter also happens to be vegan and gluten free. For sides people usually have crowd pleasers like garlic mashed potatoes or housemade breads and one of our signature salads like the 'nutty, nutty world,'"said Morin.
As for in-home cocktail parties, Morin said what could be better than inviting your best friends over for drinks without having the worry of preparation.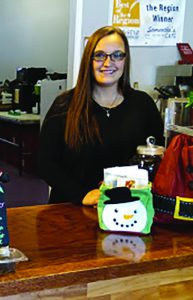 "We provide either full service catering with staff to set up, clean up and serve your guests, or our customers can pick up the items here at the cafe at 193 Glen St. By far, our most popular cocktail party food is bacon wrapped scallops," said Morin.
Other popular items at Samantha's include spanakopita, caprese skewers and couer a la creme, their house made cheese spread, which is light and full of herbs, with a hint of lemon.
Morin said when entertaining, hiring a caterer is the way to go if you want to truly enjoy your company.
"Planning an event or having a houseful