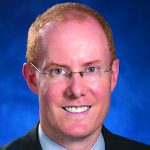 Robert S. Reynolds, a partner at Whiteman Osterman & Hanna LLP, was selected by a nationwide peer review as a Lawyer of the Year in The Best Lawyers in America for his work in the practice area of trusts and estates.
Reynolds joins his Whiteman Osterman & Hanna colleagues rated as Best Lawyers in America, including: Leslie M. Apple in the practice area of corporate law; James B. Ayers in litigation and trusts and estates areas; Beth A. Bourassa in education law and employment law; Norma G. Meacham and Robert T. Schofield in employment law; Kevin P. Quinn in the practice area of government relations; Daniel A. Ruzow and Michael G. Sterthous in environmental law; Leslie K. L. Thiele in immigration law; and Michael Whiteman in communications and energy law.
Best Lawyers conducts peer reviews in which leading lawyers confidentially evaluate their professional peers.
* * *
The Adirondack Health Institute (AHI) announced that four individuals were recognized as its 2018 Rural Health Champions.
The annual recognition is a collaborative effort of four of the North Country's Rural Health Networks, including the Adirondack Rural Health Network (ARHN), a program of AHI supported with funds from the state Department of Health.
Each year since 2015, the Rural Health Networks in Northern New York ask their network partners to nominate individuals who exemplify the selfless, community-minded, can-do spirit that prevails in rural America.
The 2018 Rural Health Champions are: Chaplain R.W. Williams, Mountain Valley Hospice and the Nancy Dowd Hospice Home;   Dr. Paul F. Bachman, chief medical officer, Hudson Headwaters Health Network; Kathy Jo McIntyre, assistant director, Washington County Public Health; and Tammy Merendo, program director of Community Health and HealthLink Services, Nathan Littauer Hospital & Nursing Home.
ARHN is a multi-stakeholder, regional coalition that informs on planning assessment, provides education and training to further the state's prevention agenda and offers other resources that support the development of the regional health care system. The program includes members from New York's Clinton, Essex, Franklin, Fulton, Hamilton, Warren, and Washington counties.
* * *
Big Brothers Big Sisters of the Southern Adirondacks presented its honorary awards to people  not matched in the program but are advocates in the community for the organization.
Helen Levendos was chosen as the Honorary Big Sister for her promotion and fundraising efforts for Big Brothers Big Sisters.
The David J. Capron Humanitarian Awardfor the person who works to improve the lives of people around him went to Tom Albrecht Sr. The organization said he goes above and beyond not just for Big Brothers Big Sisters  but the whole community.
Also honroed were Bert and Terri Rappaport as the  Couple's Match of the Year,  Kaeleen Boweas Big Sister of the Year and Don Morse as Big Brother of the Year.