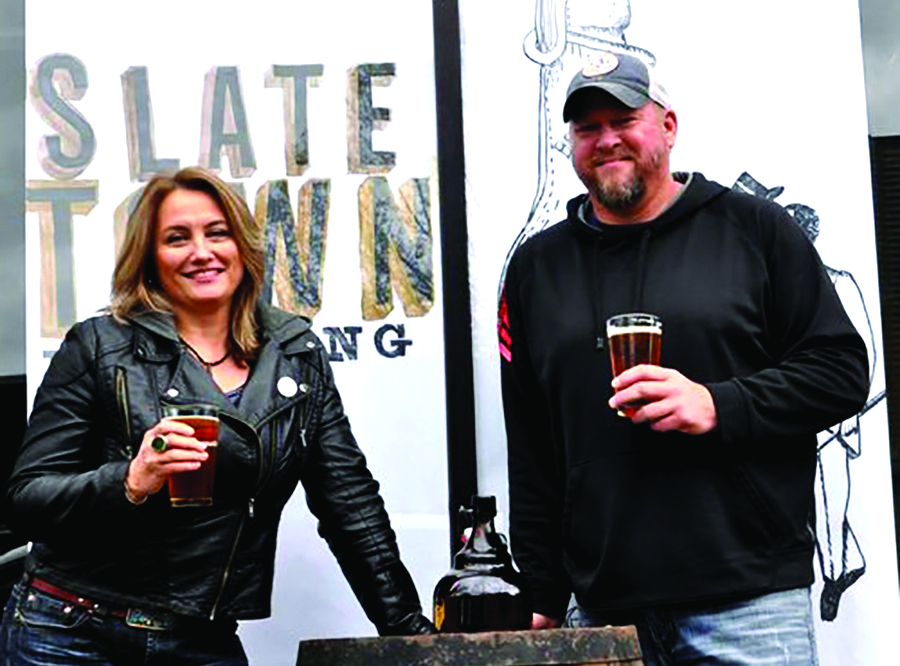 By Greg Hitchcock
Slate Town Brewing Co. at 31 Main St. in Granville opened three months ago and things are going well, according to business partner Susan Knapp.
"We have nine beers on tap. Every week we have new ones coming out," Knapp said.
Local and out-of-town customers flock to Slate Town Brewing Company to get a taste of a Not Your Average Main Street Blonde ale, Unfitting Red ale, or other craft beers at the brewery created by master craftsman Glenn Wetherell, also a partner.
Unfitting Red ale came from slate industry terms in honor of the region's red slate industry having been a major benefactor in Granville's economic development, she said.
"Red slate is only found in Granville in the whole world," Knapp said.
After working nearly 16 years as a home brewer with his father David, working out of a hop shed, Wetherell decided to open a brewery after being convinced by Knapp that if he didn't, he would regret that decision forever.
"We are committed to the economy of a small little town and so I brought it up when property was available on Main Street," Knapp said.
"We are getting people from all areas around us. We have a local following, we have tourists, and second-home owners. We get a lot from Vermont, and of course there is a large craft brewing community we are part of," Knapp said.
Craft brewing has always been a steady business, according to Knapp, who pointed out that in Washington County alone there were five breweries including her own.
"I think it has become a part of the cultural landscape of not only large urban centers, but small towns too," she said.
Slate Town Brewing Co.  has live music, Thirsty Thursdays, and they partner to be part other local events.  Knapp said events like the Granville Lighted Tractor Parade draws visitors to Main Street.
"You can view the parade right from our tap room," she said.
Knapp said customers can bring in pizza and other food, or the company has local menus of eateries along Main Street they can order from.
Their next order of business is to install a working kitchen.
"When we have our kitchen we will serve pub grub, a lot from local sources, and it will be fantastic food," she said.
If the customer is not sure of a particular beer or ale, they can try a sample from the bartender before ordering a pint, order a flight of sampled beer, or purchase a 32-ounce growler filled with a choice of beer to bring home.
"Glenn's beer is fantastic," Knapp said.
Visit www.slatetownbrewing.com for more information.