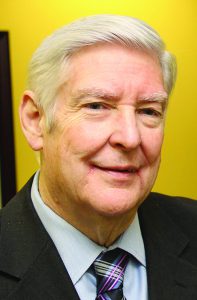 By Edward Bartholomew
Through key initiatives and corroborations, EDC Warren County continues our mission of going forward in 2019 as the county's primary and full-time advocate for sustainable economic development.
EDC is most appreciative of support from Warren County and  municipalities, the private sector,  other key stakeholders, our federal  legislators; U.S. senators Chuck Schumer, Kirsten Gillibrand, Congressperson  EliseStefanik and state legislators; state Sen. Betty Little, and state Assemblyman Dan Stec.   
An example of EDC's key planning and initiative undertaken in 2018 was the preparation of two applications and advocacy to Gov. Andrew Cuomo for his recommendation and subsequent approval by the U.S. Department of Treasury's designation for two Warren County communities as federal opportunity zones:  Town of Johnsburg-North Creek and the western portion of the City of Glens Falls.
These two opportunity zones are designed to spur economic development by providing certain tax benefits (capital tax gain deferral to investors).  EDC this year will undertake efforts with investors, financial institutions and developers to encourage investment in Glens Falls and North Creek with projects such as lodging, retail and mixed-use projects, affordable housing and other potential projects.
Further, EDC planning for the completion of Pathway Corridor study—an updated traffic study along the Exit 20, Route 9, Route 149 corridor—will be moving to the next phase:  examining potential funding for proposed improvements to this corridor.   
EDC Warren County assisted in a number of Warren County public and private funding applications, supported through the New York state CFA process, which resulted in a number of successful grant announcements.
A major focus by EDC and the county in this 2018 CFA funding was the environmental efforts toward protecting the waters of Lake George and surrounding lakes and streams through further improvements of wastewater treatment plants and reduction of roadway salt into the lakes and stream. EDC recognizes the importance and the priority for further state and federal funding to assist the Village of Lake George in replacing the current and aging wastewater treatment plant.
EDC Warren County undertook the initial planning and application process for the successful $10M Glens Falls Downtown Revitalization Initiative (DRI) and is now spearheading the DRI administration and implementation process.
In 2018, the first DRI project in the state was celebrated with the opening of the innovative SUNY Adirondack Culinary Institute at the $28-million, mixed-use complex on Hudson Avenue, developed by Sonny Bonacio and David Buicko.
As result of Gov. Cuomo's innovative  urban policies, the Downtown Revitalization Initiative in 2019 will see progress in the redevelopment and creation of a revitalized, re-energized  South Street, with the private rehabilitation of  two existing buildings, commencement of the new Market Square home, and development of a new mixed-use building.     
Another key area that EDC has worked with area officials for a considerable period of time  was the efforts to improve infrastructure The sewer extension along  the Main Street/Exit 18, Queensbury-Glens Falls corridor is now realizing significant progress.
At Exit 18, this long-awaited  sewer extension was  completed in 2018, enabling businesses and industrial areas to expand, including Carey Business Park housing,  the 116,000-square-foot former Native Textile facility with new ownership and a new tenant (AngioDynamics). Other business located in this area include Alltek Energy,  SkyZone, Rocksport Rock Climbing and the Hudson Headwaters West Mountain Health Center expansion.
At Exit 18, the new Holiday Inn Express will be joined by the Fairfield Inn and Suites that is now under construction  At Exit 19, Hilton's Home2Suites opened in 2018.   
EDC in 2019 will continue to be supportive of Warren County's tourism efforts. A state economic impact report for 2017 indicated that tourism is an important component of the Adirondacks (including Warren County). It is a $1.48 billion industry with Warren county representing 42 percent of the region's sales with nearly $606 million in direct spending,
In 2019, there needs to be a focus on an important element of tourism:  improving adequate housing for workers in the Lake George region.
Greater access to affordable housing choices is an important 2019 objective to be undertaken within Warren County,  working with area communities, the state Housing Community Renewal agency and potential developers.
  Additionally in 2019, much work remains to be done for the development of cell phone and broadband coverage in the rural areas of Warren County.  This lack of access hurts business opportunities and is a major deterrent to the economy.  EDC will be seeking financial support from federal and state legislators, respective agencies and cell/broadband providers.
Finally, the low unemployment rate and the lack of available labor and skilled workforce in our county must be addressed on multiple levels by our business community, the state, the U.S. Department of Labor, workforce development agencies, other stakeholders, area schools and SUNY Adirondack.   
EDC will continue to work with existing businesses in efforts to assist in the retention and expansion of their businesses, large and  small. This role can take the form of direct business assistance via grants or low-interest loans and working with area lending institutions.
At EDC Warren County, we strongly believe that momentum will continue to build and we remain very optimistic that Warren County will be trending in the right direction in 2019.